Introduction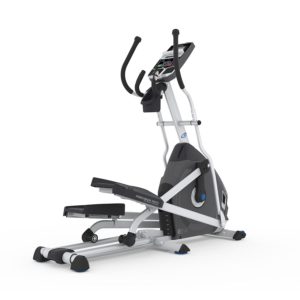 Nautilus have created a range of elliptical trainers in recent times, such as the E616 and E618 ellipticals, for example, which are already proving to be very popular with home users.
However in this article I want to review the Nautilus E614 Elliptical Trainer because this slightly older model is the most affordable one of the three, and still has enough resistance levels, workout programs and extra features to fulfil many people's needs.
As with many elliptical trainers, it is not without its faults, and so in this article I want to examine both the pros and cons of this machine to help you decide whether or not it is worth the money, and whether it might be worth paying more for one of their more expensive models or indeed a commercial-grade elliptical.
Features And Benefits
20 resistance levels
22 workout programs
fixed 20-inch stride length
manual 6-position ramp adjustment
user profiles for two people
dual window LCD display
track 13 different metrics
charging USB port
export data to Nautilus Connect / Myfitnesspal
built-in speakers
3-speed cooling fan
media shelf for phone or tablet
large cushioned foot plates
fixed and moving handlebars
hand grip pulse sensors
high-speed high-inertia drive system
smooth and quiet in operation
suitable for users up to 300 pounds
Product Dimensions / Weight
This particular elliptical trainer from Nautilus has exact product dimensions (in inches) of 71.5 (L) x 26.7 (W) x 63.2 (H) when it is fully assembled, and has a total weight of 167.3 pounds.
So as is the case with many ellipticals, this is quite a large and sturdy machine, but this does at least mean that it can comfortably accommodate any users up to 300 pounds.
Positives
Nautilus and Schwinn are now part of the same group, and the one thing you can guarantee is that all of their cardio machines will be loaded with lots of workout options and extra features, and this is certainly true of the E614 elliptical machine.
This particular model may well be less expensive than the E616 and E618 models, but it still provides you with 20 eddy current resistance levels to help you work out at various levels of intensity, and is supported by a high-speed high-inertia drive system and a perimeter-weighted flywheel that delivers a smooth and quiet workout experience.
So it doesn't really matter if you are currently overweight and out of shape, or whether you are already supremely fit because there are enough resistance levels to challenge people of all fitness levels.
If you want to mix up your workouts even more and make them more enjoyable, there are 22 different workout programs for you to use, which includes 9 profile, 8 heart rate, 2 fitness test and 2 custom programs, as well as a quick start program.
Plus you also have the option of manually adjusting the level of incline to make your workouts even harder because there are six different positions to choose from.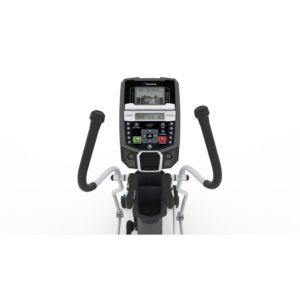 Indeed you don't have to worry about getting bored because as well as having multiple workout options, the LCD display has two windows so that you can use the media shelf to watch movies on your phone or tablet and still see your workout data on the lower of the two screens if you so wish.
Plus it also has acoustic speakers and an MP3 port that enables you to play all of your favorite music whilst you are performing your workouts if you are someone who prefers listening to music.
With regards to the actual display, this Nautilus E614 monitor has 13 different readouts to help you monitor your performance, which includes your pulse rate if you use the hand-grip pulse sensors, and if you want to analyze your performance in more detail, you can export the data to Nautilus Connect and/or Myfitnesspal using the USB port.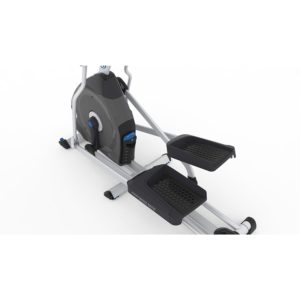 As mentioned earlier, this E614 machine delivers a smooth and quiet workout, but it also delivers a comfortable workout as well because it has two integrated levelers and two center frame supports to prevent any movement, as well an oversized crossbar tubing that provides extra stability.
It also has large cushioned foot plates and a 3-speed cooling fan to keep you cool, and you can choose to use the fixed handlebars or the moving handlebars, depending on which ones you prefer.
Finally, it is worth mentioning that this machine is backed by a 10-year warranty on the frame, and comes with a 2-year mechanical warranty and a 1-year electrical warranty if it develops any faults.
Negatives
With regards to the negatives, the first thing to say about this elliptical machine is that it has a fixed stride length of 20 inches. So whilst this should be absolutely fine for the majority of users, it may not be ideal if you have a very long stride length or a very short stride length, for example.
Another slight issue is that if you want to adjust the incline setting, there are no electronic controls that will do this automatically, like there is on later models. You have to actually adjust it manually using a lever at the base of the machine, which could be annoying if you like to adjust the incline during your workouts.
One final thing worth mentioning is that although you can export your data to Nautilus Connect and/or Myfitnesspal through a USB connection, it doesn't have Bluetooth connectivity, like some of the more expensive models.
Final Thoughts
The Nautilus E614 elliptical is a large and bulky machine that will take up quite a lot of space in your home, and it is lacking one or two advanced features that some of the later models have, such as Bluetooth functionality and electronic incline controls, for example, but otherwise it is a decent enough machine.
This model still has endless different workout options with its 20 levels of resistance, 22 workout programs and 6 incline positions, and is strong enough to support users up to 300 pounds, even though it is not necessarily a commercial-grade elliptical trainer.
Plus it has user profiles for up to two people, and has lots of extra features that will make your workouts more comfortable and less boring, which means that you will be more motivated to continue using it in the future.
So if you are looking for a machine that is a lot better than many of the entry-level models that are available, and a lot more affordable than some of the gym-standard ellipticals, the E614 model is not a bad option.