Introduction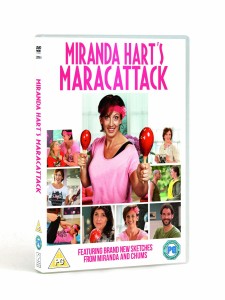 Today I want to review Miranda Hart's Maracattack fitness DVD because this was one of the first comedy fitness DVDs ever to be released, at least in the UK, and is one that promises to inject a large dose of fun and humour into your workout (whilst still being highly effective).
It was originally released back in November 2013, but it is still quite a popular workout DVD even now in 2017, having received quite a few favourable reviews in the last couple of years.
So let's take a closer look at this particular title to see whether it is worth buying or not.
Who Is Miranda Hart?
If you're not familiar with Miranda Hart, she is a comedienne who is most famous for creating (and starring in) the hugely successful BBC sitcom Miranda, but she can also be seen as a more serious actress in Call The Midwife.
With the greatest of respect, she doesn't have the same slim figure as other British celebrities who have released their own fitness DVDs, such as Davina McCall or Nell McAndrew, for example, but she doesn't pretend to, and indeed she has often used her weight for comedic effect.
Nevertheless, she still managed to lose a decent amount of weight just before she released this DVD, and has continued to lose weight ever since, judging by some of the recent photos of her in the media.
The Maracattack Workout
As you might be able to guess from the title, this particular workout involves the use of maracas (not included), and more specifically, dancing along to a variety of classic cheesy pop tunes from the likes of Kylie, Take That and The Monkees using a number of different moves that will work various different parts of the body.
The key point is that you will have a lot of fun performing this workout, and you will of course burn plenty of calories and tone up certain parts of your body every time you perform this workout.
Despite the humour, it is still quite an effective workout because Miranda performs these exercises with the direction of fitness expert Amelia Watts, who both work at different levels so that anybody can follow along, regardless of their fitness levels.
The workout section of the DVD is approximately 60 minutes long, and includes a basic cardio workout and a higher intensity cardio workout, as well as strengthening exercises for the arms, legs, core and buttocks and a relaxation session.
Extra Features For Miranda Fans
The great thing about this particular DVD is that it is so much more than just another boring old fitness DVD.
This one includes guest appearances from Patricia Hodge, Sarah Hadland, Tom Ellis and Kirstie Allsopp and includes some brand new sketches from the Miranda comedy series that will delight many fans of this TV show.
Final Thoughts
If you are a serious fitness fanatic and are looking for an intense workout that will really push you to the limit and burn as many calories as possible, then this DVD probably isn't for you.
The workout section will help you burn a decent number of calories, tone up various muscle groups and leave you out of breath, but it is not as demanding as one of the Davina McCall workouts, for example.
Nevertheless, if you are a fan of the Miranda show, or if you just want to perform a workout that is simply a lot more fun than all the others, then you might want to consider buying this comedy fitness DVD.