Introduction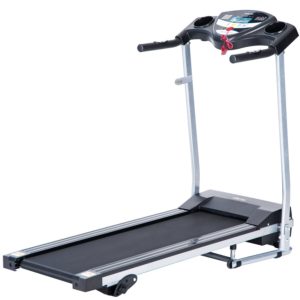 Merax have already produced the ME8705 treadmill, which is a very good option for those people who are looking to buy an affordable running machine for their home because it has 3 incline settings, 12 workout programs and a decent LCD display.
However they have recently developed another low-cost machine – the Merax JK1603E Folding Electric Treadmill – that is even more affordable. Indeed this is currently one of the least expensive running machines that you can buy at the time of writing.
So in this article I want to see how it compares to the aforementioned ME8705 treadmill, and look at some of the main pros and cons of this entry-level machine in more detail to see if it is worth buying or not.
Features And Benefits
3 incline settings
3 workout programs
speed settings from 1-10 KM/H
includes LCD display
track time, speed, distance, pulse and calories
convenient handlebar controls
quiet electric motor
cushioned running track
safety emergency stop key
can be folded away when not being used
1-year frame and motor warranty
suitable for users up to 220 pounds
Product Dimensions / Weight
With exact dimensions (in inches) of 58 (L) x 25 (W) x 45 (H) and folded dimensions of 51 x 25 x 25, this is clearly a small and compact machine that is ideal if you happen to have limited space in your home. This is reflected in the size of the running track, which measures 14 x 44 inches.
Plus with an overall weight of 70 pounds and built-in transport wheels, it is very easy to move around if required, and the folding design makes it very easy to fold away for storage when you are not using it.
Positives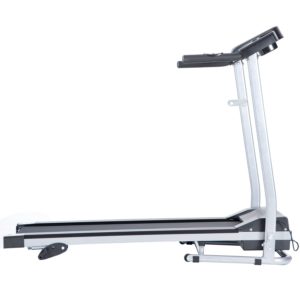 As mentioned above, one of the main benefits of this Merax JK1603E treadmill is that it is small and compact, and very easy to fold away if you don't want it to take up very much space in your home.
However there are several other reasons why you might want to consider purchasing this low-cost machine.
For a start, it offers a decent cardio workout with its 3 levels of incline. You can either walk or jog on a level surface, or you can adjust the incline manually to two different positions to make your workouts a little harder.
Similarly, you can also adjust the speed from a very gentle walking pace of 1 KM/H to a jogging or fast walking pace of 10 KM/H (equivalent to 6.2 MPH) to vary your workouts even more.
In addition, there is a manual program that you can customize yourself, as well as two pre-set programs that offer low intensity and high intensity workouts, as required.
You don't have to worry about your joints hurting after long workouts either because this machine has a cushioned running track that will provide some much-needed support, and the noise level shouldn't be an issue like it is on some other machines because this treadmill has a very quiet electric motor.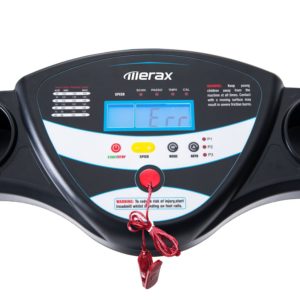 If you want to track your performance during the course of your workouts, this home treadmill has an LCD display that will indicate time, speed, distance, heart rate and calories burned.
The control panel that houses this LCD display will indicate your current workout program, if any, and has heart rate training zone suggestions for various age groups. It also has a built-in safety control feature if you have to suddenly stop the running track in an emergency for whatever reason.
Finally, it is worth mentioning that this Merax treadmill is said to be very easy to assemble, based on customer feedback, and comes with a warranty that covers both the frame and the motor for a period of one year.
Negatives
The most obvious drawback of this machine is that the electric motor is only 500W, and subsequently has a fairly low top speed of just 10 KM/H, which is good enough for walking and light jogging, but is not really sufficient for those people who want to run at a fast pace.
In addition, the running track is just 14 inches wide, which again should be sufficient for most people, but may be an issue for those people who have a wide running action.
It should also be noted that you have to adjust the incline setting manually if you want to make your workouts more challenging, but this is the case with many entry-level treadmills in all fairness.
Finally, the only other issue is that this JK1603E treadmill has a maximum weight capacity of 220 pounds, which means that it is not really strong enough to support seriously obese people who are looking to lose some weight, or men who are relatively tall with large frames.
Final Thoughts
The Merax JK1603E Folding Electric Treadmill is clearly a small and compact machine, but it is fairly good quality when you consider that it is one of the cheapest treadmills on the market right now.
It has speed settings up to 10 KM/H, 3 levels of incline and 3 workout programs that will be sufficient for many people (under 220 pounds) who are looking to walk or jog on one of these machines in order to get fit and / or lose weight at home.
→ Click here to buy the Merax JK1603E Folding Electric Treadmill
Merax JK1603E vs Merax ME8705 Treadmill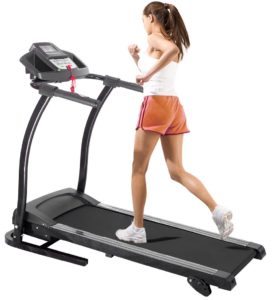 If your budget can stretch a little further, I would suggest that you consider buying the Merax ME8705 treadmill instead because this gives you a lot more for your money.
Although both models offer 3 incline settings, the slightly more expensive ME8705 treadmill has a 1100W motor instead of a 500W motor, which means that you can run at speeds up to 12 KM/H instead of 10 KM/H.
Furthermore, the ME8705 model also has a running track that is slightly longer and wider (16 x 48 inches) and is essentially a stronger machine because it has a higher weight capacity of 250 pounds.