Introduction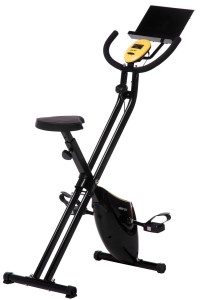 The only real problem with working out on an exercise bike is that it can get really boring after a while, which is why some companies have created exercises bikes that come with their own tablet holders.
The Innova Folding Bike is one of the most popular models that has this feature, but another new model that is well worth considering is the Merax Folding Upright Magnetic Exercise Bike because this also comes with its own pad holder.
This is a simple-looking bike, but it is cheap and practical and seems to be getting some reasonably good reviews, which is why I wanted to review this bike in more detail.
Features And Benefits
strong steel frame design
adjustable magnetic resistance levels
includes iPad holder and LCD display
track speed, time, distance and calories
high density foam seat
foam handlebars
can be folded away when not being used
suitable for anyone up to 220 pounds
Product Dimensions / Weight
When it is fully assembled, this bike weighs approximately 36.8 lbs, so it is not a particularly heavy machine. It also has a small footprint because its dimensions (in inches) are 28.3 (L) x 16.2 (W) x 44.5 (H), and can be folded away when it is not being used.
Positives
One of the main reasons why you should consider buying this Merax Folding Bike is because it is one of the most cost-effective machines on the market.
Exercise bikes offer a really good cardio workout that will improve your fitness level and help you lose weight (or stay slim), and this one is one of the more affordable options if you are on a budget.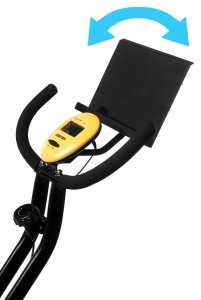 It has a variable resistance lever so that you can make your workout easier or harder, and does of course come with a bracket that will hold your iPad or tablet device in place so that you can watch TV or YouTube, for example, whilst working out.
It also comes with an LCD display positioned just below this bracket that will tell you your speed, time, distance covered and calories burned.
In addition, the frame itself is supposedly strong and sturdy enough to accommodate anyone up to 220 pounds, and the seat can be adjusted very easily if you are particularly short, for example.
Finally, you will find that this basic upright bike is relatively easy to assemble and will take up very little space in your home, particularly as it can be folded away when you have finished using it.
Negatives
A common complaint is that the seat is really uncomfortable to sit on for long periods. Therefore you might have to invest in a gel seat cover to make it more comfortable to use.
In addition to this, it has been suggested that the range of resistance isn't wide enough, and it is not possible to get a really intense workout on this Merax bike. Plus it can be a little bit awkward to fold the bike away.
Final Thoughts
If you are looking for a low-cost upright bike that will give you a decent cardio workout and won't take up much room in your home, then this Merax Folding Upright Exercise Bike is not a bad choice because it has a strong enough frame, and comes with an LCD display and a holder for your iPad or tablet.
The only real problem is the seat because it can get pretty uncomfortable after a while, according to some of the comments that have been posted online.
If you would like to buy this new Merax bike, it is available from this page of the Amazon.com website.
Merax Folding Upright Bike vs Innova Folding Upright Bike
If you are specifically looking to buy a machine that comes with its own iPad holder, you can basically choose between this one and the slightly more expensive Innova Health and Fitness Upright Folding Bike.
I personally would recommend the Innova bike out of the two because this one has a larger weight capacity (250 lbs) and comes with a large padded seat and built-in pulse monitors.
However they both seem to be good quality machines based on customer feedback, so you should hopefully be happy with your purchase whichever one you decide to go with.