Introduction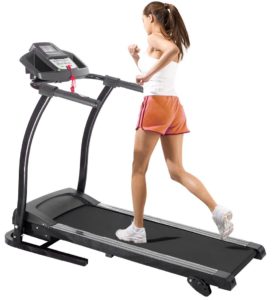 Merax are not exactly a household name in the world of health and fitness, but they are starting to produce some good quality exercise machines for people on a budget, and the Merax 1.5HP Folding Electric Treadmill is another one that has been getting some good reviews.
This is not necessarily a machine that is designed for professional runners and elite athletes because this is more of an entry-level model. However it should be more than adequate for those people who want to get a simple walking workout or a light running workout at home, and are just looking to improve their fitness and adopt a healthier lifestyle.
I have listed some of the key features and benefits below, and have also discussed some of the main pros and cons of this particular treadmill in a lot more detail to help you decide whether or not this machine is right for you.
Features And Benefits
3 incline positions
12 workout programs
speed settings from 1-12 KM/H
large LCD display
track time, speed, distance, calories and pulse
includes smartphone / tablet holder
biomechanically correct suspension system
powered by 1.5HP motor
foldaway design
suitable for anyone up to 250 pounds
Product Dimensions / Weight
This particular treadmill has exact dimensions (in inches) of 62 (L) x 27 (W) x 50 (H), with a running surface of 48 (L) x 16 (W).
The total weight of this machine is approximately 100 pounds, so it is not that easy to move around, but it can be folded away when it is not being used.
Positives
As you might expect from a low-cost treadmill such as this one, there are some good points and bad points.
With regards to the positives, the first thing to say about this Merax ME8705 treadmill is that it has 3 incline settings to help make your workouts a little harder, if required, and comes with 12 workout programs that will help add some variety to your workouts by presenting you with different challenges.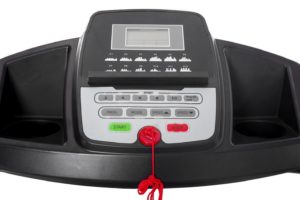 Indeed you will find that this Merax electric treadmill has a good quality LCD display with one-touch controls to adjust the speed and change the program, and indicates time, speed, distance, calories burned and pulse rate (as recorded by the pulse monitors on the handles).
There is even a holder for your smartphone or tablet should you wish to listen to your favorite music whilst you work out, or watch a TV show, for example.
The machine itself is powered by a 1.5HP (1100W) motor, which is not as powerful as some of the other treadmills in this price range, but it does at least enable you to walk or run at speeds up to 12 KM/H, which is approximately 7.5 MPH.
The running deck on this treadmill has a suspension system to reduce any impact when you are walking or running on it, and is 48 inches in length and 16 inches wide, which admittedly is a little on the small size, but should be just about okay for most people.
It is quite a heavy machine, as I have already mentioned, but it can be folded away when you have finished using it, in case you are worried about it taking up too much space in your home.
Finally, it is worth pointing out this machine can support any user up to 250 pounds, and comes with a 1-year warranty on both the frame and the motor should anything go wrong during this time.
Negatives
As I mentioned earlier, there are a few minor issues with this Merax treadmill, with the main one being the maximum speed setting.
You will generally find that the maximum speed setting is generally between 10 and 12 MPH on most other treadmills, even many of the entry-level models. However the top speed on this machine is 12 KM/H, which is just under 7.5 MPH.
Therefore this machine is not really ideal for serious runners who like to run at a decent pace. It is more suitable for light runners and walkers.
Another slight drawback is that the incline doesn't adjust automatically. Although both the speed and the program can be changed at a touch of a button, you will have to get off the machine and adjust the incline manually to one of three positions if you want to make your workout harder.
Finally with a width of 16 inches and a length of 48 inches, the running deck may feel a little restrictive for people of a larger size.
Final Thoughts
Overall the Merax Folding Electric Treadmill is quite a good machine for the price because it has 3 incline settings, 12 workout programs (which is more than many of the other low-cost treadmills) and a good quality LCD display with a built-in tablet holder.
However it does have a few drawbacks and as I mentioned above, it is probably walkers and light runners who will get the most out of this machine simply because it has a limited top speed of around 7.5 MPH, which is not going to be sufficient for seasoned runners.
→ Click here to buy the Merax 1.5HP Folding Electric Treadmill