Introduction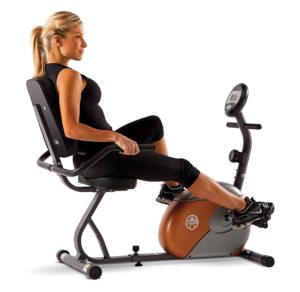 If you are looking to tone up your legs, improve your overall fitness level and maybe lose a bit of weight, you don't necessarily need to buy an upright bike or an indoor cycling bike because a recumbent bike will enable you to achieve all of these goals.
Plus the major benefit of this type of exercise bike is that you can sit in a more comfortable position, and won't experience any kind of back pain whilst you are working out thanks to the additional back support.
The price of one of these recumbent machines can vary quite considerably, depending of course on the build quality, the range of workout programs and the number of extra features that are included.
However if you are just looking for a low-cost entry-level bike that you can use for fitness, toning and weight loss, the Marcy ME-709 Recumbent Exercise Bike is definitely one to consider because this is a tried and tested model that has continued to receive good reviews since it first went on sale several years ago.
Features And Benefits
8 magnetic resistance levels
easy-to-read computer screen
track time, speed, distance and calories burned
adjustable padded seat and back rest
counter balanced pedals with adjustable foot straps
step-through frame design for easy access
light and compact
includes roller wheels for easy transportation
suitable for users up to 300 pounds
comes with 2-year warranty
Product Dimensions / Weight
The exact dimensions of this particular recumbent bike (in inches) are 55.5 (L) x 25 (W) x 37.5 (H), and it has a total weight of around 66 pounds. Therefore it is very light and easy to move around, particularly as you can use the built-in transport wheels to help you.
Positives
You can see from the list of features and benefits above that there is nothing particularly remarkable about this ME-709 recumbent bike.
However I should start off by saying that despite being one of the cheapest recumbent bikes on the market, it is clearly a strong and durable machine because it has a solid steel frame and a total weight capacity of 300 pounds.
Plus if anything does go wrong in the meantime, it is backed by a 2-year warranty, which is pretty rare for a bike in this price range.
With regards to the quality of the workouts that you will get on this machine, this bike is more than adequate because there are 8 levels of magnetic resistance that go from very easy to very hard. So people of all fitness levels can benefit from using this particular machine.
It is also comfortable to use because it comes with a large padded foam seat and back rest that can be adjusted forwards and backwards very easily to accommodate people of different heights, and has handles at the sides that you can hold on to during your workouts.
It also has counter balanced weighted pedals with adjustable foot straps to keep your feet in place and prevent them from slipping out at any time.
Another positive feature is that it has a step through frame design, which basically means that it is very easy to get on and off, and therefore suitable for seniors and anybody who has any kind of mobility problems.
The computer display on this machine is fairly basic, but it does at least indicate all of the key performance data – time, speed, distance and calories – and has large numbers to ensure that it is very easy to read.
Finally, it is worth pointing out that this is a very light and compact machine that has transport wheels attached to the bottom of the frame. So it is very easy to move from one room to another if you don't want to keep it in the same place all the time.
Negatives
It is worth pointing out that this bike is not ideal if you are 5'0 or less because the seat can only be adjusted forwards so much. So if you do decide to buy this bike, you may have to adjust the seat forwards as far as it will go and use an additional cushion if necessary in order to comfortably reach the pedals.
The only other negative is that the console on this machine doesn't have any built-in fitness apps or workout programs. Therefore you will have to create your own programs by adjusting the resistance upwards and downwards during the course of your workouts (or buy a more expensive model) if you want to add some variety to your routines.
Final Thoughts
Entry-level exercise machines have a reputation for being fairly low quality, but this Marcy ME-709 appears to be an exception because it continues to receive lots of positive customer reviews, with many people reporting they have used this machine to successfully lose weight.
It is not exactly overburdened with lots of extra features, which is probably why it is priced so low. Nevertheless, it does still offer you a challenging workout with its 8 levels of resistance, and is very comfortable to use thanks to the foam seat and back support that can easily be adjusted forwards and backwards to accommodate people of all heights.
Plus it has a very strong and durable steel frame that can support users up to 300 pounds, which is higher than many of the other entry-level recumbent bikes.
So this is a bike worth considering if you are looking for a good quality entry-level machine for your home, and don't necessarily require lots of workout programs and extra features.
→ Click here to buy the Marcy ME-709 Recumbent Exercise Bike