Introduction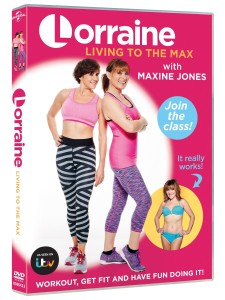 If you have been watching Lorraine Kelly on breakfast television over the years, you will know that her weight has fluctuated upwards and downwards quite a lot during this time.
However you could argue that she now looks slimmer than ever, and it's all because she got involved with Maxine Jones' dance classes near where she lives in London.
She has since lost 2 stone in weight and says that she now feels fitter, healthier and happier than ever, and the good news is that you can follow along to the exact same classes yourself when you buy the Lorraine Kelly: Living To The Max DVD.
The Workouts
The filming for this DVD took place at one of Maxine's regular classes. So you are basically seeing Lorraine and Maxine performing these workouts alongside real women in a real-life setting, unlike many of the studio-based workouts that you normally see on many of these DVDs.
They are basically a combination of dance and aerobics, so they are therefore very intense and will inevitably burn a lot of calories, but are also designed to be a lot of fun as well.
There are three 20-minute workouts in total, which are as follows:
Cardio Max
Waistline Max Burn
Squat To The Max
You can begin by performing just one of these workouts to start off with, and then think about doing two or three of these workouts once your overall fitness level starts to improve.
In addition, there is a Max Warm Up and Cool Down section containing warm-up and cooling down exercises that you can perform before and after the routines.
Bonus Features
If you get tired of performing the same old workouts all the time, there is a bonus 20-minute workout included on this DVD, and if you are looking for additional guidance and motivation, there is an interview between Lorraine Kelly and Maxine Jones where they offer some useful tips and advice.
User Feedback
Based on some of the comments that have been posted online, I have seen a few people highlight Maxine's overuse of the phrase "Oh My God" because this is apparently quite annoying, and will also be offensive to some.
However you always have the option of watching the DVD with just the music playing instead of the running commentary, and it is worth pointing out that many people have praised the quality of the actual workouts and have reported that they are very effective, which is the most important thing.
Final Thoughts
So if you are looking to lose a decent amount of weight and hope to emulate the success of Lorraine Kelly, you may well want to consider buying her fitness DVD because these workouts have clearly worked for her.
You should find that these are more 'real' than other fitness DVD workouts because they are performed in a class setting with real people, and they are also really fun because they are a combination of dance and aerobics.
The release date for this brand new Lorraine Kelly: Living To The Max DVD was 26 December 2015. Therefore it is now available to buy online and in stores.
→ Click here to buy the Lorraine Kelly: Living To The Max DVD