Introduction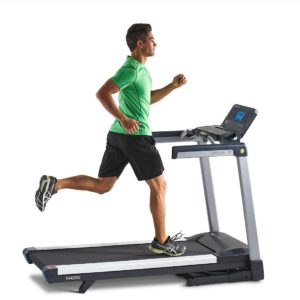 You will find that many of the cheap entry-level machines only have two or three incline settings at the most, and will tend to have a very basic LCD display, a relatively narrow running track and a limited top speed of 10 MPH or less.
However, if you are prepared to pay a lot more money, you can buy yourself a top quality treadmill that will provide you with a multitude of challenging and intense workouts to keep you in shape for years to come.
One such model is the LifeSpan TR4000i Folding Treadmill, which is a highly rated machine that was included in our list of the best gym-standard treadmills for the home.
Features And Benefits
powerful 3.25 HP motor
15 incline settings
21 exercise programs
speed settings up to 12 MPH
large 60 x 20 inch running surface
8 compression shocks for added comfort
6-inch LCD display and 3-speed cooling fan
track time, speed, distance, steps, pulse, calories etc
export results to external fitness apps
can be folded into upright position for easy storage
lifetime frame and parts warranty
suitable for anyone up to 350 pounds
Product Dimensions / Weight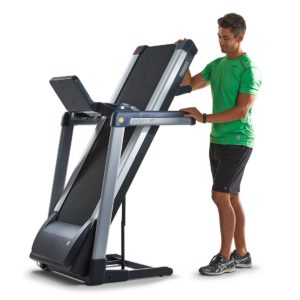 This LifeSpan treadmill has overall dimensions (in inches) of 74.25 (L) x 32 (W) x 56 (H) when it is fully assembled, according to the LIfeSpan website, but it can easily be folded into an upright position (folded dimensions are 42 (L) x 32 (W) x 66.5 (H)) if you have limited space in your home.
The actual running surface is 60 (L) x 20 (W), which means that it can easily accommodate users with a wide running style or a long stride, and with a total weight of 226 pounds and a strong steel frame construction, it can support users up to 350 pounds.
Positives
As I have just mentioned, this TR4000i Treadmill is very strong and sturdy with a weight capacity of 350 pounds, and can be folded away when you have finished using it.
However there are many more reasons why you might want to consider buying this model instead of some of the cheaper alternatives that are available.
For a start, this machine has 15 incline settings that you can use, which is a lot more than most other treadmills on the market, and has speed settings up to a maximum of 12 MPH to satisfy both runners and walkers alike.
As a result, you will always be able to make your workouts as demanding as you like, and won't ever have to worry about outgrowing this machine as you get fitter.
There are also 21 exercise programs that have been devised by fitness professionals to help you achieve your fitness, health and weight loss goals, and ensure that you never get bored of doing the same old workouts all the time.
Another benefit of this machine is that it has a large running surface (60 x 20 inches) to accommodate people of all shapes and sizes, as I mentioned earlier, and has 8 compression shocks to absorb the impact of your walking or running action and prevent any pain in your knees, feet and ankles.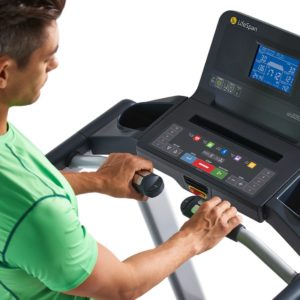 It is also worth mentioning that you can fully analyze every aspect of your workout because the LCD display provides you with a lot of information. As well as all of the standard readouts, such as time, speed, distance, pulse and calories, it also indicates pace and elevation change, and has an Intelli-Step feature that records the number of steps that you take.
You can also use the built-in Active Trac app to export your results to your favorite fitness apps (MyFitnessPal, Google Fit, Apple Health, etc) if you so wish.
Finally, there are a few other handy features, such as a 3-speed cooling fan and a patented Intelli-Guard feature that automatically pauses the belt 20 seconds after you step off the machine for added protection. However it is the range of workout options, the smooth and comfortable running track and the strength and durability of this machine that are the key selling points.
Negatives
One slight issue with this LifeSpan TR4000i Treadmill is that although the LCD display provides a lot of useful data, the actual console unit and casing looks and feels a little cheap.
The only other problem is that if you want to export your data to your favorite fitness apps, you will have to purchase the LifeSpan Bluetooth adaptor separately because it is not included with the actual treadmill.
Final Thoughts
Overall I think it is easy to see why this LifeSpan TR4000i costs a lot more than most other treadmills.
It has more workout programs and more incline settings than most other machines, as well as a wide range of speed settings. Plus it has a comprehensive LCD display with app tracking compatibility to monitor your progress over time, and is clearly built to last a long time.
So if you would prefer to keep fit and / or lose weight at home instead of paying gym membership fees every month, and want a machine that will last a long time and give you all of the workout options that you could possibly need, then you might want to consider purchasing this top-end LifeSpan treadmill.