Introduction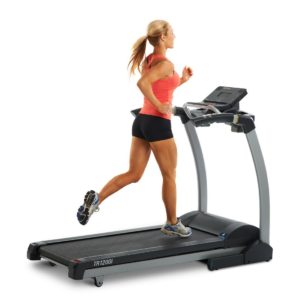 If you are looking to buy a gym-standard treadmill for your home, the LifeSpan TR4000i (reviewed here) is one that you should seriously consider buying because it has a large orthopedic running belt that is easy on your joints and comes with a very powerful 3.25 HP motor.
Indeed you will never outgrow this machine as you get fitter, or get bored of working out on this machine because it has 15 levels of incline, 21 exercise programs and a top speed of 12 MPH.
The only real drawback is that it also comes with a high price tag, which is why you might want to consider buying a more affordable model instead, such as the LifeSpan TR1200i Folding Treadmill.
This particular model is a lot less expensive, but is still a top quality treadmill that essentially offers the same range of workout options.
Features And Benefits
2.5 HP continuous duty motor
15 incline settings
speed settings from 0.5 to 11 MPH
21 exercise programs
large multi-function LCD display
track time, distance, calories, speed, steps, etc
includes USB drive port to save data
large running track
6 compression shocks to absorb impact
built-in safety features
EZ fold folding system
hand grip pulse sensors
built-in speakers
easy to assemble
suitable for users up to 300 pounds
lifetime warranty on frame and motor
Product Dimensions / Weight
This particular treadmill has an all-steel frame and subsequently has a total weight of around 197 pounds when it is fully assembled. So because it is so heavy to move around, you should place the box where you want it to go when you take delivery of this machine.
If you are wondering how much space it will take up in your home, its exact dimensions in inches are 70.25 (L) x 33 (W) x 55 (H) when fully assembled, and 39 (L) x 33 (W) x 63 (H) when it is folded away.
The running track on this TR1200i treadmill has dimensions (in inches) of 56 (L) x 20 (W).
Positives
The first thing to say about this TR1200i treadmill is that it has a high-performance long-lasting 2.5 HP motor, and features a large running surface that is designed to absorb any impact with its six compression shocks.
Therefore you are unlikely to experience any kind of pain in your feet, ankles, knees, back or hips when walking, jogging or running on this particular treadmill.
The best thing about this machine, however, is that you will have endless different workout options because there are 21 individual exercise programs that you can use to mix up your workouts and give yourself different challenges.
This includes two heart rate programs, five healthy living programs, seven sports training programs and five weight loss programs. In addition, there are also two programs that you can customize yourself.
Plus if you want to vary your workout routines even more, there are 15 different incline settings to recreate the feeling of running uphill and help make your workouts a lot harder, and there are also speed settings from 0.5 to 11 MPH, which makes it suitable for walkers, joggers and runners alike.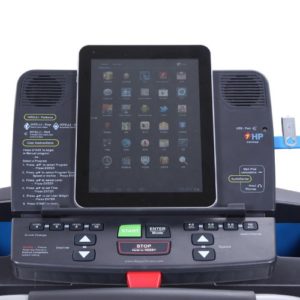 All of these settings can be adjusted on the console, which has large soft-touch keys and QuickSet buttons, and features a large multi-color LCD display that indicates time, speed, distance, calories burned, pulse, incline setting and the number of steps (based on LifeSpan's Intelli-Step feature).
This console also has built-in speakers so that you can listen to all of your favorite music whilst working out, and has a headphone plug-in should you wish to listen to music without disturbing anyone else.
There are no built-in fitness apps as such, but if you want to save your data for further analysis, there is a USB port on the side that you can use to save the data to a USB drive every 20 seconds and upload to your free LifeSpan Club account.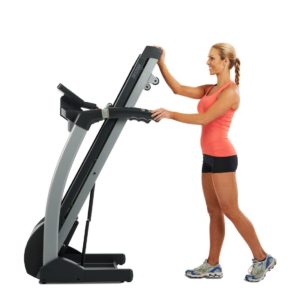 Another positive feature of this machine is that it is said to be very easy to assemble compared to most of the other home treadmills that are available, and once it is fully assembled, you always have the option of folding it away for storage thanks to the patented EZ fold folding system.
Finally, this LifeSpan treadmill comes with a lifetime warranty on both the frame and the motor, which means that you are fully protected in case this machine develops any serious faults (the smaller parts are covered by a three-year warranty).
Negatives
As I mentioned above, there are no built-in fitness apps with this machine. Therefore you cannot export your performance data directly to your favored fitness apps using Bluetooth wireless technology, like you can on a few of the other top-end treadmills. You have to save it to a USB drive and transfer it to your LifeSpan Club account instead.
Another slight negative is that this machine is only suitable for users up to 300 pounds. Therefore if you are heavily overweight and weigh in excess of this, it may not last as long and may potentially be dangerous for you to use on a regular basis.
Also, as mentioned earlier, this is a very heavy machine machine that has a total weight of 197 pounds. So it is not very easy to move around, and may require more than one person if you have to move it from one room to another.
Final Thoughts
This TR1200i treadmill from LifeSpan is a strong and stable machine that has a good sized running track that absorbs any impact from your walking or running strides. Therefore it scores very highly when it comes to comfort, and is ideal for those people who often experience any kind of joint pain or discomfort when walking or running on a treadmill.
However it is the range of workout options that is the key selling point of this treadmill because with a top speed of 11 MPH and 15 levels of incline, it will provide a real test for even the fittest of athletes on the higher settings.
There are even 21 workout programs that you can use to ensure that you won't get bored of doing the exact same workouts all the time, as well as built-in speakers that you can use to play music and makes your workouts more enjoyable.
So although there are cheaper treadmills available that you can buy for your home, this machine should be able to keep you in shape for many years to come thanks to its long-lasting motor and exceptionally strong steel frame, as well as its multiple workout options.