Introduction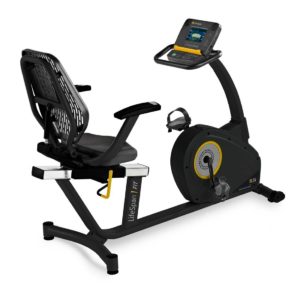 There are lots of low-cost recumbent bikes that you can buy nowadays, but if you are looking for a machine that is strong enough to last many years, and has all the workout options that you could possibly need to lose weight, get in shape and stay motivated, it is sometimes worth paying that little bit extra.
One such machine that appears to satisfy all of these criteria is the LifeSpan R3i Recumbent Bike because this is a super-strong machine that is made from commercial-grade components and can support users up to 400 pounds.
It also has multiple resistance levels and workout programs, and makes use of the latest technology to help you track your performance over time and motivate you to achieve your goals.
Features And Benefits
heavy 18-pound flywheel
smooth and quiet drive system
adjustable ergonomic seat and back support
16 magnetic eddy current resistance levels
21 workout programs
multi-color LCD display
track time, speed, distance, calories, pulse, etc
built-in speakers
full-length arm rests with integrated heart rate sensors
free LifeSpan Club account for performance tracking
made from high quality components
accommodates users up to 400 pounds
Product Dimensions / Weight
The exact dimensions (in inches) of this R3i recumbent exercise cycle are 70 (L) x 27.5 (W) x 44.5 (H) and it has a total weight of around 146 pounds. So if you do decide to buy it, it is probably a good idea to keep it in the same place all the time.
Positives
One of the main benefits of this LifeSpan R3i cycle is that it has clearly been built to last. That's because it has been made using commercial-grade components, including the arms, pedals, bearings and pulleys, and can support anyone up to 400 pounds, which is a higher weight capacity than many of the cheaper models.
It also has a high quality 18-pound flywheel and drive system that helps to provide you with a really smooth pedal action and a really quiet workout experience.
In fact it has been designed to be as comfortable as possible because the seat that comes with this particular recumbent bike has been meticulously designed to enable you to work out in a comfortable and relaxed position without any pain or discomfort.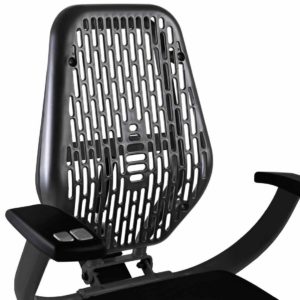 The oversized molded-foam seat bottom can accommodate people of all shapes and sizes, and has full-length arm rests similar to an office chair that you can place your arms on.
The back support is meshed to increase airflow and reduce sweating, and can be tilted forwards and backwards to provide extra lumbar support and to help you find the best position.
The seat is also attached to a sliding rail so that you can move it closer to or further away from the pedals within a 14-inch range to prevent any strain on your joints.
Another key benefit of this LifeSpan R3i bike is that you have a number of workout options. Unlike some of the basic machines that only have 8 resistance levels, this one has a choice of 16 magnetic resistance levels to satisfy people of all fitness levels.
In addition, it also has 17 preset programs that will add some variation to your workouts and help you achieve specific goals because there are 5 weight management, 5 healthy living and 7 sports training programs.
There are also two heart rate programs that will automatically adjust the resistance to keep you at your target heart rate, and two custom programs that you can set yourself if you want to devise your own workouts.
The heart rate is taken from the pulse sensors on the arm rests and displayed on the monitor, along with your other performance data, such as time, speed, distance, calories, RPM and watts.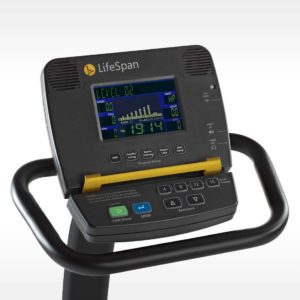 The LCD display is multi-colored and easy to read, with all of the metrics displayed on one screen, and the console itself has one-touch buttons to adjust the speed and the workout program. So it is very easy to use.
It also has a USB data port that will enable you to upload your data to a LifeSpan Club account (provided free of charge) once you have completed your workout, which will help you to track your performance over time.
You will also find that there are speakers built into the console and a socket for your phone or tablet if you want to listen to some music while you are working out.
Finally, it is worth mentioning that this machine comes with a lifetime warranty on the frame and a 5-year parts warranty if it is used in a home or residential environment, which is an indication of the overall quality of this particular bike.
Negatives
There do not appear to be any major problems with this LifeSpan recumbent bike. There are just a few very small issues that are worth highlighting.
First of all, you will find that although the console does have a chest strap receiver, it doesn't actually include a chest strap to record your heart rate. Therefore you will have to buy one separately or use the built-in pulse sensors, which are generally not as accurate as the chest strap monitors.
Secondly, this machine weighs approximately 146 pounds when it is fully assembled, which is a lot more than many of the mid-range and entry-level machines.
This is a good thing in many respects because it is clearly very strong and you know that it is not going to move around when you are working out, but it does mean that it is going to be quite hard to move around if you need to move it from one room to another, for instance.
The other other complaint is that there is no water bottle holder, which is a common feature that most exercise bikes seem to have nowadays.
Final Thoughts
The LifeSpan R3i recumbent cycle is more expensive than many of the other models from the likes of Exerpeutic, Schwinn and Nautilus, but you are getting a top quality bike if you decide to go with this one.
As mentioned earlier, this bike has been built to last with its solid heavy-duty frame and high quality components, and has a drive system that offers a smooth, quiet and consistent pedal motion.
It is also really comfortable to use thanks to the fully adjustable seat and full-length arm rests, and has enough workout options to push you hard and keep you motivated, particularly as you can track your performance over time using the free LifeSpan Club account.
So if you prefer the reclined position of a recumbent bike, and are looking to tone your legs and improve your fitness, this machine should give you some great workouts.