Introduction
There are lots of really good upright bikes available if you are on a budget, but if you have a little more cash to spend, you might want to invest in a commercial-grade machine such as the Lifecore Fitness 1060UB Upright Exercise Bike, for example.
This is a relatively new bike from 2015 that is said to be even better than the previous Lifecore models.
So in this article I want to review this bike in more detail and examine some of the reasons why this one is so much better than some of the cheaper bikes.
Features And Benefits
32 magnetic resistance levels
47 workout programs
2 user profiles
large multi-window LED display
electronic quick change keys
handlebar pulse sensors
built-in fan
USB port, MP3 jack and speakers
comfortable high quality seat
front and rear stabilizers
heavy duty frame
Product Dimensions / Weight
This is a very strong and stable machine thanks to its heavy duty frame and high quality components, and subsequently it is quite a heavy machine at 103 pounds. However although it is a lot heavier than many other bikes, it doesn't necessarily take up any more room with dimensions of 44.1 x 22.8 x 53.8 inches.
Positives
If you are prepared to pay for a commercial-grade upright bike, it is not unreasonable to expect your chosen bike to have lots of resistance levels and workout programs, a good quality seat and a large easy-to-read display at the very least, and the Lifecore Fitness 1060UB Bike has all of these things and much much more.
As I mentioned earlier, this bike has 32 magnetic resistance levels and a total of 47 workout programs according to the official Lifecore Fitness website (not the 35 quoted in the product description on Amazon). So this is more than enough to satisfy even the fittest and most dedicated of athletes.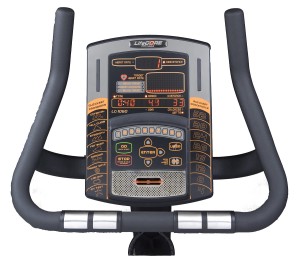 Furthermore, it has an extra wide padded seat that has fore/aft adjustments and can be adjusted up and down if required, and has a hugely impressive LED display console with multiple windows.
This console will indicate total time, segment time, speed, distance, calories, watts, RPM, pulse and resistance level, and has quick change keys that make it very easy to change the resistance level or the workout program during your workout.
It also has a USB port, an MP3 jack and built-in speakers so that you can listen to your favorite music during your workout, as well as a 3-speed fan to keep you cool.
Finally it is worth mentioning that this is a really strong and stable machine that is backed by a 5 year warranty on the frame and a 1 year labor warranty if anything happens to go wrong with this machine.
Negatives
With regards to the negatives, you would have to say that it's not exactly the most attractive exercise bike to look at, which might be an issue if you are planning on keeping it in your living room all the time.
In addition, because it is such a heavy machine, it is not exactly that easy to move around from room to room. However it does at least come with some transport wheels attached as well as a transport handle, which does make it a little easier.
So these are a few minor issues, but other than that, there are no real problems with this particular machine.
Final Thoughts
Overall this is a top quality exercise bike that is guaranteed to give you a wide variety of workout options because of the number of resistance levels and programs, and it should last you many years because of the quality of the construction.
It is designed to cope with light commercial use in a health club or a gym, for example, so it should be more than good enough to cope with regular home workouts.
If you would like to buy this Lifecore Fitness 1060UB Upright Exercise Bike, it is available from the official Lifecore Fitness website and a few other sites.