Introduction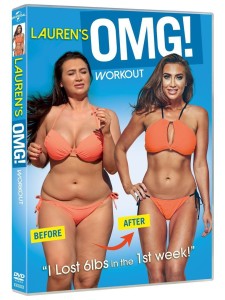 After losing an incredible 4 stone in weight and dropping 5 dress sizes, it may not surprise you to learn that Lauren Goodger is releasing a brand new fitness DVD called Lauren's OMG! Workout that features the exact same workouts that she used to help her lose all this weight.
Lauren Goodger made a name for herself as one of the original stars of The Only Way Is Essex, but since then it is her weight issues that have kept her in the headlines because she has consistently struggled to keep the weight off.
So now that she has finally achieved her target weight, you might want to consider buying this DVD yourself to see if you can achieve the same level of success.
The Workouts
Lauren Goodger teamed up with two professional trainers to create a highly intensive series of workouts that could help her lose up to 6 pounds per week, and these workouts are featured in this new workout DVD.
They are all based on plyo-dynamics, which in simple terms refers to short intense bursts of exercise that work the largest muscle groups in your body, all of which are very effective at burning calories and breaking down fat.
There are 10 of these mini-workouts altogether, each of which is just 5 minutes long, but as I say, these are really intense workouts that will push you hard.
So by starting off with a couple of these workouts and gradually doing more and more until you can do all 10, you should start to see some impressive results over time.
Bonus Features
In addition to the 10 individual workouts, there is also a bonus workout featured on this DVD that is also very effective at burning fat.
Plus there is an easy to follow eating plan included on this DVD that will help you stick to a healthy low calorie diet and make it easier for you to lose weight.
Demonstration Video
Here is a demonstration video that gives you an idea of some of the moves that are featured on this new fitness DVD from Lauren Goodger:
User Feedback
According to some of the comments that people have posted online on various sites, the reaction to this DVD has been largely positive so far, but there have been a few negative reviews as well.
Most people seem to like the exercises that are included here because they are a little bit different to the same old moves that you find on many of these DVDs and are quite fun to do.
However a few people take the opposite view and think that there is too much bum shaking and gyrating going on.
Final Thoughts
The one thing that you can say about Lauren Goodger's new DVD is that is this is a very sexy workout, and does include a few moves that you might not have performed before. However on a serious note, it is also based on plyo-dynamics and includes a series of intense 5-minute workouts that are specifically designed to burn fat and tone your body.
So as long as you are comfortable shaking your booty at certain points, you should hopefully be able to get fit and lose weight if you perform some of these routines on a regular basis.