Introduction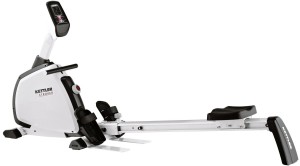 A standard rowing machine can help tone up your whole body and improve your overall level of fitness, but it is now possible to buy rowing machines that will help build muscle to some extent as well.
A classic example of such a machine is the Kettler Stroker Rower and Multi-Trainer because this particular rowing machine effectively comes with its own strength station.
This is not necessarily a top-of-the-range gym-standard machine, but it appears to be a really good mid-range model. So in this article I want to look at some of the reasons why you might want to consider buying this particular machine.
Features And Benefits
8 magnetic resistance levels
includes accessories for 10 additional exercises
easy to read LCD display
track time, strokes, cadence, distance, pulse, etc
includes wireless chest strap heart monitor
comfortable padded seat
pivoting foot plates
smooth and quiet in operation
folding space-saver design
sturdy steel frame
Product Dimensions / Weight
This Kettler rowing machine doesn't actually look that big in the photos, but with dimensions (in inches) of 86 (L) x 24 (W) x 32 (H) and an overall weight of 104 pounds, it is quite a large, heavy-duty machine.
Positives
One of the main benefits of this multi-purpose Kettler Stroker Rower is that it is extremely strong and sturdy. Therefore it should last you many years without any problems.
However there are several other reasons why you should consider investing in this high quality rower.
For a start, this is more than just a cardio machine because unlike most rowing machines, you can use the handle and the attachments to perform 10 additional exercises that will strengthen a number of different areas, such as your abs, core, shoulders and arm muscles, as shown below: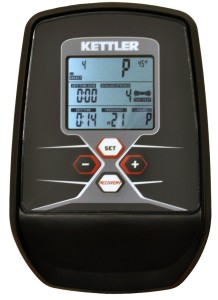 Therefore you can perform a conventional rowing machine workout for toning and fitness, and perform some of the other exercises for additional toning and muscle development.
With regards to the workout itself, there are 8 magnetic resistance levels that are said to be pretty intense even at the lowest levels. So you are always guaranteed a really challenging workout.
Furthermore, there is a thick padded seat that is said to be comfortable to use compared to many other rowers, pivoting foot plates and high quality rollers that ensure a smooth gliding motion with every stroke.
This Kettler rower comes with an easy-to-read LCD display (pictured above) that indicates time, number of strokes, cadence, total distance, kilojoules and pulse rate (using the accompanying wireless chest strap monitor).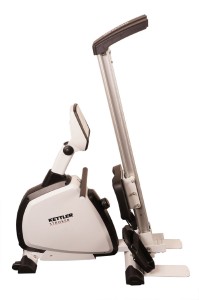 It even has a recovery feature that grades your cardio wellness from 1 to 6 so that you can monitor your performance, and hopefully your improvement over time.
Finally, it is worth noting that although this is quite a large and heavy machine, it has transport wheels attached if you wish to move it from one room to another, and can be folded up really easily when it is not being used (as shown in the photo).
Negatives
With regards to the negatives, you could argue that this machine is a little on the heavy side, and is obviously quite a large machine compared to some of the other rowers.
Plus unlike one or two other rowing machines in this price range, there are no workout programs for you to use. You simply have to make do with the 8 levels of resistance and come up with your own workouts if you want to add a little bit of variation to your workout routines.
You can of course perform as many as 10 additional exercises if you so wish, which may compensate for the lack of training programs.
Finally, one or two people have complained about the comfort of the seat, despite it being quite a thick, padded seat, but most people seem to be more than happy with it based on the number of positive comments that have been posted online.
Final Thoughts
If you cannot afford a top-end air rower, then a magnetic rower is the next best option, and this Kettler Stroker Rower And Multi-Trainer is one that is well worth considering.
That's because it has a very strong steel frame and delivers a smooth, quiet and challenging workout. Plus it can also be used to build and tone muscle much more than a standard rowing machine can because of the 10 additional exercises that are available.
→ Click here to buy the Kettler Stroker Rower and Multi-Trainer