Introduction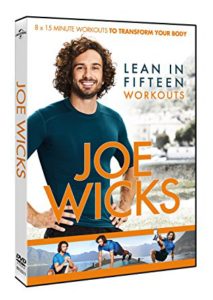 Joe Wicks has branded himself as the Body Coach, and is now one of the most recognised fitness experts in the UK thanks to his collection of workouts, online programs and nutrition books.
As a result of this success, he created his own fitness DVD called The Body Coach Workout back in 2016, which included a series of 7 fat-burning HIIT workouts, and appears to have helped many people successfully transform their bodies based on the number of positive reviews it has received.
However you may be interested to know that he has also released another new DVD for 2017 called Joe Wicks – Lean In 15 Workouts that includes three hours of brand new content.
The Workouts
The first thing to say about this new release from Joe Wicks is that the exercise routines are entirely different to the ones featured on his first DVD. So it is still worth considering even if you already own the Body Coach Workout DVD.
The Lean In 15 Workouts DVD features 8 x 15-minute HIIT routines in total, and these get progressively harder as your fitness level starts to improve.
Once you get to the end of the workouts and are now in good physical condition, there is one final 30-minute graduation workout that will really push you hard and show you just how far you have come.
Indeed when you are working your way through the 8 routines, it is this final workout that you should be striving for.
Bonus Features
As well as the core 15-minute workouts and 30-minute graduation workout, there are also some recommended warm-up and cool-down exercises that you should do before and after your workouts.
In addition, there is also a free 24-page 'How To' exercise guide that will show you how to do all of the exercises featured in this DVD safely and effectively.
Equipment Needed
Many of the HIIT exercises featured on this DVD are bodyweight exercises that you can easily perform in your bedroom or living room without any equipment.
However there are a few moves that are performed with some light dumbbells, so you might want to consider buying yourself a pair before you get started so that you can complete all of the routines.
Final Thoughts
It is worth mentioning that all of the workouts are performed outside with the stunning Lake Como in the background, which is a lot better than the studio workouts that are commonly featured on these fitness DVDs.
Furthermore, if you have ever watched one of Joe Wicks' training videos on YouTube or followed along to his last DVD, you will know that he is extremely motivational (without being annoying) and does a great job of explaining all of the moves, so you are far more likely to persevere with these routines.
Indeed one of the major benefits of this fitness DVD is that all of the workouts are just 15 minutes long (apart from the final one which is 30 minutes long), which makes them easy to stick to, and because they are all based on high intensity interval training, they include plenty of short rest periods between each exercise to help you to recover and are very effective at burning fat.
So if you are looking to lose weight and dramatically improve your fitness levels in 2018 and beyond, these short HIIT workouts should really help you to achieve your goals if you stick with them.