Jennifer Aniston – The Stunning Actress Who Never Ages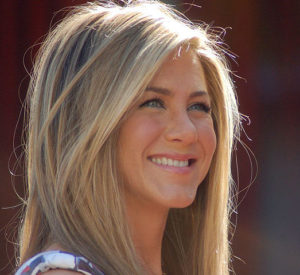 Jennifer Aniston became a household name as a result of playing the part of Rachel Green in the hugely popular sitcom Friends from 1994 to 2004.
Since then she has also appeared in a number of movies, including Bruce Almighty, The Break Up, Marley and Me, Horrible Bosses and We're The Millers, and has also produced a few movies as well.
However what is really remarkable about Jennifer Aniston is that she still looks really young at the age of 48, both in terms of her facial features and her flawless physique, and it would appear that one of the keys to her success is doing regular workouts on the elliptical.
Here Is Her 20-Minute Elliptical Workout:
Speaking to Vogue about her current workout regime, she admitted that she uses an elliptical machine for her cardio workouts:
"I do 45 mins of intervals on my elliptical. I raise the incline, run for two mins, walk for one, run for two… and I do it for 20 minutes straight until I'm just drenched."
It's not entirely clear if she does a 20-minute or a 45-minute interval workout on her elliptical, but assuming she is doing intervals for 20-minutes, the entire workout would look something like this:
run (2 mins)
walk (1 min)
run (2 mins)
walk (1 min)
run (2 mins)
walk (1 min)
run (2 mins)
walk (1 min)
run (2 mins)
walk (1 min)
run (2 mins)
walk (1 min)
run (2 mins)
So if you are looking to stay slim like Jennifer Aniston, you might want to jump on the elliptical trainer at your local gym two or three times a week and give this workout a try.
It might not look that intense on first impressions, but if you read the quote above, you will notice that she is doing the whole workout, both walking and running, on an incline.
Therefore it is not an easy workout at all, and you will definitely burn a lot of calories as a result.
Alternative Elliptical Workouts
If Jennifer Aniston's 20-minute elliptical workout looks a little too hard, you could always try completing this workout without any incline.
You could also increase the resistance level instead of the incline (if you have this option), as this would still provide a real challenge.
Alternatively if you feel that it is not long enough or a little too boring, you could try one of these elliptical trainer workouts that we have posted to our Pinterest page: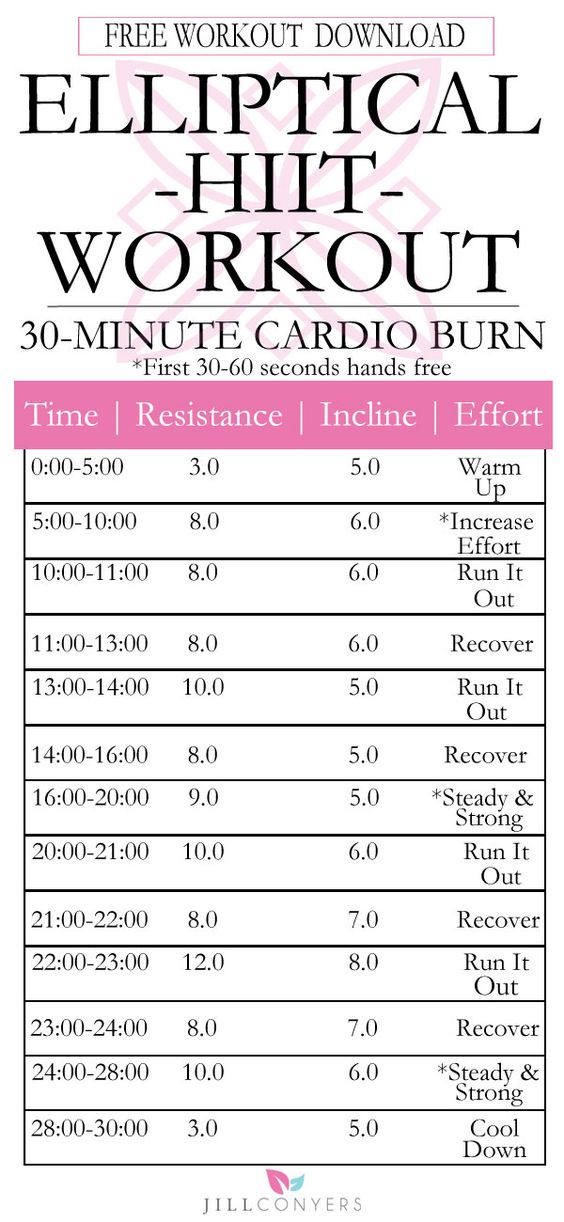 This 30-minute routine also has 1-minute intervals where you will be running flat out for maximum fat-burning, but also has recovery periods and intervals at different resistance levels and different incline settings to give you a more varied workout.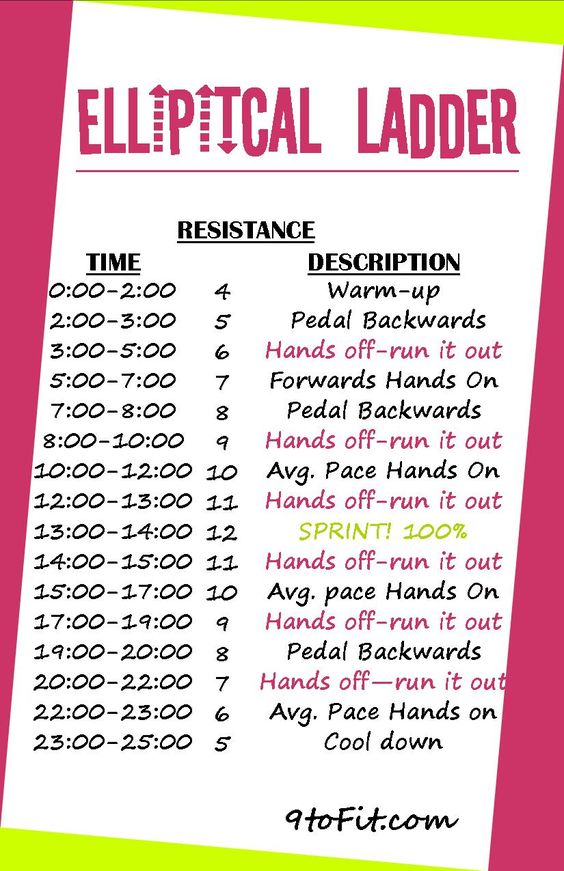 This routine only has one all-out sprint interval and is only 25 minutes long, but it does still have periods of high intensity running at varying resistance settings to stop you getting bored. Plus it even has intervals of backwards pedaling to help engage different muscle groups.
Final Thoughts
Interval workouts are great for burning calories and managing your weight, whether you are using an exercise bike, a treadmill or an elliptical.
The great thing about an elliptical is that you have incline and resistance settings to control the intensity, and you can do regular workouts without damaging your joints or straining your back, for example, because it is a low impact form of exercise.
So whilst I cannot promise that you will have a body like Jennifer Aniston if you copy her 20-minute elliptical workout (or try one of the other workouts listed above), you should hopefully be able to stay in shape if you do one of these interval routines on a regular basis because they are very effective.
(Image credit – Wikipedia)