Introduction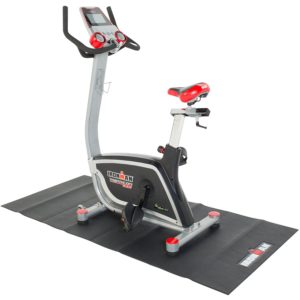 The Ironman H-Class 510 Indoor Cycle Trainer has already been reviewed on this site, and comes highly recommended for those people who are looking to buy a good quality exercise bike that they can use for indoor road training and spinning-style workouts at home.
However in this article I want to review the Ironman Triathlon X-Class 310 Upright Bike because this is an affordable exercise bike that is loaded with features, and offers a wide range of workout options for those people who are looking to get fit and lose weight at home using an upright bike instead of an indoor cycling bike.
The good thing about this particular exercise bike is that it comes with a free equipment mat to place the bike on, but the actual machine itself appears to be very good quality, even though it does have one or two minor flaws.
Features And Benefits
32 magnetic resistance levels
12 workout programs
3 Heart Rate Control options
up to 4 user profiles
LCD computer display
track time, distance, speed, RPM, calories and pulse
compatible with a range of fitness apps
built-in stereo sound speakers and cooling fan
adjustable Air Soft foam cushioned seat
quiet belt drive system
three piece crank system
cushioned hand grips
oversized foot pedals
transport wheels
free equipment mat
suitable for anyone between 5'2 and 6'4
accommodates users up to 350 pounds
Product Dimensions / Weight
This upright exercise bike from Ironman Fitness has exact dimensions (in inches) of 41.5 (L) x 21.5 (W) x 57.5 (H), and if you are planning on using the free equipment mat to place the bike on, this has dimensions of 79 (L) x 35.4 (W) x 24 (H).
The total weight of this machine is 63 pounds, so it is not particularly heavy. However if you would like to move it around, there are transport wheels attached that will make this job a lot easier.
Positives
A lot of the entry-level and mid-range upright bikes will only have 8 magnetic resistance levels, and will not always include any workout programs, but this Ironman 310 bike has 32 magnetic tension levels and comes with 12 pre-set programs.
Therefore it is very easy to set the resistance to the exact level that you require and make your workouts as easy or as difficult as you like, and there are enough programs to ensure that you are always able to add some variety to your workouts and mix them up a little bit.
You can even save user profiles for up to four people, which is beneficial if this bike is going to be used by multiple users in your home.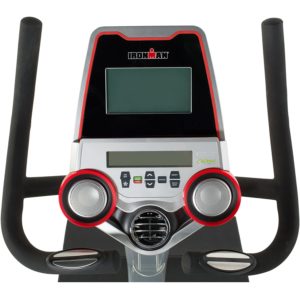 The LCD computer display has two windows (the smaller one can be used when you are using the media tray and blocking the larger screen with your phone or tablet) and although it looks fairly basic, it will indicate time, speed, distance, RPM, calories burned and pulse. The pulse sensors are located on the handlebars and there are three Heart Rate Control options, which can be set to 55, 75 or 90% of your maximum heart rate.
This console also has dual stereo sound speakers so that you can connect your phone, tablet or music device and play all of your favorite music, and has a cooling fan to keep you cool during your workout.
Plus it makes full use of Bluetooth technology to connect to a number of compatible fitness apps on both Android and IOS devices to help you monitor your performance over time, and there are also some built-in apps that you can use as well.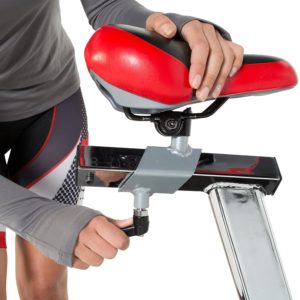 With regards to comfort, you will see that this Ironman bike has an Air Soft foam cushioned seat with individual air chambers for added comfort, and this seat can be adjusted forwards, backwards, upwards and downwards to help you find the optimal riding position.
It also has cushioned hand grips on the handlebars, which can also be adjusted to multiple angles, as well as oversized foot pedals (5 inches x 4 inches) with straps to keep your feet in place.
As a result, this bike can be used by anyone between 5'2 and 6'4, and the solid frame (which comes with a lifetime warranty) can support users up to a maximum of 350 pounds.
Finally, it is worth pointing out that this machine has a quiet belt drive system that delivers a smooth and consistent workout, and is very stable because it has adjustable floor stabilizers and a solid steel frame.
Negatives
One thing to say about this Ironman X-Class 310 Upright Bike is that although it is said to be suitable for anyone between 5'2 and 6'4, it seems to be better suited to taller people who are 6'0 or over.
If you are within this range but a little on the shorter side, you may just need to keep adjusting the seat and the handlebars until you find a comfortable riding position.
Otherwise the other other issue seems to concern the seat because although it uses Air Soft technology to make it more comfortable, some people still say that it is not as comfortable as it could be.
Final Thoughts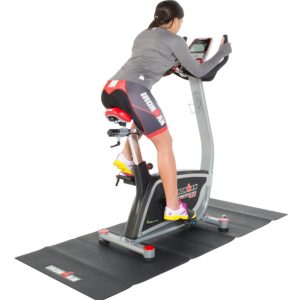 Indoor cycling bikes that look and feel like a road bike are growing in popularity all the time, but if you are looking to buy a standard upright bike that you can use for fitness, toning and weight loss, this Ironman Triathlon X-Class 310 Upright Bike is a very strong machine that has multiple workout options for people of all fitness levels.
Indeed considering the relatively low price of this upright exercise bicycle, it really over-delivers with regards to the range of workout options and the number of extra features that are designed to make your workouts more enjoyable.
You even get a free equipment mat to reduce any noise and protect your floor, which you rarely get with any other upright bike in this price range.
So if you are not prepared to pay upwards of $1000 for a top-end exercise bike, this is a very cost-effective alternative that you might want to consider.