Introduction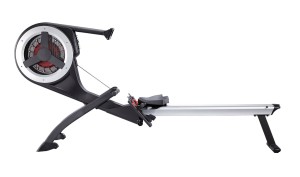 If you are an experienced rower, you will know that there are not many serious rivals to the Concept 2 rowers at the moment in terms of quality and performance.
However there is a new rowing machine that has recently gone on sale that supposedly offers a commercial-quality workout, and can also be used at home or in the gym.
The machine in question is the Impetus IA 6800AM Air Magnetic Rower, and so I thought it would be a good idea to take a closer look at this new indoor rowing machine.
Features And Benefits
intelligent air / magnetic resistance system
smooth and quiet in operation
includes backlit LCD display
track speed, distance, calories, pulse, watts, RPM
12 individual workout programs
integrated cooling fan
adjustable foot pedals
folds away for easy storage
suitable for anyone up to 280 pounds
Product Dimensions / Weight
This particular rowing machine weighs 115 pounds, and has dimensions (in inches) of 102 (L) x 20.5 (W) x 46 (H). Therefore it is clearly quite a large and heavy piece of equipment, but it can at least be folded up for storage when it is not being used so that it has a much smaller footprint.
Positives
As well as being a great-looking machine in terms of aesthetics, one of the defining features of this new Impetus rowing machine is the actual resistance system that is employed because it basically uses a combination of air and magnetic resistance.
As a result, you get a super smooth and quiet workout with little to no noise at all, and you will find that you don't need to adjust the resistance manually during your workout because the tension is controlled by the intensity of your rowing strokes, which is much more convenient.
You don't have to worry about getting too hot either because thanks to a cool design feature, the air flow acts as an integrated cooling fan, and will cool you down during your workout.
Another key benefit of this particular indoor rower is that it comes with 12 workout programs for you to use. This includes 4 heart rate programs, 4 user programs as well as manual profile, recovery, watt training and body fat programs.
So if you are someone who likes to set yourself some goals and really push yourself, then you should find these programs to be very useful for this purpose.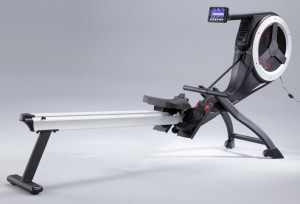 These programs can all be set using the backlit LCD display, which is conveniently located at head height and is really useful because it will indicate key data such as speed, distance, calories burned, pulse, RPM, watts, etc.
Finally, it should be noted that the build construction is extremely solid according to the initial customer feedback, and it is very comfortable to use because the seat is comfortable to sit on and the foot straps can be adjusted to accommodate different shoe sizes.
Negatives
If you were to be hyper critical of this new indoor rowing machine from Impetus, it is worth pointing out that although it is a large and very well-made machine, it has a lower weight capacity than some of the other commercial-grade rowers.
The product description states that the user capacity is 350 pounds, whilst a spokesperson for Direct Source Fitness (who sell this product) suggests that it is 280 pounds. Either way, it is less than the Concept 2 rowers or the Sole SR500 rower, for example, which have a weight capacity of around 500 pounds.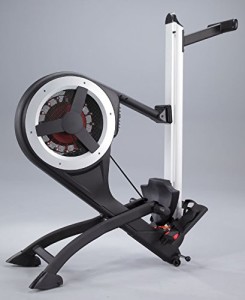 Of course this will only be a factor if you weigh upwards of 280 pounds yourself because most good quality rowers should be perfectly strong enough if you weigh less than this.
Another slight drawback of this product is of course its size and its weight. As mentioned earlier, it is quite a heavy machine with a total weight of 115 pounds, and despite having a folding design (as shown in the picture), it still requires quite a lot of space in your home or in your gym, for example.
Final Thoughts
The price tag of this new Impetus IA 6800AM Air Magnetic Rower suggests that it is a top quality commercial-grade rower, and in terms of the solid construction, the smoothness and intuitiveness of the air and magnetic resistance system and the range of workout programs, it is hard to disagree.
Indeed if you were to buy this particular rower, you will probably be delighted with your purchase because it should hopefully last you many years, and provide you with intense and challenging workouts that will tone up your body and improve your fitness level.
→ Click here to buy the Impetus IA 6800AM Air Magnetic Rower
However having used the Concept 2 Model D rowing machine hundreds of times in the gym, I would always recommend this one ahead of other similarly priced models, such as this one, simply because I know just how good it is. Plus from a practical point of view, it is significantly stronger and lighter than this one, which are factors that need to be taken into consideration when buying a rowing machine for your home.