Why You Should Do Interval Training On A Bike
Some people jump on an exercise bike at their local gym and simply pedal away on a low resistance setting for 20-30 minutes. This is obviously better than doing nothing because they are keeping themselves active, improving their fitness level and burning a fair amount of calories.
However if you are someone who really wants to burn more calories and torch your fat, you should consider doing high intensity interval training (HIIT) whenever you use an exercise bike because studies have shown that HIIT workouts have more fitness and weight loss benefits than steady-paced workouts.
How To Get A HIIT Workout On A Stationary Bike
It is undoubtedly easier to do high intensity interval training on an indoor cycling / spin bike because it is very easy to stand up and do fast-paced sprints or hill climbs on one of these machines during the high intensity phases of your workout.
However whilst you cannot really cycle comfortably in a standing position on most stationary exercise bikes, it is still possible to get a decent HIIT workout on one of these exercise bikes.
You just need to make full use of the resistance levels to push yourself hard during the high intensity phases and to cool off during the slower recuperation phases.
So in other words, you want to be upping the resistance and cycling at a fast pace for short bursts of time (maybe 1 or 2 minutes), and dropping the resistance back down for slightly longer periods of 3-5 minutes to give yourself a chance to recover.
Sample Workouts
A lot of stationary bikes have fixed resistance levels instead of continuous resistance so this makes it a lot easier to get the exact same workout every time.
Some of the top-end models will have as many as 25-40 resistance levels, but because many of the most popular (and most affordable) bikes tend to have 8 levels of resistance, I have created a few sample workouts that you can do on one of these machines:
20 Minute Interval Workout For Beginners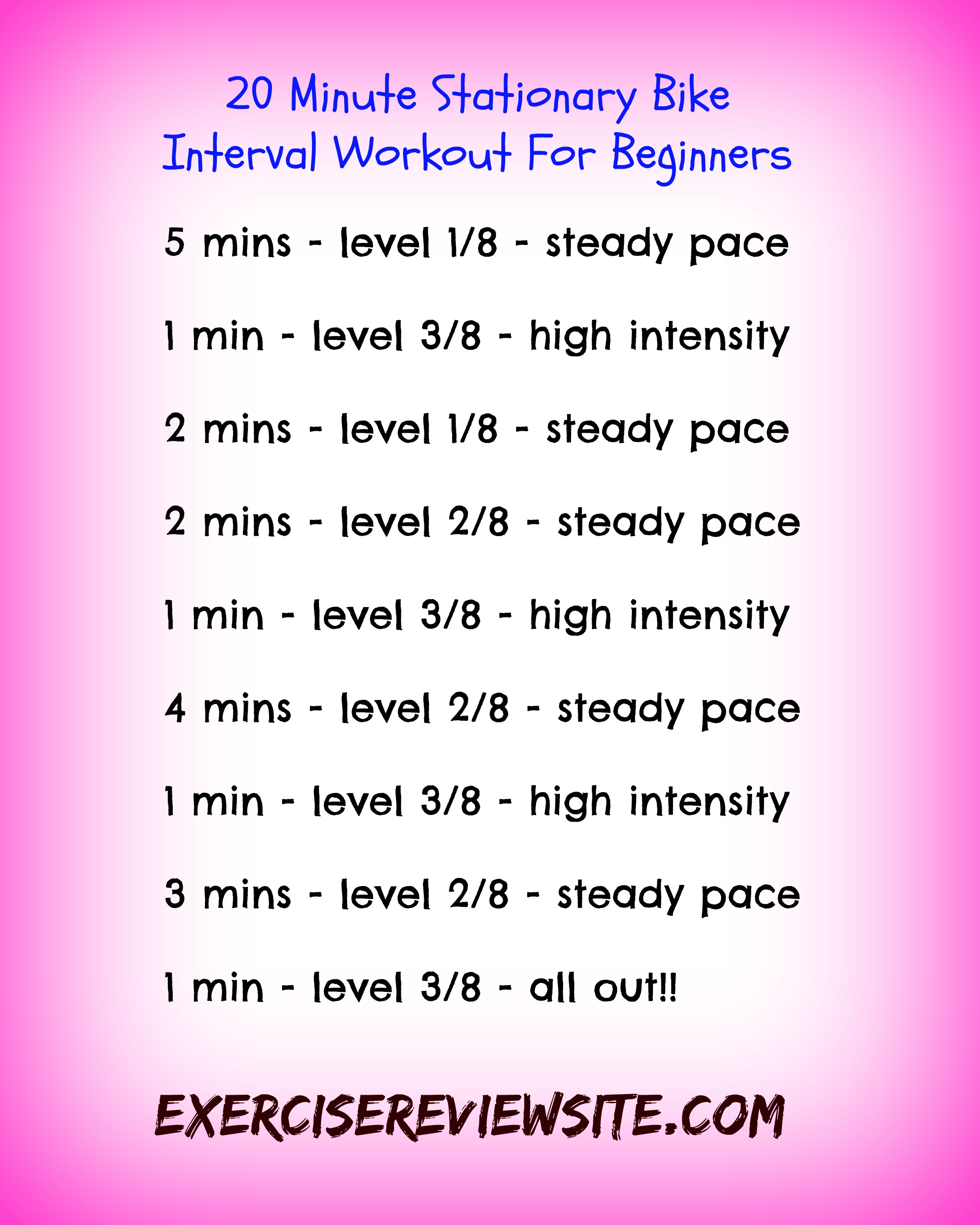 This is quite a gentle workout for beginners because it only includes one minute of intense exercise during the high intensity phases, and includes plenty of long phases at a low intensity.
The initial 5-minute phase is essentially the warm-up phase, but it starts to get slightly harder after that. However you can still complete the whole 20-minute workout without going beyond level 3/8.
It is worth noting that the steady pace phases shouldn't be done too slowly because otherwise you will hardly burn any calories at all.
Similarly, the high intensity phases should be performed at a rapid pace throughout but not necessarily flat out because otherwise you are in danger of completely exhausting yourself before you are able to get to the end of the workout.
You can give it everything you've got on the very last high intensity phase right at the end of the workout.
If you happen to have a stationary bike with more than 8 resistance levels, you can simply multiply these levels by 2 if it has 16 levels of resistance, for example, or multiply by 3 if it has 24 resistance levels.
Once you find this workout to be too easy, you can either increase the resistance levels or lengthen the high intensity phases to two or three minutes, for example in order to really torch calories and burn fat.
30 Minute Stationary Bike Interval Workout
If you are ready to really push yourself to the limit, you might want to try doing a high intensity interval workout that has a 50/50 split of steady paced and high intensity phases.
This will burn a lot more calories and get you a lot fitter because there are a lot more sprints and there is less time to recuperate between high intensity phases.
Here is an example of a 30-minute high intensity interval workout that you might want to try the next time you use a stationary bike at home or in the gym: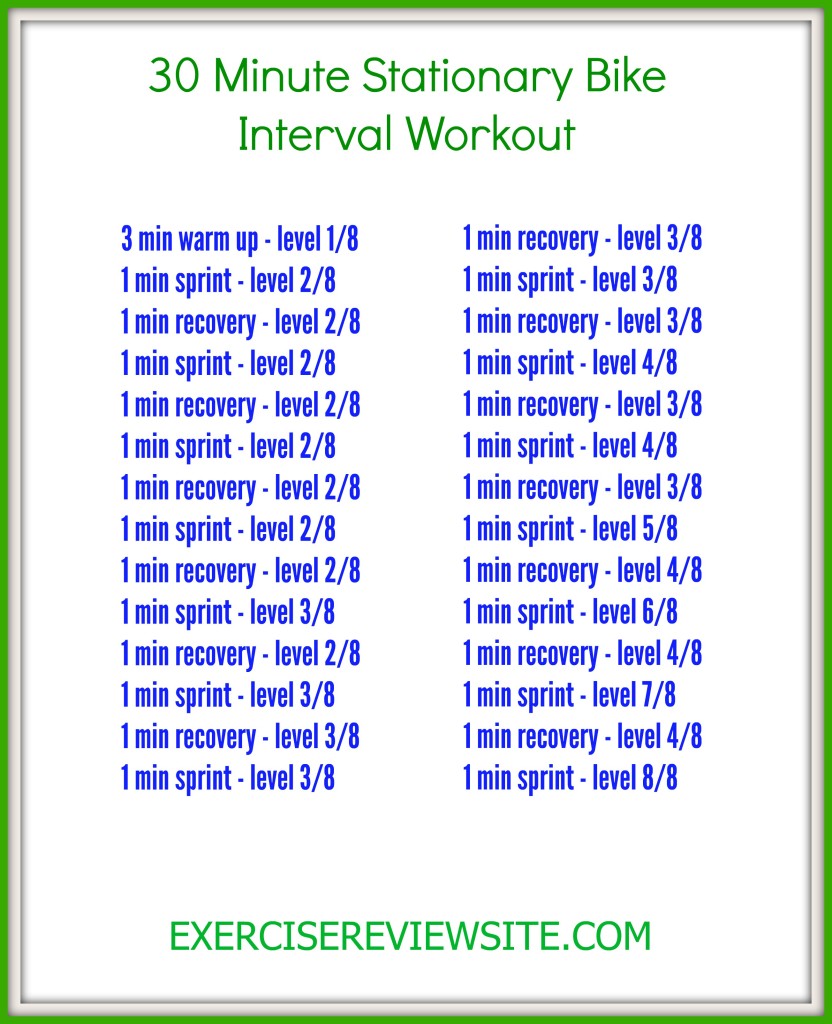 This is a really tough workout that is hard to complete unless you are extremely fit, but is one that will get results if you can get to the end.
Don't worry if you can't get to the end of the workout or if you struggle to sprint on the higher resistance levels. Simply shorten the length of the workout or lower the resistance as required.
Similarly, if you struggle to sprint for 1-minute intervals, you might want to consider lowering each phase to 30 seconds or 15 seconds, for instance.
Whatever type of HIIT workout you do, the point is that you can still get a really effective fat-burning interval workout on a stationary bike, and because you are always using different resistance levels and working at different intensities, it is guaranteed to be a lot less boring than a conventional one-paced exercise bike workout.