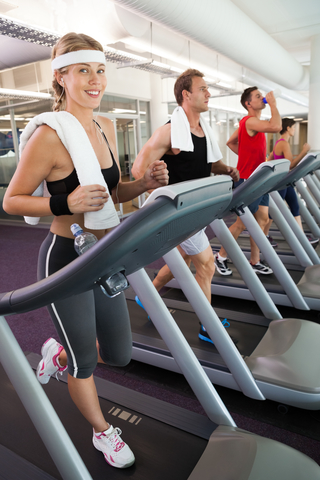 If you are a regular member of your local gym throughout the year, you will know that January is the one month when it can be a real hassle because it is always guaranteed to be full of people.
That's because many people join a gym at this time of the year hoping to lose some of the excess weight that they gained over Christmas and New Year. Plus there are also those who simply want to get fit as part of their New Year's resolutions.
Whilst these people should be applauded for making an effort to get in shape, it is not much fun for the regular members.
That's because they may now find that they have to wait a lot longer to use all of the machines and have to wait in line to use the showers. Plus they will have to share the changing rooms and steam room with many more people, and may well struggle to find a parking spot in the car park.
Of course it is usually back to normal in February because many of these new members will have given up by this time, but here are some tips that will help you to successful deal with overcrowded gyms in January:
Avoid Peak Hours
The best thing you can do is to simply avoid going to the gym during the busiest hours of the day. These hours can differ from one gym to another, but the pre-work and post-work hours are generally the busiest in many instances.
So it is often a good idea to go to the gym very early in the morning before the crowds start to arrive, during the daytime when many people are working, or late at night when there are not so many people.
Change Your Rest Days
Many fitness fanatics like to train four or five times a week, and then have one or two rest days at the weekend to allow their bodies to recover. However because the weekends are generally quieter, it is generally better to train on these days during January and change your rest days to week days instead, when the gym will be full of people. Mondays in particular are always very busy, so this is definitely a good day to take a rest.
Hire A Personal Trainer
Whilst you may enjoy training by yourself and are now more than capable of using all of the machines without any assistance, it can still be a good idea to team up with a personal trainer during January.
That's because as well as training you hard and giving you a lot of extra motivation, they also have a lot of influence in the gym. You will generally find that because trainers are being paid for their time, many gym members will give up their machines when asked, which means no more waiting around for you.
Do More Floor Exercises
During January a lot of the cardio and strength training machines will be occupied by other people. Therefore to avoid spending half your time waiting for these machines to become free, you might want to consider doing some floor exercises instead.
All you need to do is to find yourself an exercise mat and a set of dumbbells, and find a quiet area of the gym. Then you can do a wide variety of different cardio and strength training exercises, such as push-ups, sit-ups, squats, burpees and mountain climbers.
Use Free Weights
Following on from the last point, if you don't want to spend ages waiting for the strength training machines to become available, you can do lots of different exercises by yourself using dumbbells, EZ bars and barbells.
You will find that standing bicep curls and concentration curls using a barbell or a a dumbbell can be just as effective as bicep machine curls, and instead of using all the shoulder machines, you can do a range of similar shoulder exercises using free weights (with no waiting around).
Use Some Of The Unpopular Machines
The treadmills and exercise bikes are always very popular during January because these are some of the easiest cardio machines to use, and are ideal for all of the new members who are looking to lose weight.
So instead of waiting a long time for one of these machines to become available, it is a good idea to use some of the least popular cardio machines that are lying dormant in a quiet part of the gym.
These can include rowing machines, step machines and ellipticals, all of which will help you burn lots of calories, and help you train those areas of your body that you may not normally target.
Keep Your Cool
It can be incredibly frustrating seeing people wandering aimlessly from one machine to another not really knowing what they are doing, but this will inevitably happen in January when many people join a gym for the first time. So you just have to be patient and try to remember that you were in a similar position yourself when you first started going to the gym.
Walk To The Gym Or Use Public Transport
One of the problems that you will face during January is finding a place to park because a lot of gyms have limited parking space, and these spaces are taken up fairly quickly during the busiest month of the year.
Therefore it is often a good idea to walk to the gym instead of driving, which will give you a gentle cardio workout in the process, or use public transport instead.
Buy A Workout DVD
Fitness DVDs are incredibly popular just after the Christmas and New Year holidays because many people are looking to lose weight and get fit at this time, and like the idea of working out at home.
Therefore to avoid having to go to a crowded gym in January, you may want to think about cancelling your gym membership for a month, and working out at home using one or two of these DVDs instead.
Take Your Workouts Outside
Finally, another option that you have if you don't fancy working out in a crowded gym is to cancel your gym membership for a month and take your workouts outside. Although it is often bitterly cold in January, you can still burn lots of calories by running or cycling, for example, and it won't cost you anything either.
As I said earlier, the gyms will get a lot quieter and start to return to normal from February onwards, but they will all be very crowded in January, which can be a real pain for regular users. However the tips above should hopefully help you get through this month without stressing you out too much.