An Introduction To Fan / Air Bikes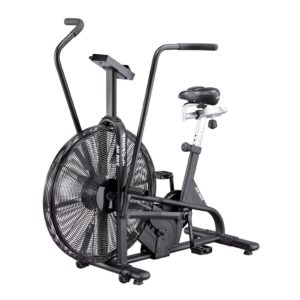 Most of the modern-day exercise bikes use magnetic resistance that is smooth and quiet, or friction resistance where pressure is applied directly to the flywheel, but you can also buy exercise bikes that use fan or air resistance to control the intensity of your workouts.
These are a lot more intuitive because they use a fan wheel instead of a conventional flywheel, and so thanks to the resistance generated by the rotating blades of the fan, the faster you pedal, the harder the resistance.
Plus you will often find that the breeze generated by the fan can help to cool you down during your workout.
The One Major Drawback – Noise!!
A lot of people prefer these bikes because there are no fixed resistance levels as such, and subsequently they will generally provide you with a much more intense workout because you have to constantly pedal at quite a rapid pace to keep the resistance at a high level.
There is, however, one problem associated with fan bikes and that's the noise that they generate.
It is not so much of a problem when you are pedaling slowly because the fan wheel will also be turning fairly slowly, and will therefore be fairly quiet in operation.
However once you start pedaling faster, the rotating fan will make just as much noise as an ordinary fan would on the highest setting.
Potential Problems
These air resistance exercise bikes don't exactly produce an ear-splitting noise, but they can be loud enough to prevent you from hearing the TV or listening to your favorite music.
In addition, if you set this bike up in your living room, for example, it could easily annoy other people who are in the same room because of the constant noise of the fan.
You may also have issues if you happen to live in an apartment block, for instance, because the noise and the vibration of the fan wheel could upset your neighbours who happen to live above and below your room. This is particularly true if you don't have a carpeted floor and don't have an exercise mat that you can place underneath the bike.
The Best Air Bikes To Buy
If you are not overly concerned with any of these minor problems and don't think that noise is going to be an issue, there are air resistance bikes available to buy in every price category.
For example, the Body Rider Fan Bike is one of the most popular entry-level fan bikes, but if your budget can stretch a lot further, you might want to consider buying the Schwinn AD6 Airdyne Upright Exercise Bike or the Assault Air Bike Trainer (pictured above) because these are two very impressive machines.
Closing Comments
Air / fan bikes can generate a fair amount of noise at higher speeds, similar to a normal house fan, but they are also extremely durable and less prone to wear and tear than many other exercise bikes. Plus they are guaranteed to give you a challenging workout because you can make the resistance as hard as you want it to be.
So they can still be a great investment if you are looking to buy a good quality exercise bike for your home, providing of course that you are not put off by a little bit of noise.