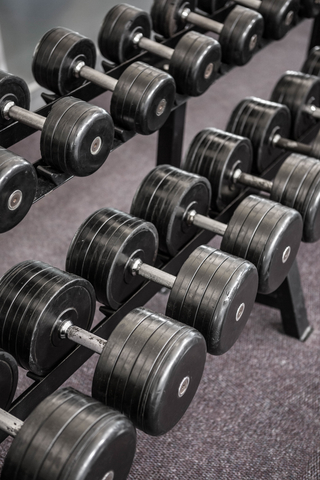 There are many things that other gym members do to annoy me. This includes making loud grunting noises, dropping weights on the floor, doing circuits on many different machines, hogging a machine, taking selfies, chatting on their phones and leaving sweat all over the equipment.
You also have the people who like to let it all hang out in the changing rooms (put some pants on man!!), and there is always that one guy who likes to dry his private parts with a hairdryer.
However the people who really annoy me are the ones who never re-rack their weights after they have finished using them because this seems to happen on a daily basis.
Why You Should Re-Rack Your Weights
If you are someone who likes to leave a stack of 45-pound plates on the leg press machine or regularly leaves a fully loaded barbell on the squat rack, please get into the habit of re-racking all of your weights after you have finished using them because it is unfair on the next person.
In some instances, the person using the equipment immediately afterwards may want to use the same weight, but in most cases they will want to do a few warm-up reps and then add their own weights, and certainly won't want to waste time and energy taking off all the weight plates that you were too lazy to remove.
If you are using one of the machines, you should always take off all of the weights ready for the next person to use. You have to remember that the next person to use it may be a woman who has difficulty lifting a 45-pound plate off the leg press machine, for example.
Similarly, it is not good etiquette to leave dumbbells and barbells lying around on the floor of the gym.
Not only does this result in less floor space for the other members of the gym to use, but it could potentially result in an injury if someone trips over one of them or damages their back trying to move them.
I have seen one guy in my local gym deadlift 200 kg in the middle of the gym, and then simply walk away immediately after he is finished, leaving someone else to remove all of his weight plates and move the barbell. So please don't do this yourself as it is so selfish and inconsiderate.
It doesn't take very long to put your weights back on the weight rack, and whilst you are doing so, you are also working your muscles and getting a mini workout in the process.
How To Re-Rack The Weights
Whilst you should always re-rack all of the weights that you use, it is important that you take time to re-rack them correctly and with proper form.
You will notice that the dumbbells are usually placed on the rack in order from left to right, either from the lightest to the heaviest or the heaviest to the lightest.
The EZ-bars and the weighted barbells tend to be stacked from top to bottom, with the lightest at the top and the heaviest at the bottom, although sometimes it is the other way round.
Anyway the key point is that you should make sure that you put the weights back in the correct place so that they are easy to find. That's because it can be extremely annoying (and time-consuming) having to look at the end of all of the dumbbells, for instance, trying to find the one you are looking for.
It is also important that you maintain correct form and posture whilst lifting and moving these weights. Just as you would aim to maintain proper form during all of your exercises in order to prevent injury, you should also do so when attempting to move any of these weights.
It is all too easy to put your back out by bending over and lifting a weight off the floor without bending your knees or adopting a correct deadlift position, for instance, and you can also injure yourself in other ways as well.
Indeed I have seen a few people nonchalantly attempting to lift a 45-pound plate off the leg press machine with one arm, only to discover that it was a lot heavier than they thought it was going to be.
You can also injure yourself placing weights and weight plates back on to the racks because it is very easy to trap your fingers if you are not careful.
So the message I am trying to get across is that you should always re-rack your weights to show consideration to the other gym members, but you should do so safely and correctly with good form and posture in order to avoid getting injured.