Introduction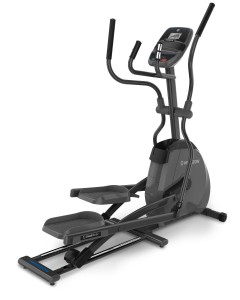 The Horizon Fitness EX-59-02 Elliptical Trainer is the latest version of the hugely popular EX-59 elliptical, and is one of those machines that is, in some respects, just as good as the ones that you might find in your local gym.
That's because this machine is designed to deliver a workout with the smoothest and most natural feel, whilst helping you maintain your posture and eliminating any stress on your back or hips.
So therefore it is easy to get a full-body workout that will help burn lots of calories (approximately 400 calories in 30 minutes) and improve your fitness levels without the risk of getting injured.
Key Features And Benefits
made using Horizon Fitness' SixStar frame
heavy duty 14.3 lb flywheel
magnetic brake resistance
smooth and quiet in operation
very easy on the joints
low step-on height
easy to use console
10 electronic resistance levels
10 program options, including a custom workout
track time, distance, speed, calories, pulse, etc
MP3 compatible speakers
built-in pulse monitor
includes water bottle holder and reading rack
accommodates users up to 275 lbs
lifetime warranty on frame
Product Dimensions And Weight
When this Horizon Fitness EX-59-02 Elliptical Trainer is fully assembled, it's exact product dimensions are 68 (L) x 25 (W) x 64 (H) inches, and it weighs 66 kg (145 lbs).
Positives
There are lots of positive selling points of this Horizon EX-59-02 Elliptical.
For example, it is very smooth and quiet in operation thanks to the heavy duty flywheel and the impressive SixStar frame, and has a natural stride length of 18 inches (with a low step-on height of 10 inches) to give you a comfortable and natural feeling workout.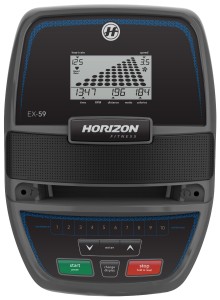 It will also give you a varied and challenging workout because there are 10 different resistance levels, which you can change electronically using the console unit, and 10 workout programs, which include weight loss, intervals, constant watts, rolling, reverse train, random and calorie goal programs, as well as a manual program.
In addition, it has a large console unit (pictured right) that will help you track your performance by displaying time, speed, distance, calories burned, pulse, RPM and watts (as well as the current program setting), and includes built-in MP3 compatible speakers and a reading rack that will help to keep you entertained during your workout.
Finally, this EX-59-02 model also comes with its own water bottle holder, which admittedly is quite low down, but is still a nice feature to have.
Negatives And Customer Feedback
If you do your research and see what people are saying about this machine on various sites, you will see that many people have been quite impressed with this relatively low-cost elliptical trainer from Horizon Fitness, and have said that it is excellent value for money on the whole.
A lot of people have commented that it was easy enough to assemble in about 1-2 hours as everything was clearly labelled, and that it is smooth and quiet in operation once it is up and running.
It has also received praise for its range of resistance levels and workout programs, and because it can easily accommodate both short and tall people without any problems.
However there have been a few negative comments, which mainly relate to the overall build quality of this machine because a few people have had one or two mechanical problems with it after a year or two of regular use.
Thankfully there is a lifetime warranty on the frame, but it is seemingly not as durable as some of the top-end elliptical trainers, which is understandable.
In addition, as this is a low-cost elliptical trainer, there is no incline option, which is often found on some of the gym-standard ellipticals and is a feature that many advanced users may require, and unlike the previous EX-59 model, there is no cooling fan included with this latest model either.
On the whole, though, this is still a solid entry-level elliptical trainer that I think represents good value for money when you weigh up all of the pros and cons, and take into consideration the low cost of this machine.
Where To Buy The Horizon Fitness EX-59-02 Elliptical Trainer
If you would like to buy this EX-59-02 Elliptical Trainer from Horizon Fitness, you can buy it directly from Horizon Fitness or you can buy it from Amazon, where you can also read all of the customer reviews that have been posted so far.