Introduction To The French Press
The French press is a very common exercise that you will see many people performing in the gym, however it is also one of those exercises that many people perform with bad form, which means that they are constantly running the risk of getting injured.
So in this article I thought I would tell you more about this particular move, including which muscles it works, and discuss how you can do this exercise with correct form to avoid getting injured.
If you are not familiar with the French press, it is sometimes referred to as the lying tricep extension, and it is basically where you sit or lie down on a bench, hold a dumbbell, EZ bar or barbell just behind your head with both hands and extend your arms upwards.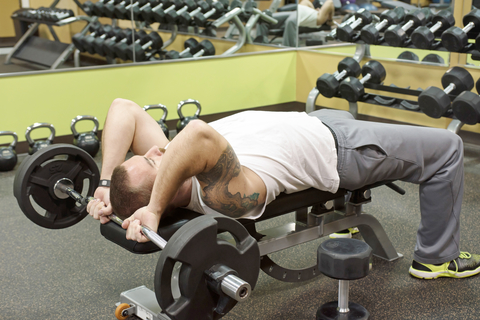 Muscles Worked
The French press primarily works the triceps, and particularly the long head of the triceps. So this is a great exercise to perform if your triceps are a little underdeveloped, for example, or if you have previously worked your biceps a lot more.
Remember the key to building thick muscular arms is to develop both your biceps and your triceps, because your triceps make up two thirds of your arms' muscle mass. Therefore because this move is so effective, it is well worth doing if you want massive arms, particularly if you are doing close grip bench presses and dips as well.
How To Perform The French Press Exercise With Correct Form
The video above demonstrates how to perform the French press correctly, but here are a few key points to remember if you want to get the most out of this exercise:
Never Use A Weight That Is Too Heavy
This is one of those moves that can cause some serious damage if you attempt to lift a weight that is too heavy because not only is it quite close to your head, but it also has the potential to pull your arms backwards. So always start off light and work your way up, regardless of whether you are using a dumbbell, EZ bar or barbell to perform this French press exercise.
Use A Narrow Grip
If you want to get the most of this move, you should always use a narrow grip to place maximum emphasis on your triceps, and then press upwards with your arms. Everything else should be locked in place, ie your head, neck, shoulders and back.
Keep Your Elbows Tucked In
It is also important that you try not to relax your elbows and allow them to flare outwards. This move can easily cause elbow pain if it is performed badly, so you really want to keep your elbows tucked in and facing forwards to reduce the risk of injury.
Don't Lock Your Arms Out
As with any kind of arm exercise, it is never a good idea to fully extend your arms as far as possible when performing this move because this will place a lot of strain on your elbows, and could easily result in an injury.
Focus On The Movement
You should always pay attention to what you are doing and focus on the movement when doing the French press because if your form starts to suffer, or you start to run out of strength, for example, you could easily drop the weight on your head. So aim to do a certain number of reps by all means, but always know when to stop.
French Press Tricep Workout
If you are looking to a French press arm workout, you don't necessarily need to do the same exercise using an EZ bar, barbell and dumbbell because this is counterproductive.
Simply pick one that you are the most comfortable with (many people find the EZ bar to be the easiest to use), and then do 4 or 5 sets of 10-15 reps.
Difference Between French Press And Skullcrushers
Finally, if you are wondering what the difference is between the French press and the skullcrusher exercise, the French press is safer and more effective because you are lowering the weight behind your head, whereas the weight is lowered in front of your face with skullcrushers, hence the name.
You will generally see many people doing skullcrushers in the gym, but this video explains why it is a much better idea to stick to the French press: