Why Freestyle Dancing?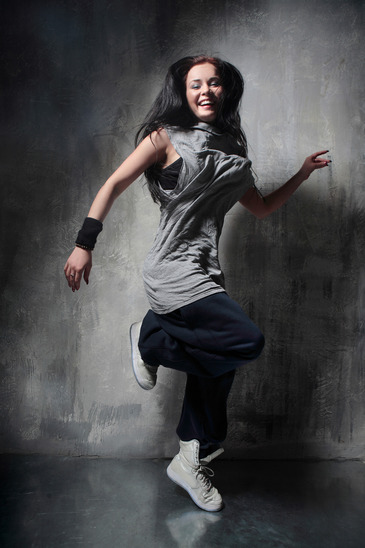 There are some cardio exercises that are more enjoyable than others, but two exercises that pretty much everyone finds boring are cycling on an exercise bike and running on a treadmill.
Yes you can listen to music to make your workout a little more pleasurable, but it is still a boring way to spend 20 or 30 minutes.
So why waste your time doing cardio exercises that you don't really enjoy doing? You will find that there are several activities that are a lot more fun.
Swimming is one that instantly springs to mind, but in this article I really want to talk about freestyle dancing because this is something that you can do in your living room or bedroom, and is a form of exercise that will really burn lots of calories and help you tone your muscles.
Getting Started
The great thing about dancing at home is that you don't need any equipment or workout clothes to get started (although loose clothing is preferred).
All you need is some music and a sound system of some description to play it on. A laptop or desktop PC is okay, but it is best not to use headphones connected to a phone or tablet because you really want your hands to be free.
Warming Up
As with any form of cardio exercise, it is a good idea to do some warm-up stretches beforehand to loosen and stretch your muscles. You will obviously be moving around a lot and bouncing around on your feet, knees and ankles quite a lot, so you want to loosen them up before you start.
Dancing In Your Living Room Or Bedroom (The Fun Part)
Once you have completed your warm-up exercises, you can then put your favorite music on and start dancing around.
Ideally you want to be on your own because this will really help you to lose all of your inhibitions and throw whatever shapes you want.
You don't need to restrict yourself to the boring side to side shuffle. Indeed it is recommended that you use as much of your body as possible. This is freestyle dancing so you can throw your arms in the air, bounce around as much as you want and experiment with lots of different moves.
The key is to use high-tempo music because this will force you to dance at a faster pace and subsequently burn more calories. You should aim to do at least 20-30 minutes of dancing (or more if you are really starting to enjoy yourself), and do one of these freestyle dance sessions 3-5 times per week.
Cooling Down
After you have completed your dance session, it is important that you do a few stretches just to cool down. This will help to prevent injury and it may help your muscles to recover a little quicker as well.
How Many Calories Can You Burn Dancing?
It is hard to say exactly how many calories you can expect to burn dancing at home because it all depends on the intensity of your dance workout and how much you move your body.
However you can expect to burn at least 180 calories with one 30-minute workout if you are dancing to upbeat music all the time because according to Harvard Health Publications, this is the number of calories that a 125-pound person will burn with 30 minutes of fast dancing.
This sounds about right because if you were to use this article (which reveals the number of calories you can burn for various different dance styles) as a general guide, the faster dances such as the mambo, cha-cha and samba, for example, will help you burn 354, 360 and 366 calories in one hour, which is approximately 180 calories in 30 minutes.
So hopefully you can start to see why dancing is a good form of exercise if you want to lose weight, particularly when you consider that you could easily burn a lot more calories than this simply by exercising for longer than 30 minutes or dancing with greater intensity.
Other Dance Workout Options
If you find it hard to do freestyle dancing for any length of time and want something a little more structured, you might also want to consider following along to some dance workouts on YouTube, like the one featured below, for example, or buying a dance workout fitness DVD.
Whichever option you choose, you will find that dancing in your bedroom or living room is a great way to burn some fat, and is certainly a lot more fun than slogging it out on a treadmill or exercise bike in the gym.