Introduction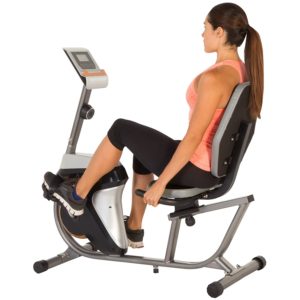 The main problem with a lot of the low-cost exercise bikes is that they often have a relatively low weight capacity and are not always suitable for taller people with long legs. Plus they also tend to have a limited number of workout options.
That's not the case with the Fitness Reality R4000 Recumbent Bike, however, because this is a strong and sturdy machine that can accommodate users up to 250 pounds, and is suitable for users between 5'0 and 6'3.
It also has 14 magnetic resistance settings, which should be enough to satisfy people of all fitness levels, and has a fully functioning computer that you can use to set yourself specific workout goals based on time, distance or calories.
So let's take a closer look at this particular machine, starting with some of the key features and benefits.
Features And Benefits
14 magnetic resistance levels
wide screen LCD computer display
built-in phone / tablet holder
track time, speed, distance, calories and RPM
3 workout goal settings (time, distance or calories)
large cushioned seat and back rest
infinite slider seat adjustments
oversized foot pedals
smooth and quiet belt drive system
step-thru design for easy access
strong and stable steel frame construction
includes water bottle holder and transport wheels
accommodates users between 5'0 and 6'3
suitable for users up to 250 pounds
Product Dimensions / Weight
With exact dimensions (in inches) of 49 (L) x 22 (W) x 43 (H), you will find that this recumbent bike is a little bit smaller and a little bit more compact that some of the more expensive models that are available. Therefore it is ideal if you don't have a lot of free space in your home.
Furthermore with a total weight of around 60 pounds, it is not particularly heavy either, which means that it is fairly easy to move around.
Positives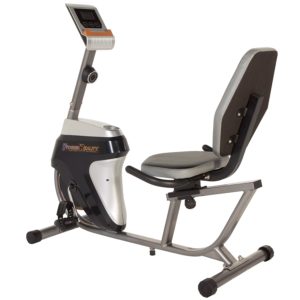 As mentioned above, one of the key benefits is that this is a small and compact recumbent bike that is ideal for small spaces, but there are many other reasons why you might want to consider buying this R4000 recumbent bike.
For a start, this machine has a belt drive system that delivers a smooth and quiet workout experience. Therefore it won't be an annoyance for the other people that you live with, or indeed your neighbors.
It also has a tough and durable steel frame construction that is strong enough to support users up to 250 pounds, and has adjustable floor stabilizers to ensure that it doesn't wobble from side to side when you are pedalling at high speed.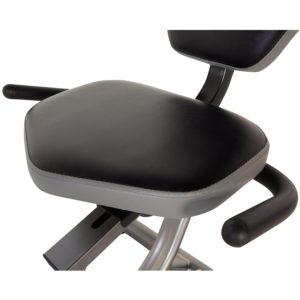 Indeed you should find that this machine is comfortable to use because it has oversized foot pedals with straps to keep your feet in place, as well as a large cushioned seat and a large cushioned back rest with soft grip handles to the sides.
This seat slides up and down and has infinite adjustments that make it suitable for anyone between 5'0 and 6'3.
As with many recumbent bikes in this price range, there are no workout programs or fitness apps, but there is a conveniently placed resistance dial that has 14 magnetic resistance settings to help you vary the intensity of your workouts.
Plus you can still use the computer display to set yourself goals based on time, distance or calories, which is a pretty cool feature.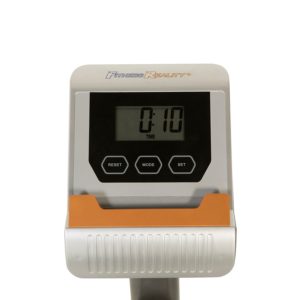 Talking of which, the LCD display may not be the most advanced that you will ever come across, and does look very basic in all honesty, but it will indicate time, speed, distance, calories, RPM and odometer and does have large numbers that are very easy to read.
It also has a built-in platform that you can use to place your phone or tablet device should you wish to listen to music or watch a movie whilst you are working out.
Finally, it is worth pointing out that this particular machine is easy to assemble, and comes with a set of batteries for the computer display so that you can start using it straight away.
Negatives
It is fairly standard for most exercise bikes to include some hand grip pulse sensors (even if they are not always entirely accurate), but this R4000 bike doesn't have any pulse sensors at all. So if you like to monitor your heart rate, you will have to buy your own chest strap monitor.
In addition, although this machine comes with a large cushioned seat and back rest, some people have pointed out that it still feels pretty hard when used for long periods. Therefore you may have to use a cushion if you yourself find this to be a problem.
Otherwise, the other other drawback is that the computer display is fairly limited with regards to the number of features, and doesn't display all of your performance data on a single screen, but it is still sufficient to give you all of the information you need (apart from your pulse).
Final Thoughts
The Fitness Reality R4000 Recumbent Bike may have a basic display and doesn't really offer anything in terms of extra features, but it is a strong and stable machine that can accommodate a range of users between 5'0 and 6'3 and up to 250 pounds.
It also has a decent number of workout options with its 14 magnetic tension settings, and has goal tracking settings should you wish to set yourself targets to beat and make your workouts a lot more challenging.
So it is definitely worth considering this bike if you are looking for a good quality low-cost recumbent bike for your home, particularly if you want one that won't take up a lot of space.
If, however, you would like a few more features, such as fitness app compatibility or workout programs, for example, then a more expensive model may be more suitable.
→ Click here to buy the Fitness Reality R4000 Recumbent Bike