Introduction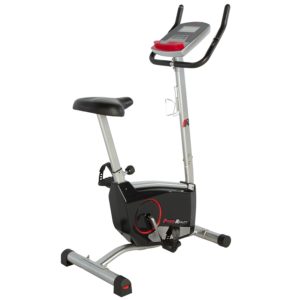 You will generally find that a lot of the entry-level upright bikes will only have a limited number of resistance levels and won't have any kind of workout programs at all. Plus they don't tend to be particularly strong, with an overall weight capacity of around 220-250 pounds at the most.
However Fitness Reality have attempted to raise the bar by developing a really affordable exercise bike that has 24 levels of resistance, 21 preset workout programs and a weight capacity of 275 pounds. So you really are getting a lot more for your money.
The bike in question is the Fitness Reality 210 Upright Exercise Bike, and it is one that both men and women can use because it can be adjusted to accommodate anyone between 5'0 and 6'4.
Features And Benefits
24 magnetic resistance levels
21 pre-set workout programs
3 goal settings for distance, time and calories
backlit LCD display
track time, speed, distance, calories, pulse and RPM
built-in tablet holder
quiet belt drive system
hand grip pulse sensors
adjustable cushioned seat
large foot pedals with adjustable straps
water bottle holder
transportation wheels and stabilizers
accommodates users up to 275 pounds
suitable for anyone between 5'0 and 6'4
Product Dimensions / Weight
The exact dimensions (in inches) of this upright bike are 33 (L) x 21 (W) x 52.5 (H) when it is fully assembled, so it is quite a compact machine. Plus with a total weight of 53 pounds, it is not particularly heavy either.
Positives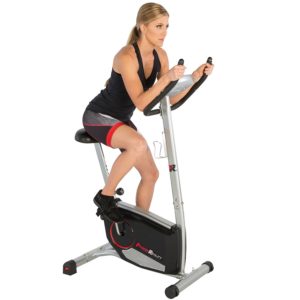 The first thing to say about this Fitness Reality bike is that with a total weight capacity of 275 pounds, it is one of the strongest and most durable bikes that you will find in this price range.
Indeed it has a sturdy steel frame construction that has been fully tested in the lab for durability, endurance and performance. So it should hopefully last a long time.
It is also suitable for many people to use because the seat can be adjusted upwards and downwards to accommodate anyone between 5'0 and 6'4.
The bike itself has a very quiet belt drive system that won't disturb the other people in your home, and has adjustable floor stabilizers attached to the rear of the frame to keep it level and prevent any movement so that you get a smoother workout.
It also has transportation wheels attached to the front that make it easy to move around if you want to move it from one room to another, for example.
However the real selling point of this 210 upright bike is that it provides you with so many different workout options.
Most entry-level bikes will only have 8 resistance levels, but this one has 24 magnetic resistance levels that range from very easy to intensely difficult.
It also has a total of 21 workout programs to help add variety to your workouts and to give you a range of different challenges over different terrains, and if that wasn't enough, you can even set yourself goals based on distance, time or calories.
There is no resistance knob on this machine. All of the controls are on the console, which makes it very easy and a lot more convenient to use.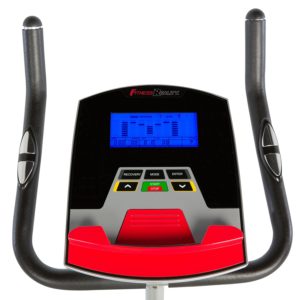 This console unit has buttons to control the resistance level and the workout program (if required), and you can also use this console to set yourself targets before you start your workouts for extra motivation.
You can see that it has a blue backlit LCD display that will indicate time, speed, distance, calories, RPM and pulse (taken from the hand grip pulse sensors on the handlebars) all on a single screen.
It also has a built-in tablet holder so that you can watch TV shows or movies on your phone or tablet device whilst you are working out, or listen to your favorite music, for example.
Finally, it is worth mentioning that this upright exercise bike has large foot pedals with adjustable straps to keep your feet firmly in place, and includes a water bottle holder so that you can stay hydrated during your workouts.
Negatives
The early reviews have been very positive, but there are a few minor issues that are worth highlighting in order to provide a balanced review.
First of all, although this machine is said to be fairly easy to assemble, some people have pointed out that there are a few tasks that really need two people. So this is something to bear in mind if you live on your own, for example.
The other slight issue concerns the seat because although it does have some padding, it is not particularly comfortable during longer workouts, according to some users. However this is a common complaint with many exercise bikes to be fair.
Final Thoughts
Overall, it is fair to say that Fitness Reality have created a very impressive upright bike for those people who are looking to get fit at home, but don't necessarily want to spend a lot of money.
This machine has a very strong steel frame construction and has enough workout options to satisfy people of all fitness levels with its 24 resistance levels, and its 21 workout programs that enable you to cycle through various terrains.
It has even included a tablet holder so that can keep yourself entertained during your workouts, which is a nice touch.
→ Click here to buy the Fitness Reality 210 Upright Bike
Demonstration Video