Introduction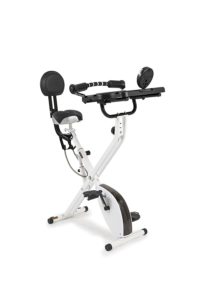 Government bodies and health experts are always warning people about the long-term health effects of sitting down for long periods of the day and not getting enough exercise, which is particularly concerning for those people who have an office job and for those people who work from home on their computer, for example.
However the good news is that there are exercise bikes available that now come a built-in desk so that you can do some work and get some exercise at the same time.
One of the most popular models is the FitDesk because both the original version and the follow-up v2.0 model have proven to be top-sellers, but you may be interested to know that you can now buy the FitDesk v3.0 Bike Desk, which appears to be even stronger than previous models with a few extra features.
Features And Benefits
adjustable non-slip work desk
easy access storage tray
built-in tablet holder
forearm massage rollers
upper body resistance bands
beach cruiser style seat
adjustable padded back rest
easy-to-read digital display
track time, speed, distance and calories
8 magnetic resistance levels
quiet twin belt high velocity flywheel
durable powder coated steel frame
can be folded away when not being used
suitable for anyone between 4'10 and 6'6
accommodates users up to 300 pounds
Product Dimensions / Weight
When the FitDesk v3.0 is fully assembled, it has a total weight of 47 pounds and a total footprint of 16 x 28 inches (with a height of 45 inches), so it is easy to fold away for storage and easy to move around (particularly as it has its own transport wheels), and won't take up a lot of space in your home or office.
The work surface has dimensions of 16 x 19 inches, which should be more than big enough to hold most people's laptops, although there is an optional extension kit available if you would like a little more space.
Positives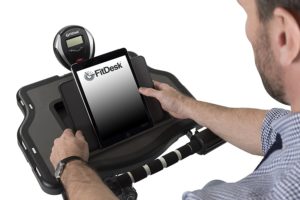 As this is a desk exercise bike, it makes sense to discuss the key selling point of this FitDesk 3.0 Bike first of all, which is of course the work station.
You will see that this is very similar to previous models because it is 16 inches deep and 19 inches across, and has a non-slip surface so that you can work on your laptop without it moving around.
Plus if you would prefer to use a tablet device, you will see from the photo that it now includes a built-in tablet holder, which is a very cool feature.
In addition, it also has an easy access storage tray, as well as forearm massage rollers that will prevent any discomfort when you are working on your computer for long periods.
So the desk is a decent size and has all of the features that most people will need, although you can buy an optional desk extension kit if you would like even more space.
With regards to the exercise bike itself, it may not be as impressive as some of the top-end upright bikes, but it will still give you a decent workout because there are 8 magnetic resistance levels that will enable you to vary the intensity of your workout routines during the day and burn more calories, if required.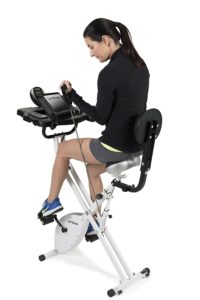 This bike also comes with a set of resistance bands, so as well as getting a decent lower body workout that has toning, fitness and weight loss benefits, you can also tone your arms and get a decent upper body workout as well if you so wish.
Your workouts are guaranteed to be smooth and quiet because of the twin belt high velocity flywheel, and the bike itself is designed to be as comfortable as possible because it has a beach cruiser style seat with a fully adjustable padded backrest and an extender that allows for upright and semi-recumbent use.
Indeed this particular exercise bike can be adjusted to accommodate any user between 4'10 and 6'6, which is not always the case with many similar sized upright bikes.
Plus it is stronger than previous models because the durable powder coated steel frame can now accommodate users up to 300 pounds, and has high quality gear box components to ensure that it lasts for as long as possible.
Finally, it is worth mentioning that this FitDesk v3.0 has an electronic display that is easy to read and will indicate time, speed, distance covered and calories burned if you are looking to track your performance, and if you don't want it taking up space in your home, it has a quick-lock folding design that makes it easy to fold away for storage.
Negatives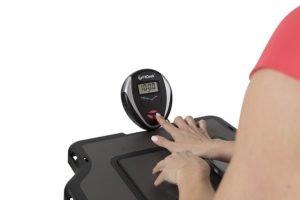 The only real drawback of this machine is that the performance monitor is a little basic because it only displays time, speed, distance and calories. There is no pulse readout because there are obviously no built-in pulse sensors, and there are no workout programs of any description.
Furthermore, the same design fault from the previous model still hasn't been rectified because if you are using a tablet or a laptop on the work desk, it will obviously cover the display monitor so that you can't track your performance.
However these are fairly minor issues because most people who use this machine will be more interested in working on their computer or watching movies on their laptop, for example, than looking at the performance monitor all the time.
Plus you can always move these items during your workouts in order to have a quick look at the display, or wait until you have finished exercising before seeing how much time you have been spent working out, how much distance you have covered and how many calories you have burned.
Final Thoughts
The FitDesk has received a lot of positive customer reviews since it first went on sale, and so although this latest 3.0 model is still fairly new, it is almost certain to be just as popular with consumers because it is even stronger than previous models with a weight capacity of 300 pounds, and now comes with its own tablet holder.
So if you feel that you are sitting around too much and would like to increase your activity level, this exercise bike and workstation would be a great investment for your home or office because you will be able to work and exercise at the same time and enjoy all of the toning, fitness and weight loss benefits that an exercise bike has to offer.
As mentioned earlier, there are 8 resistance levels to make your workouts as challenging or as easy as you want them to be, and you can even work your upper body as well by using the attachable resistance bands.
Finally, it is worth remembering that this bike has a small footprint and can be folded away when it is not being used. Therefore you don't have to worry about it taking up too much space and cluttering up your home because this really isn't an issue.
? Click here to buy the FitDesk v3.0 Bike Desk
Optional Desk Extension Kit
As with previous models, you can also buy a desk extension kit that attaches to the desk really easily and gives you twice as much space in which to work. Plus you also get a mouse pad and a built-in cup holder, which you may also find useful.
? Click here to buy the FitDesk v3.0 with Desk Extension Kit