Introduction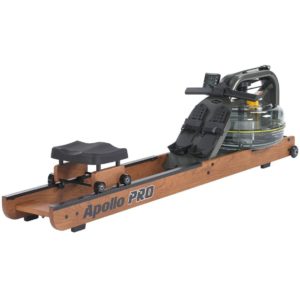 The WaterRower rowing machines are made from the highest quality wood and deliver a very realistic rowing experience because they have a water tank and an enclosed flywheel that provides natural resistance, and give you the impression that you are actually rowing on water.
However these are not the only water rowers you can buy. Other companies such as First Degree Fitness, for example, are continuing to produce their own versions that are equally as impressive.
One such model that you might want to consider buying is the First Degree Fitness Apollo Pro II Rowing Machine because this is a new commercial-grade machine for 2017 that is said to be ideal for home and gym use.
Features And Benefits
handcrafted from the finest quality American ash
encased in stabilised steel frame
durable and quiet belt drive system
triple bladed impeller and twin water tank design
4 levels of patented Variable Fluid Resistance
smooth and continuous resistance transitions
includes multi-level computer with USB port
track time, distance, 500m split, strokes, calories, watts and pulse
contoured non-slip seat
comfortable ergonomic handle
adjustable foot plates
built-in transport wheels
provides full body workout
ideal for home and gym use
can be stored in upright position
suitable for users up to 330 pounds
Product Dimensions / Weight
This water rowing machine has exact dimensions (in inches) of 84.1 (L) x 21.7 (W) x 21.3 (H) when it is fully assembled, and has a total weight of 79 pounds.
However if you have limited space in your home or garage, for example, it can be folded into an upright position (with dimensions of 22 x 21 inches).
Positives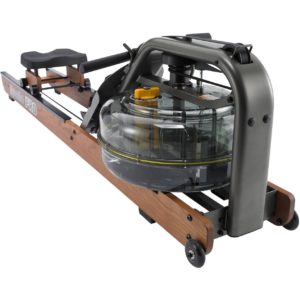 One of the main selling points of this Apollo Pro 2 rower is that it is made from the finest quality American ash wood, and is wrapped around a stabilised steel frame. Plus it is also completely water resistant.
Therefore it can easily be used in a commercial setting if required because the strength and durability of the whole frame ensures that it can be used over and over again by multiple users (up to 330 pounds) without any wear and tear.
This applies to the drive system as well because you will find that it requires no maintenance at all, and is consistently smooth and quiet in operation. It even has a self-cleaning wheel mechanism to reduce wear and tear on the bearings.
As with all water rowers, there is a water tank at the front, which in this case is a twin tank that is baffled inside to ensure instant catch and consistency, with a triple-bladed impeller to provide the resistance.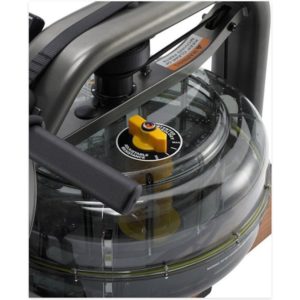 Talking of which, there are four levels of patented Variable Fluid Resistance (to control the volume of water) that can be adjusted using the resistance dial (pictured right) in order to make your workouts easier or harder.
This range of resistance makes it suitable for people of all fitness levels, and you will find that this rower will provide you with a complete full-body workout because it will work your upper and lower body, as well as your core.
In addition, this Apollo Pro 2 rowing machine provides a realistic rowing experience thanks to the sounds generated by the water tank, the natural resistance of the water and the rapid recoil system that performs well even with rapid strokes.
It will delivers a comfortable workout as well because it has a contoured seat and an ergonomic handle that minimises strain on your hands, wrists and forearms.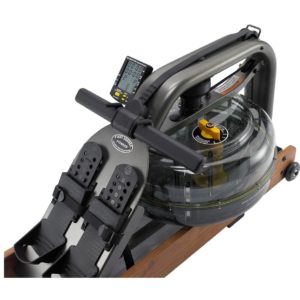 Plus there are two large foot plates that can easily be adjusted to different heights to help you find the most comfortable position, with secure heel captures that will keep your heels firmly in place during your workouts. These have an angled surface to help you drive through your legs with every stroke.
If you want to track your performance, you will be pleased to know that this First Degree Fitness rowing machine comes with its own multi-level computer monitor, located just above the handle on the left hand side.
This will display all of your key performance data on one screen, including time, distance, 500m split time, strokes per minute, calories burned per hour, watts and pulse, and there is also a USB port that you can use to connect your phone or tablet device in order to use various different rowing apps.
Finally, it is worth mentioning that this machine has transport wheels at the front, should you wish to move it around, and it can easily be stored in an upright position if you are going to be using it at home, for example, and don't want it taking up a lot of space.
Negatives
One criticism you could have about this machine is that the seat is not as comfortable as it could be. Although it is contoured to fit your body, it could possibly benefit from having a little more padding to provide a little bit more comfort for those extended workout sessions.
Another slight drawback is that the foot plates are a little close together, which shouldn't be a problem for most people, but may be an issue if you have large muscular legs, for instance.
Finally, although it is a little cheaper than many of the other WaterRowers on the market, it is still more expensive than the Concept 2 Model D rower, for example, which is often considered to be the best rowing machine on the market, according to professional rowers and elite athletes.
Final Thoughts
The First Degree Fitness Apollo Pro II Rowing Machine is equally as impressive as many of the other top-end water rowers on the market, and is actually better in some ways because it has a resistance dial with four settings that can automatically adjust the volume of water in the tank and determine how difficult you want your workouts to be.
So in other words, you won't have to manually add extra water if you want to increase the resistance, or attempt to remove some water if your workouts are proving to be too difficult, for example, which is a major benefit.
People who are new to rowing will be able to use this rower on the lowest setting and work through the levels as their fitness starts to improve, whilst experienced rowers will be able to use this machine as well because it will provide a really tough workout when the tank is full of water.
Therefore when you consider that is machine is capable of providing an intense full-body workout, and is strong enough to be used in a commercial setting if required, this Apollo II rowing machine won't disappoint if you are looking for a top quality water rower for your home or gym.