Introduction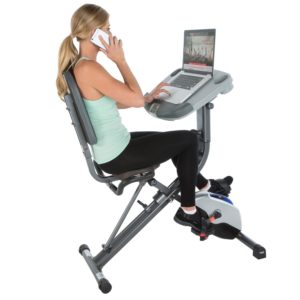 There seems to be a growing demand for exercise bikes that double up as workstations because many people seem to like the convenience of being able to work and exercise at the same time.
The FitDesk has long been one of the most popular models, and the relatively new Stamina Wirk Ride Cycling Workstation is another one that is proving popular with home users.
However Exerpeutic, one of the leading producers of affordable low-cost exercise machines, have recently entered this market as well with a brand new model for 2016 – the Exerpeutic WorkFit 1000 Desk Station Folding Exercise Bike.
Features And Benefits
8 magnetic resistance levels
smooth and quiet belt drive system
semi-recumbent design
large Airsoft seat with padded back rest
large adjustable work desk with foam arm rests
hand grip pulse sensors
built-in LCD display
track speed, distance, time, calories and pulse
includes storage drawer and cup holders
folds away for easy storage
can be used by anyone between 5'2 and 6'3
suitable for anyone up to 300 pounds
Product Dimensions / Weight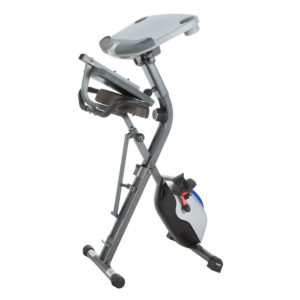 The total weight of this machine is 64.7 pounds when fully assembled, and it has dimensions (in inches) of 45.3 (L) x 25 (W) x 51.3 (H).
It can also be folded away for storage when it is not being used (as shown in the photo), giving it a foot print of 21.3 (L) x 25.5 (W) x 54 (H).
The actual work surface is 24 inches (W) x 16 inches (H), and it can hold objects up to 44 pounds. So you can easily use your phone, tablet or laptop whilst exercising on this machine.
Positives
The exercise bike itself may not be as impressive as some of the conventional upright bikes, but this Exerpeutic WorkFit 1000 should still be more than good enough for most home users.
That's because it has 8 levels of magnetic tension that will provide a wide range of resistance, and has a solid steel frame construction that can support users up to 300 pounds.
It also has a precision balanced flywheel and a V-belt drive that is smooth and quiet in operation, as well as a 3-piece high torque cranking system that delivers a consistent pedal motion.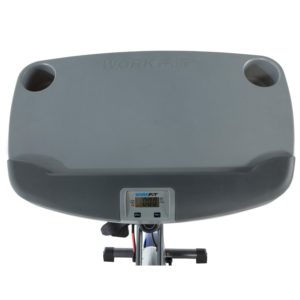 However the work station is obviously the key selling point of this machine, and this one looks really impressive.
That's because the actual work area (in inches) is 24 (W) x 16 (H), which is larger than its rivals, and is strong enough to hold a phone, tablet or laptop without any problems. It even has a pull-out storage drawer that you can use if you so wish.
So whilst you are getting a decent cardiovascular workout that offers toning, fitness and general health benefits, you can also do some work at the same time, for example, or keep yourself entertained by watching a movie or catching up on all of your favorite TV shows.
It should also be pointed out that this work desk can be adjusted in many different ways to find the best position for you.
For instance, it can be folded flat if you want to use your laptop, but it can also be adjusted to a 16 or 33 degree angle, which may be more suitable for viewing your phone or tablet device.
In addition, it can also be moved forwards and backwards and has five different height adjustments (from 41 inches to 45 inches).
You will also see that this work desk also includes a small built-in LCD display, just like a standard exercise bike, and will give you some useful performance data such as speed, distance, time, calories burned and pulse (the hand grip pulse sensors can be found on the side handlebars).
There is also a large foam padded area that will support your arms when you are working on your computer, for example, and two cup holders for your drinks.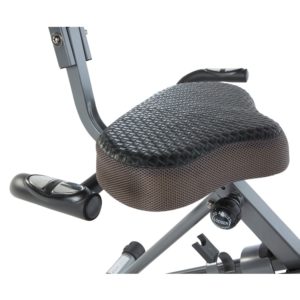 Talking of comfort, you will find that this bike comes with an Airsoft seat that allows air to flow through it so that it doesn't get too hot. Furthermore, this seat is quite large and has a lot of padding so it should therefore be comfortable to sit on for long periods.
Plus unlike many upright exercise bikes, this one comes with its own back rest for extra comfort. So you are unlikely to suffer from any back pain when using this Exerpeutic 1000 Desk Station bike.
Finally, it is worth mentioning that this bike has adjustable height stabilizers to prevent any movement or wobbling when you are working out, and can easily be folded away when it is not being used.
Negatives
There don't appear to be any major problems with this bike it is supposedly easy to assemble and seems to work well.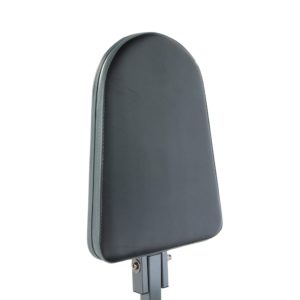 Nevertheless it has been suggested that the back rest isn't as comfortable as it could be, which is easy to believe because it is quite thin in comparison to the actual base of the seat and doesn't appear to be ergonomically designed.
If you were being hyper critical, you could also say that the LCD display is really quite small, but it still displays some useful performance data, and you can always move the desk closer if you are having trouble reading it.
Finally, although the work desk and seat can both be adjusted, this bike is only suitable for people between 5'2 and 6'3, which makes it unsuitable for really tall or short people.
Final Thoughts
As with any exercise bike that includes a work station, you should only really consider buying this machine if you are planning on making full use of the desk whenever you work out.
This is not a top-end exercise bike that is designed for serious athletes. This is a dual-purpose bike that is designed for the average person to use at home or in the office to keep fit, lose weight and tone up their lower body.
Of course there is nothing unique about this Exerpeutic WorkFit 1000 folding exercise bike because there is already an updated FitDesk 2.0 bike that you can buy as well as a similar looking bike from Stamina.
However this bike seems to be strong and well-made with a smooth and quiet drive system, just like all of the exercise machines from Exerpeutic, and has a strong and functional desk top that is actually larger than the desk top on the two bikes that I have just mentioned.
Admittedly it doesn't have resistance bands, like the FitDesk 2.0, but otherwise it appears to be just as good in many other respects.
→ Click here to buy the Exerpeutic WorkFit 1000 Desk Station Exercise Bike