Introduction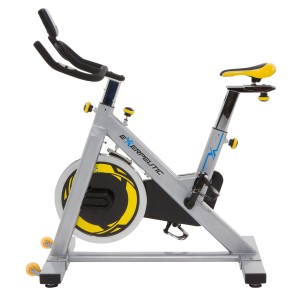 Exerpeutic already boast some of the top-selling upright and recumbent exercise bikes, but they have now produced their own indoor cycling bike – the Exerpeutic LX905 Indoor Cycle Trainer.
This bike replicates the feel of an outdoor road bike, and will supposedly give you an even tougher workout than a typical upright bike. Indeed you could even use it to perform spinning-type workouts in the comfort of your own home.
You will find that some indoor cycling bikes are ridiculously expensive, but this relatively new model is very affordable, and appears to be pretty good quality.
Features And Benefits
cast iron chrome 40-pound flywheel
easy-to-read computer display
built-in pulse monitors
track time, speed, distance, calories, RPM and pulse
easily adjustable resistance
smooth and quiet crank system
four-way adjustable cushioned seat
adjustable handlebars
extra wide frame for added stability
accommodates users up to 275 pounds
suitable for anyone between 5'2 and 6'3
Product Dimensions / Weight
At approximately 112 pounds, this bike is quite a heavy bike compared to your standard upright bicycle, but it does have transport wheels attached at the front that make it easy enough to move around. With regards to the actual size of this LX905 model, the exact dimensions are 47 (L) x 50 (H) x 22 (W).
Video Demonstration
Positives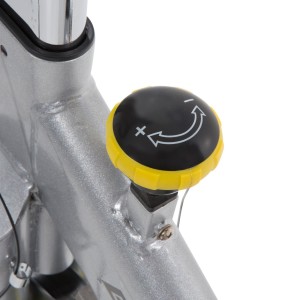 The first thing to say about this new Exerpeutic LX905 bike is that it feels just like an outdoor road bike thanks to the positioning of the seat and the handlebars, and of course the chain drive system.
You will find that the pedals move backwards and forwards, and you can adjust the resistance upwards and pedal standing up if you would like to emulate the feeling of cycling uphill.
Subsequently you can perform a wide range of indoor cycling workouts on this machine if you so wish.
There are no fixed resistance levels, as is the case with most indoor cycling bikes, but the resistance is easy to adjust using the dial control, and it is simple enough to make your workout easier or harder.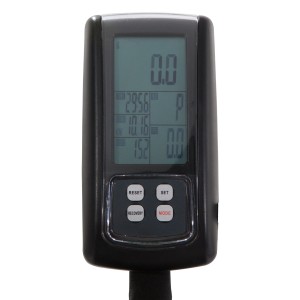 Unlike most indoor cycling bikes, this one actually comes with its own computer display, which many people will find useful. This LCD display is easy to read and will tell you your time, speed, distance, calories, RPM and pulse rate (as measured by the pulse monitors on the handlebars).
With regards to comfort, this LX905 bicycle has an extra wide frame to ensure that it remains completely stable during your workout, and has a four-way adjustable seat and handlebars that can be adjusted upwards and downwards to help you find the perfect riding position. It also has toe cages and safety straps to keep your feet secure during your workout.
Furthermore, the 40-pound flywheel and solid 3-piece crank system ensures a smooth and quiet workout, so you will have no problems listening to music or watching TV at the same time, for example.
Finally, this bike comes with a 1 year warranty and is suitable for anyone up to 275 pounds and anyone between 5'2 and 6'3, making it ideal for both men and women.
Negatives
It is hard to find any real faults with this Exerpeutic LX905 Indoor Cycle Trainer because it appears to be strong and sturdy, and delivers a smooth and comfortable workout.
The only slight issue, I guess, is the weight of this machine because at 112 pounds, it is quite a bulky item that might be difficult to move from one floor to another, for example.
Otherwise it seems to be a very good bike for the money based on the initial customer feedback.
Where To Buy The Exerpeutic LX905 Indoor Cycle Trainer
If you would like to buy this new indoor cycling bike from Exerpeutic, it is available from a few different websites, including Walmart and Amazon.
→ Click here to buy the Exerpeutic LX905 Indoor Cycle Trainer