Introduction
Exerpeutic have produced a number of top-selling recumbent bikes for people on a budget. The most popular model is the 900XL, which can accommodate users up to 300 pounds and is suitable for people between 5'3 and 6'3.
However they have also produced a slightly less expensive 400XL model, which has similar kinds of features but will take up less space in your home because it can be folded away very easily when you have finished using it.
In this article, however, I want to review the latest Exerpeutic Gold 525XLR Folding Recumbent Bike (pictured right) because this is a new and improved version of the 400XL that you can use to get fit at home.
Features And Benefits
8 magnetic resistance levels
large LCD computer display
track time, speed, distance, pulse, calories, etc
hand grip pulse sensors on handles
large seat cushion and back rest
smooth and consistent pedal motion
quiet in operation
can be folded away when not being used
heavy duty steel frame
suitable for anyone between 5'2 and 6'5
accommodates users up to 400 pounds
Product Dimensions / Weight
The exact dimensions (in inches) of this particular folding recumbent bike are 48.5 (L) x 24 (W) x 46 (H) and it has an overall weight of 54.7 pounds.
However it can be folded to almost half its size when it is not being used, which means that it can easily be stored in small spaces, and doesn't have to take up a lot of space in your home.
Positives
You will notice that this Exerpeutic 525XLR bike is similar in many respects to the previous 400XL model, but there are a few noticeable improvements that are worth highlighting.
For a start, this 525XLR model is made from 27% more steel than the 400XL model, which means that the frame is significantly stronger and more durable. In fact you will find that this machine can now accommodate any user up to 400 pounds, which is significantly more than many other models.
This recumbent bike is also more suitable for taller people because whilst the previous model could only be used comfortably by users up to 6'3, this one can be used by anyone from 5'2 to 6'5.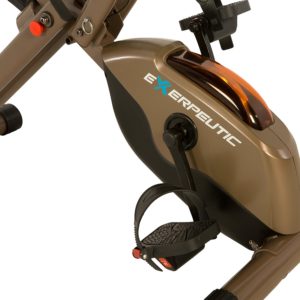 One other difference is that this model features a larger pedal design to help prevent your feet from slipping during your workouts.
Otherwise, there are many of the same features that will help to give you a good workout experience, whether you are looking to improve your fitness, tone up your lower body or lose some weight.
For example, there are 8 levels of magnetic resistance to help vary the intensity of your workouts, and the pedal motion is smooth and consistent with no excess movement thanks to the three piece cranking system and the extended leg stabilizer.
It is also said to be very quiet in operation, which is always an important consideration when you are looking to buy a home exercise bike.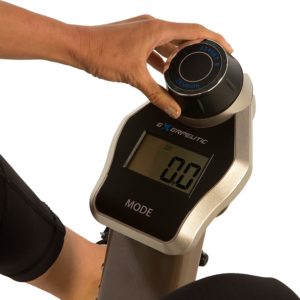 This machine comes with a large easy-to-read LCD display that indicates time, speed, distance, calories burned, odometer and pulse (according to the hand grip sensors on the side handles), and comes with two AA batteries so you can start tracking your performance right away.
It also has a large padded seat and back rest that can be adjusted upwards and downwards to accommodate people of different heights (between 5'2 and 6'5), and has handles at the sides (with built-in pulse sensors) that you can grip on to during your workouts.
Finally, this machine has transportation wheels attached should you wish to move it around, and if you want to free up some space in your home, you can fold this bike to almost half its size when it is not being used.
Negatives
I myself don't particularly like the gold design of this bike and preferred the silver design of the previous 400XL model, but this is just my own personal opinion, and doesn't seem to be one shared by other users.
Apart from this, you could argue that it is a bit of an inconvenience that you have to assemble this machine yourself when you consider how small this machine is when it is folded away.
Otherwise it is hard to find too many other faults. It has been pointed out that the resistance could be a little tougher at the higher levels, but otherwise it has received a lot of positive feedback.
Final Thoughts
This bike may not win any awards for its looks, but this is a surprisingly strong machine with a weight capacity of 400 pounds, and as with many other entry-level recumbent bikes, it offers a decent range of resistance with its 8 magnetic tension levels.
This machine is very well-made and doesn't have that same cheap feeling that many of the low-cost exercise bikes tend to have. Therefore it should hopefully last a long time without developing any faults.
So whilst the 400XL model was a pretty good folding recumbent bike in its own right, it is probably worth paying a little more for this new 525XLR model because this one is stronger and more durable, with a larger pedal design. Plus it is more suitable for taller people up to 6'5.
→ Click here to buy the Exerpeutic Gold 525XLR Recumbent Bike