If you are looking to buy a good quality entry-level exercise bike for your home, one of the best bikes you can buy right now is the Exerpeutic Folding Magnetic Upright Bike with Pulse.
This has been the top-selling exercise bike on Amazon.com for many months now, and continues to receive lots of positive customer reviews.
So let's take a look a closer look at this upright bike to see why it is so popular, starting with some of the main features and benefits:
Features And Benefits
8 levels of magnetic resistance
large LCD display that indicates time, speed, distance, calories, pulse and scan
high torque crank system for a smooth workout
large padded seat
hand pulse monitor built into the handlebars
suitable for both men and women
accommodates users up to 300 lbs
easy to assemble
can be folded away when not being used
Positives
It should be pointed out first of all that this is not a top-of-the-range upright exercise bicycle that has the looks and performance of the M3+ Indoor Cycle, or comes with lots of extra features such as a cooling fan, an MP3 port, a water bottle holder and speakers, like the Schwinn 170 bike, for example.
However if you are looking for a good quality low-cost bike that you (and your family) can use at home to improve your fitness levels and maybe lose a few pounds, then the Exerpeutic Folding Magnetic Bike is an excellent choice.
This bike can accommodate users up to 300 pounds, and is said to be suitable for anyone between 5'3 and 6'3. Therefore a large number of men and women should be able to use this machine without any problems.
It offers a good varied workout because of its 8 magnetic resistance levels, and is smooth and very quiet in operation (which is important when you are working out at home) thanks to the V-belt drive, the precision-balanced flywheel and the high torque crank system. It is also comfortable to use for long periods because it comes with a large padded seat.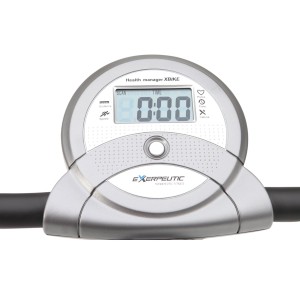 As with most upright bicycles, this particular model also comes with an LCD display (pictured right), which in this case is large, clear and easy to read, and indicates all the basics such as time, speed, distance, pulse, scan and calories burned so that you can monitor your progress.
Finally, it is also very easy to assemble out of the box, and when you have finished using it, you can simply fold it away, which means that it doesn't have to take up a lot of room in your home.
Customer Reviews
As I mentioned earlier, this upright bicycle from Exerpeutic has received lots of positive customer reviews so far, as you can see for yourself if you check out some of the customer reviews on Amazon.com.
People seem to like the fact that it is very well-made and is very strong and sturdy, whilst also being very easy to assemble because most of the assembly work has already been done for you.
Many people have also commented on how quiet it is, and how stable it is during each workout because there is no movement at all.
The LCD display has also earned praise because it is clear and very easy to read, and displays all of the information that you could possibly need during your workout (speed, time, distance, calories, pulse, etc).
Negative Points
The one problem that a few people have highlighted is that although it is height adjustable, women under 5'3 may struggle to reach the pedals comfortably. Similarly men over 6'1 may be too tall to use this bike if they have particularly long legs.
In addition, this bike obviously doesn't have any additional extras that you might find on some of the more expensive bikes, and doesn't have pre-set workout programs or an expansive range of 20-30 resistance levels, for example.
Overall, though, this is a really good entry-level exercise bicycle that should provide you with some challenging workouts that will really help with fitness and weight loss.
Where To Buy The Exerpeutic Folding Magnetic Upright Bike With Pulse
If you would like to buy the Exerpeutic Upright Bike, you will find it at Amazon.com, where you can also read all of the customer reviews that have been posted so far:
→ Exerpeutic Folding Upright Bike With Pulse
New 2015 Model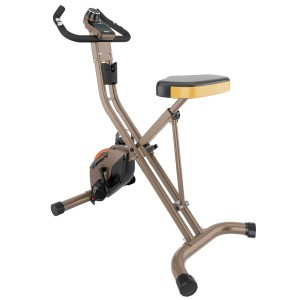 If your budget can stretch a little further, you might want to consider buying the new 2015 model, ie the Exerpeutic 500 XLS, which is brown instead of silver, and is a lot stronger because it is made from 20% more steel.
It is also ideal if you are particularly tall or short because unlike the standard model, which is suitable for people between 5'3 and 6'1, this new model can be adjusted so that it can be used comfortably by anyone between 5'1 and 6'5.