Introduction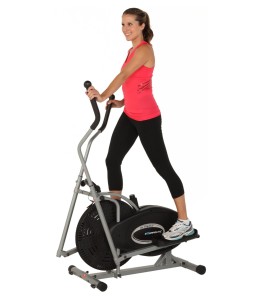 Many people like the idea of owning their own elliptical trainer, but are put off by the cost because they will often have to pay as much as $1000 – $2000 for a really good model.
However as with many other form of exercise equipment, it is still possible to buy an entry-level machine that will give you a good workout for a fraction of this price.
So in this article I want to review the Exerpeutic Aero Air Elliptical because as well as being one of the most affordable ellipticals on the market, this has long been one of the top-selling elliptical trainers.
Features And Benefits
light and compact
ideal for small spaces
easy on the joints
works upper and lower body
easily adjustable magnetic resistance
large-window LCD display
track time, speed, distance and calories
large non-slip pedals
suitable for anyone between 5'1 and 6'2
accommodates users up to 260 pounds
comes with 1-year warranty
Product Dimensions / Weight
As mentioned in the list of benefits above, this particular machine is ideal for small spaces because it is light and compact, with dimensions (in inches) of 33 (L) x 19 (W) x 46 (H) and an overall weight of just 55 pounds. Plus if you do want to move it from one room to another, there are transport wheels attached that makes this task really easy.
Positives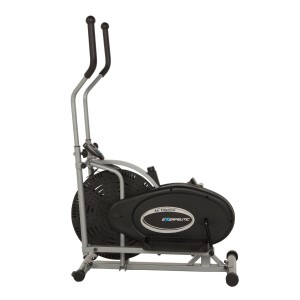 There are several reasons why you should consider buying this Exerpeutic Aero Air Elliptical Trainer.
For a start, it is one of the most affordable elliptical trainers that you can buy for your home. Therefore even if it suddenly breaks once the 1-year warranty period is over, it still won't cost you very much to replace it with a new one.
Secondly, as with all Exerpeutic machines, it is actually a pretty good machine for the price.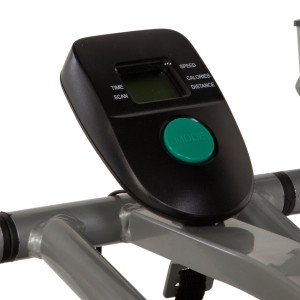 That's because it has adjustable magnetic resistance that will enable you to vary the intensity of your workouts, and has a large-window LCD display that will help you track your performance by displaying time, speed, distance covered and calories burned. It also has dual action arms that will help you get an upper body workout as well as a lower body workout.
You should also find that it delivers a smooth and comfortable workout experience because it has large non-slip pedals and a smooth and natural motion that is supposed to eliminate any stress on your joints.
Furthermore, the machine itself is extremely quiet and makes hardly any noise at all, which means that you can easily watch TV or listen to music at the same time, and it is strong enough to support anyone up to 260 pounds.
Finally, this Exerpeutic Aero Air machine is clearly a very small and compact machine, which makes it ideal for small apartments, for example, or for any homes where space is at a premium.
Negatives
As you might expect from an elliptical in this price range, the biggest problem seems to be the build quality because many people have had problems with broken parts.
Of course it comes with a 1-year warranty, and it should be pointed out that many people haven't encountered any problems at all, but you should definitely be aware that there is a small chance that it might break at some point.
With regards to some of the other drawbacks, the stride length is relatively short and possibly too short for taller people to use comfortably, and although the LCD display is easy to read, it is actually positioned really low down, which means that you need to look down quite a lot instead of looking straight ahead.
Final Thoughts
Overall this is not a bad little machine considering how cheap it is to buy online. It is small and compact and delivers a good upper and lower workout, with varying levels of magnetic resistance should you wish to push yourself even harder.
The trade-off is that unlike some of the more expensive machines, the build quality doesn't appear to be that good based on some of the customer reviews.
So ultimately you need to decide if you are happy to buy a really cheap entry-level elliptical trainer that should provide you with a really good workout (if it doesn't break), or whether it would be better to spend a little more money on a good quality machine that has a better build quality.
→ Click here to buy the Exerpeutic Aero Air Elliptical
Now Available With Integrated Exercise Bike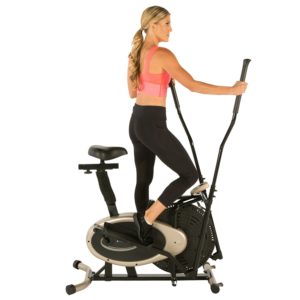 The new Exerpeutic Gold Elliptical and Exercise Bike Dual Trainer is very similar to the Air Elliptical featured above, but this one can also be used as an exercise bike because it comes with a large adjustable seat, which is a really cool feature.
Therefore it offers excellent value for money because it is an elliptical trainer and an exercise bike all-in-one, and you can perform your workouts in both a seated and a standing position.