Introduction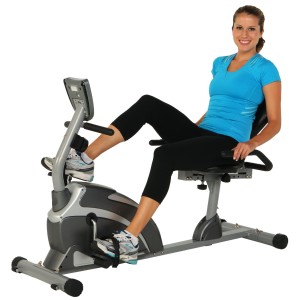 Recumbent bikes have become very popular in recent years because these ones come with their own backrest, and therefore offer more back support than a standard exercise bike. Plus they enable you to complete your workout in a much more relaxing position.
The price of one of these machines can vary quite considerably, but the good news is that you can now buy one that will give you a really good workout without spending a fortune.
To demonstrate this fact, I would like to tell you about the Exerpeutic 900XL Recumbent Bike with Pulse, which is currently one of the top-selling models, and show you why this particular model is such good value for money.
Features And Benefits
8 magnetic resistance levels
large easy-to-read LCD display
track time, speed, distance, calories and pulse
smooth torque cranking system
quiet V-belt drive
consistent pedal motion
oversized cushioned seat
large non-slip pedals
minimizes stress on the joints and back
suitable for people up to 300 pounds
comes with 3-year warranty
Product Dimensions
This bike has dimensions (in inches) of 54 (L) x 22 (W) x 34 (H) and has an overall weight of 63 pounds when fully assembled.
Positives
As you can probably tell, the Exerpeutic 900XL is not exactly a top-of-the-range model. For example, there are no workout programs included with this model and there are no fancy extras, such as a cooling fan or a sound system, for instance.
However this is a low-cost bike that will should give you a smooth, quiet and comfortable workout, and is one that can be used by the whole family because it is suitable for anyone up to 300 pounds.
There are 8 resistance levels that basically go from really easy to very hard, and so it is also suitable for people of all fitness levels.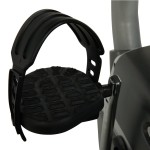 It is guaranteed to provide a comfortable workout because of the backrest, but you will also find that it comes with a cushioned seat and some large foot pedals with straps that hold your feet firmly in place.
In addition, the workout is smooth and quiet because of the V-belt drive and the smooth torque crank system, and the bike itself is firm and stable because it comes with its own leg stabilisers.
If you want to track your performance whilst you are working out, there is an easy-to-read LCD display that will tell you your time, speed, calories burned and distance covered, and because there is a pulse monitor built into the handlebars, it will also tell you your pulse rate as well.
Finally you should find that this Exerpeutic 900XL Recumbent Bike is pretty easy to assemble, and if anything does go wrong once you start using it, it does come with a 3-year manufacturer's warranty for added peace of mind.
Negatives
As with any item of fitness equipment, there will always be a few complaints, and this bike is no exception.
One common complaint concerns the adjustment of the seat because it can be quite a fiddly job, but this is a fairly minor problem and will only be a hindrance if it's being used by multiple users.
Plus although many people have said that the seat is very comfortable, there are a few people that haven't found this to be the case, particularly when used for long periods. So there is a chance that you might need to use an extra cushion.
Final Thoughts
You have to bear in mind that this is very much an entry-level recumbent bike so it is obviously quite a basic machine, and maybe isn't as strong as some of the more expensive models.
However it is backed by a 3-year guarantee if anything goes wrong, and overall you would have to say that it delivers a pretty good workout based on the majority of reviews, and appears to be ideal if you are looking for a low-cost recumbent bike that will improve your fitness and help you lose weight.