Introduction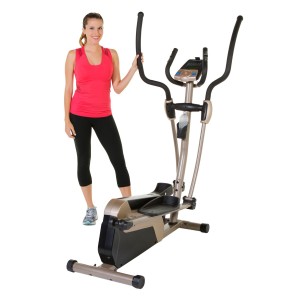 A lot of people are put off the idea of buying a low-cost elliptical trainer because they will assume that they are poorly made and likely to break within a year or two.
In many cases this is entirely justified, however there are still a handful of elliptical machines in this price range that continue to prove popular with consumers, one of which is the Exerpeutic 5000 Magnetic Elliptical Trainer.
This machine has lots of resistance levels and is loaded with extra features that sets it apart from many other machines in this price range. So in this article I thought I would take a closer look at this elliptical to see how it compares with some of the more expensive models.
Features And Benefits
24 magnetic resistance levels
12 workout programs
7 training modes
track time, distance, RPM, watts, pulse and calories
Bluetooth mobile app tracking
hand grip pulse sensors
18-inch stride length
designed to prevent pain in knees and ankles
works upper and lower body
strong and durable 3-piece cranking system
suitable for anyone up to 270 pounds
Product Dimensions / Weight
This Exerpeutic elliptical has dimensions (in inches) of 55 (L) x 25 (W) x 64 (H) and weighs 84 pounds when it is fully assembled. So it is not overly heavy and won't take up a lot of space in your home, like some of the more expensive models.
Positives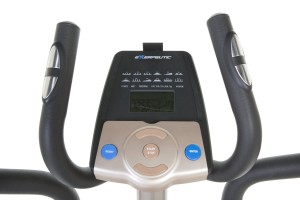 The first thing to say about this Exerpeutic 5000 elliptical is that it has 24 magnetic resistance levels, which is enough to challenge people of all fitness levels.
In addition, it has a range of workout options to provide even more variety because there are 12 workout programs and 7 training modes, both of which can be adjusted electronically using the display console.
This console will track time, distance, watts, RPM, calories burned and pulse rate (which is recorded using the hand grip pulse sensors on the handlebars), and if you want to monitor your workouts on the go, you can connect it to your Android or Apple device using Exerpeutic's Bluetooth-enabled mobile tracking app.
The machine itself has a high performance 3-piece cranking system that guarantees a smooth and continuous movement, and has an 18-inch stride length that delivers a natural elliptical motion and is designed to prevent any knee or ankle pain.
It also has large foot plates that will prevent your feet from slipping during your workout, and dual action handlebars that move in tandem with the foot plates to give you a good upper body workout.
Finally, this machine is suitable for both men and women because it has a weight capacity of 270 pounds, and has extended leg stabilizers to prevent any movement or tipping when exercising at a high intensity.
Negatives
This Exerpeutic 5000 Magnetic Elliptical Trainer has received a lot of positive feedback on various review sites and forums, with many people reporting no problems at all, but this machine has also received a number of negative comments as well.
The main problem seems to concern the build quality because several people have reported that the bolts kept coming loose when they used this machine. Apparently they still have a habit of coming loose even when they are fully tightened, which is obviously a little dangerous.
In addition, some people have commented that the Mycloudfitness app doesn't work very well, and the reviews on the Google Play store would seem to back this up.
Apart from this, the other slight issue is that this machine has a fixed stride length of 18 inches, which should be perfectly fine for most people, but may not be comfortable for really tall or short people, for example.
Final Thoughts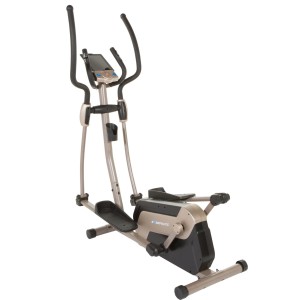 The Exerpeutic 5000 would appear to be a great little machine that is excellent value for money because it has a number of resistance levels and workout programs, and has a number of features that you generally only find on some of the more expensive ellipticals.
For example, you don't generally get fitness apps and computer-controlled resistance levels and workout programs on one of these low-cost elliptical machines.
The major problem is reliability because too many people have reported bolts coming loose for it to be an isolated incident. Plus as I have already mentioned, the free fitness app, which is one of its main selling points, is apparently not as good as it could be either.
So whilst this would otherwise be a good investment if you are on a budget, you might want to consider buying a more expensive model if you are looking for a strong, well-made machine that is guaranteed to last many years without breaking, or if you are buying it purely for the mobile fitness tracking app.
→ Click here to buy the Exerpeutic 5000 Magnetic Elliptical Trainer