Introduction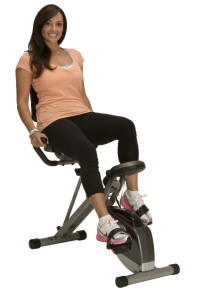 Exerpeutic are one of the leading suppliers of low-cost exercise bikes, and one of their most popular recumbent models is the Exerpeutic 400XL Folding Recumbent Bike.
This is actually one of the most convenient bikes you can buy for your home because unlike many other recumbent machines, this one is light and compact and can be folded away when it is not being used.
So let you tell you about all of the features and benefits of this machine, before I discuss some of the pros and cons in more detail to help you decide whether or not this bike is sufficient to meet your needs.
Features And Benefits
8 magnetic resistance levels
large easy-to-read LCD display
hand pulse sensors
precision balanced flywheel
quiet V-belt double-drive transmission system
large padded seat with adjustable backrest
light and compact
smooth and quiet in operation
folds away for easy storage
can be used by anyone between 5'2 and 6'2
suitable for anyone up to 300 pounds
Product Dimensions / Weight
As I have already mentioned, one of the main benefits of this machine is that it is very light and easy to move around (with a total weight of just 39 pounds), and will take up very little space in your home with dimensions (in inches) of 33 (L) x 19 (W) x 46 (H) when it is fully assembled.
Positives
Of course many people end up buying this Exerpeutic 400XL bike because it is light and compact and easy to fold away. However there are many other reasons why you might want to think about buying this particular machine.
For a start, it actually provides you with a really good workout. That's because there are 8 magnetic resistance levels ranging from easy to very hard, making it ideal for people of varying fitness levels.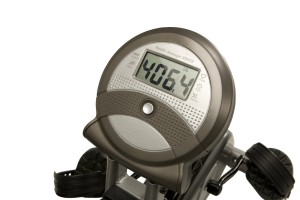 It also has a large easy-to-read LCD display (pictured right) that makes it easy to monitor your performance because it displays time, speed, distance, calories burned and pulse rate (taken from the hand grip sensors on the handlebars at the sides).
In addition, the combination of the precision balanced flywheel and the V-belt double-drive transmission system ensures a smooth and quiet workout. Indeed this machine is so quiet that you can easily listen to music or watch TV at the same time so that you don't find yourself getting bored during your workout.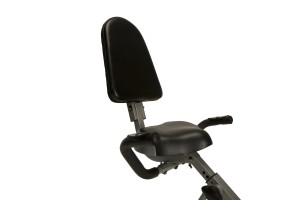 Another benefit of this machine is that it has a semi-recumbent design, which means that it is ideal for anyone who has any kind of mobility problems because it is very easy to get on and off.
It also has a large padded seat for extra comfort, and an adjustable backrest that will be of benefit to anyone who normally suffers from back pain whenever they use a conventional upright bike.
Finally, it is worth mentioning that this bike is strong and sturdy with a weight capacity of 300 pounds, and can be used by anyone between 5'2 and 6'2.
Negatives
As with all exercise machines, you will have to assemble this machine yourself and although it is actually quite a straight forward job, the instructions are said to be overcomplicated and not as clear as they could be.
Apart from that, the other main problem with this bike relates to the build quality because some users have reported that this bike broke about three months to a year after they bought it.
However in all fairness, this is always a possibility when you are buying a low-cost exercise machine such as this one, and it should be pointed out that this bike comes with a 1-year warranty if anything does happen to go wrong with this machine during this time.
Demonstration Video
Final Thoughts
This machine has consistently been one of the top-selling recumbent bikes since it first went on sale back in 2011 because it is light and compact with a convenient folding design, and is very reasonably priced compared to many other recumbent machines.
It's not necessarily a bike that's going to last you 5-10 years, but it has a smooth and quiet drive system and will give you a challenging workout with its 8 resistance levels. Plus it comes with a good quality LCD display and a seat that is very comfortable and accommodating, which is all you can really ask for from a bike in this price range.
→ Click here to buy the Exerpeutic 400XL Folding Recumbent Bike
Also Worth Considering – The New 525XLR Recumbent Bike
If your budget can stretch a little further, you may want to consider the new and improved 525XLR model instead of the 400XL model reviewed above.
That's because this latest model has an extended weight capacity of 400 pounds (vs 300 pounds for the 400XL) and as well as having a larger pedal design, it is also a little more suitable for taller users because the seat can be adjusted to accommodate anyone up to 6'5.