Introduction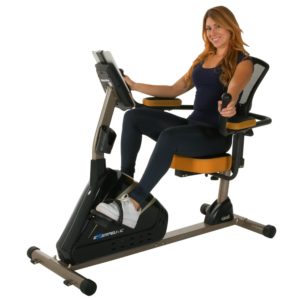 Exerpeutic have produced some of the top low-cost recumbent bikes, such as the 400XL, 900XL and 1000XL models, for example, but they have also developed a more advanced machine that you might also want to consider buying.
The Exerpeutic 4000 Magnetic Recumbent Bike has more features and more workout options than these cheaper models, and this is reflected in the price because it is more of a mid-range machine than an entry-level bike.
So in this article I want to list of all of the main features and specifications, and tell you about some of the pros and cons to help you decide whether it is worth paying more for this particular bike.
Features And Benefits
24 magnetic resistance levels
12 workout programs
7 training modes
large console and LCD display
track time, distance, watts, RPM and pulse
mobile app tracking
thick padded foam seat
padded arm rests
built-in pulse sensors
smooth and quiet motion
suitable for anyone between 5'0 and 6'3
accommodates users up to 325 pounds
Product Dimensions / Weight
This Exerpeutic 4000 recumbent bike has exact dimensions in inches of 58 (L) x 30 (W) x 41 (H), and weighs 71 pounds. As with most recumbent bikes, it takes up quite a bit of space in your home, but if you do want to move it from one room to another, there are transport wheels attached to the frame that makes it a little easier.
Positives
The first thing to say about this Exerpeutic 4000 model is that it has more resistance levels and more workout programs than all of the entry-level bikes from Exerpeutic.
These entry-level machines only have 8 levels of resistance and don't come with any workout programs at all, whereas this one has 24 levels of resistance and 12 workout programs, as well as 7 training modes to help you vary your workouts. The console also has user settings for up to 4 people as well.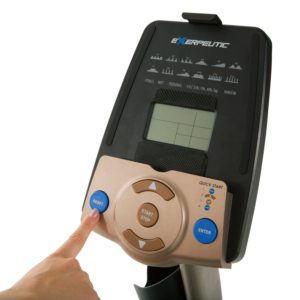 Talking of which, the console is larger and more impressive on this machine because you can control both the resistance and the program setting electronically using the console, which will also display your performance data – time, distance, watts, RPM and pulse (as recorded by the built-in pulse sensors).
Plus there is an adjustable latch that will keep your mobile phones and tablet devices secure during your workout should you wish to watch a TV show or movie at the same time.
Another really cool feature about this bike is that you can monitor your performance offline using the mobile app tracker. This MyCloudFitness app has been developed by Exerpeutic and is compatible with both Apple and Android devices. The demonstration video further down this page will show you exactly how it works.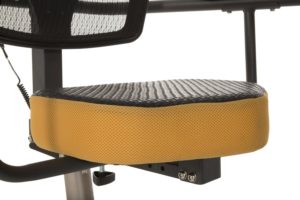 With regards to comfort, this bike comes with a padded foam seat that is 3.5 inches thick, and has multi-air chambers and a breathable fabric cover for increased air flow. It also has a molded mesh and contoured backrest to minimize any stress on the back, and comes with arm rests and padded elbow rests for extra comfort.
In addition, the Exerpeutic 4000 also has a precision flywheel and a V-belt drive that combine to deliver a smooth workout with hardly any noise at all.
Finally, it should be pointed out that this machine can easily be used by both men and women because it has an extended weight capacity of 325 pounds and can be adjusted to accommodate anyone between 5'0 and 6'3.
Negatives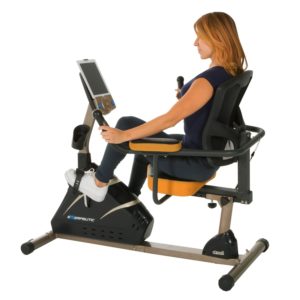 The one thing I really don't like about this Exerpeutic 4000 bike is its overall appearance because I am not really a fan of the orange seat and elbow rests. However this is just my own personal opinion and doesn't seem to be one that is shared by other users.
The things that people have complained about, however, are the assembly instructions because they are not as clear as they could be, and the actual mechanics of this bike because a few people have reported that certain parts stopped working or broke after a few months use.
To be fair, though, many exercise bikes can develop faults in the first year of use, and it does at least come with a 1-year warranty should anything go wrong during this time.
Another issue concerns the seat because although it looks really comfortable and appears to have extra padding, it could still be a little more comfortable, according to some of the comments that have been posted online.
In addition, the seat itself can be quite cumbersome if you do need to adjust it forwards or backwards because you need to loosen three knobs underneath the seat.
Demonstration Video
This video talks you through all of the main features and benefits of this machine, and explains how the mobile tracking app works:
Final Thoughts
When you consider the number of resistance levels, workout programs and training modes that are included with this machine, combined with the smoothness and low noise level of the belt drive system, you could argue that this Exerpeutic 4000 model is justifiably more expensive than the other Exerpeutic models and still good value for money overall.
This is particularly true when you consider that it also has mobile app tracking, which is a feature that you don't even see on some of the more expensive models.
Of course it does still have a few minor faults, as I have pointed out above, but there are definitely a lot more positives than negatives on the whole.
→ Click here to buy the Exerpeutic 4000 Magnetic Recumbent Bike