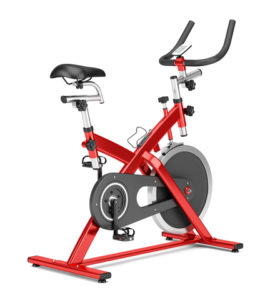 In recent months we have received a number of questions about the different types of exercise bikes that are available.
So in this article we will try to answer some of the most common questions that are asked about exercise bikes, and create a central resource page that potential buyers may find useful.
(More questions and answers will be added to this page in due course as and when we receive them).
What is the difference between an upright bike and a spin bike?
An upright bike or stationary bike will generally have a wider, more comfortable seat and will generally have fixed resistance levels, a computer display console, heart rate sensors and in some cases, workout programs. These bikes are more suitable for seated workouts.
Spin bikes, also referred to as indoor cycling bikes, are more similar to road bikes because they will generally have a racing saddle and multi-grip handlebars, and can be used in both a standing and a seated position. These machines tend to offer a more intense workout and are ideal for HIIT workouts and indoor cycling training.
Why do a lot of indoor cycling bikes not include a computer console?
The reason why a lot of spin bikes don't include a console is because a lot of people don't really use them. It is nice to have one on an upright bike, but people who use an indoor cycling bike tend to cycle for a certain length of time or do interval workouts set to music, in which case you only really need a stopwatch to time your workouts and intervals.
What are the best exercise bicycles for small spaces?
Some of the low-cost upright bikes and indoor cycling bikes will have a relatively compact design, but a folding upright bike is probably the best option because these can be folded to about half the size when they are not being used, and can easily be stored up against a wall or underneath a table, for example.
Which type of exercise bike is most suitable for seniors?
A recumbent bike is the best option for older people, and indeed for people with any kind of mobility issues because they are very easy to get on and off (unlike an upright bike or spin bike) and have a back rest to prevent any strain on your back. They also enable you to exercise in a more comfortable position than other bicycles.
Is it possible to buy an exercise bicycle fully assembled?
Unfortunately you will nearly always find that whenever you buy an exercise bike for your home, you will have to assemble it yourself before you can start using it. This can take anywhere from 30 minutes to 3 hours.
However if you buy one from a specialist store, you may be able to pay a little extra to have it assembled for you. This option is also available with some of the products sold on Amazon as well.
Can you change the seat if it is uncomfortable to use?
It is not unusual for a seat to feel really uncomfortable when you have been cycling for 30 minutes or more, particularly the racing saddles that come with many indoor cycling bikes because these tend to be hard and thin. However in many cases you will be able to replace it with a more comfortable seat, or place a gel seat cover over the top to make it more comfortable.
What spin bikes do gyms use?
Gym owners will tend to invest in the highest quality machines so that they don't have to keep replacing broken parts or buying new bikes on a regular basis. Therefore you will often see commercial-grade machines from the likes of Keiser, Schwinn, Life Fitness and BodyCraft in your local gym.
Do exercise bikes require a lot of maintenance?
Most indoor bikes require very little maintenance at all. The drive system is often enclosed to prevent any damage, so you basically just need to make sure that all of the screws are secured tightly, including the pedals and toe strap attachments, and replace the batteries in the console (if it is not powered by electric) when they start to run low.
It is also a good idea to clean the bike regularly, wipe off any sweat after each workout and lubricate the chain with oil every so often if it is a chain drive bicycle.
Can you do HIIT workouts on an upright bike or a recumbent bike?
Yes you can. You won't be able to cycle hard in a standing position, like you can on a spin bike, but you can still do your high intensity intervals from a seated position.
Is it safe to use an exercise bike if I exceed the weight limit?
Every exercise bike that you buy will have a maximum weight limit, and whilst a bike may not necessarily collapse on you if you exceed this limit, it is still worth buying one that can take your weight to ensure that is completely safe to use and likely to last many years without developing any problems.