Introduction
If you have ever used a standard upright exercise bike, you will probably have noticed that they all tend to come with some kind of console display.
The top-end bikes will tend to display all of your key performance data, such as time, speed, distance, calories burned, heart rate, etc, and in many cases they will also have some buttons on the actual console that you can use to choose a workout program if required.
The cheap entry-level bikes, on the other hand, are more likely to have a very basic LCD display that simply indicates time, speed, distance and calories (and possibly your heart rate if they have hand grip pulse sensors), and are unlikely to have any workout programs or extra features.
Anyway the point is that nearly all upright bikes will have some kind of electronic display to help you monitor your performance, whereas you will find that this is less likely to be the case if you use an indoor cycling bike because many of these machines don't have any kind of console display at all.
So the question is – do you really need a console display when buying an upright bike or an indoor cycling bike?
The Importance Of An LCD Display On An Upright Bike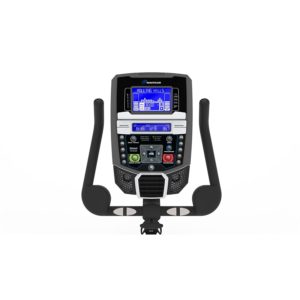 There is no doubt that a console display can be pretty useful when you are using an upright bike because it will tell you the distance you have covered, the time you have spent working out and the speed at which you are travelling.
Plus it will also give you an estimate of the number of calories you have burned (although this is not always entirely accurate), and if it is connected to some pulse grip sensors, it will also tell you your current heart rate as well.
It may also indicate the current level of resistance and the workout program that you have chosen in some cases, which is also quite useful.
Therefore it is good to have all this data, particularly time and distance, because I know that many people like to exercise for a certain length of time or a certain number of kilometers.
(The Nautilus bikes have some of the best consoles, as you can see by checking out the console from the U616 model, pictured above.)
Is it absolutely essential to have an electronic display?
I would say no because after the console broke on my own upright bike, I continued to do my usual workout (15 minutes on resistance level 3, 10 minutes on level 4 and 5 minutes on level 6) and was just as happy because I simply used my watch to keep time instead of the display.
I found that I didn't really miss seeing my speed, calorie and pulse readouts because I never really took any notice of them to begin with.
The Importance Of A Console Display On An Indoor Cycling Bike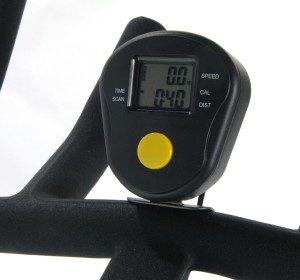 With regards to an indoor cycling bike or spin bike, I would say that a console display is even less important.
That's because most people who use one of these bikes, either at home or in the gym, don't actually use them.
If you are in a group cycling class, for example, or following a workout video at home, you will follow the instructions given by the instructor and keep pace with the music. So you don't really need any performance data.
Even if you are working out on your own, the only readout you really need is time because this will enable you to time your workouts and introduce intervals into your workouts to enjoy all of the benefits of high intensity interval training (HIIT). In which case, you can just use your watch or your phone.
As a result of this, you will find that many of these indoor cycling bikes don't come with any kind of console display at all, and the ones that do are generally fairly basic, like the one from the Stamina CPS 9300 pictured above, for instance.
Final Thoughts
To summarize, I would say that an electronic console display is a nice feature to have on an upright bike because you can monitor your performance and adjust the workout program if this is an option.
Therefore it is easier to exercise for a certain length of time or a certain distance, and easy to see how fast your heart is pumping and how many calories you have burned if you are trying to lose weight.
If you are using an indoor cycling bike, however, it is not really needed at all because these bikes are primarily used for high intensity interval training and you can easily manage without one.
Ultimately you will find that nearly all upright exercise bikes have a computer monitor, so this really isn't an issue anyway, and if you plan on using an indoor cycling bike to get a more intense workout, you always have the option of buying a monitor to track time, cadence and RPM, for example, if your current bike doesn't have one.