Introduction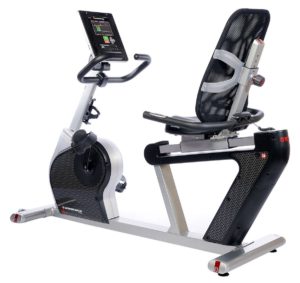 Diamondback Fitness have a reputation for producing good quality exercise bikes for the home because their 510IC Indoor Cycle has been named as a 'best buy' by a leading consumer magazine and their 1260EF Elliptical Trainer was awarded '#1 best buy' for 6 consecutive years.
So today I want to take a look at one of their most popular recumbent bikes – the Diamondback Fitness 510SR Recumbent Bike – because this mid-range machine is a step up from many of the entry-level models, but not as expensive as some of the commercial-grade machines.
As always, I will start off by listing some of the main features and benefits, as well as the product specifications, before discussing some of the main pros and cons in more depth.
Features And Benefits
16 levels of resistance
20 workout programs
large easy-to-read LCD display
quick set program keys
built-in speakers and fan
stow away magazine rack
sculptured seat with ventilated back rest
hand grip pulse sensors
smooth and quiet in operation
suitable for anyone up to 300 pounds
Product Dimensions / Weight
This particular bike claims to have a space-saving design but although it is not particularly wide, it is actually a little longer than many other recumbent bikes with dimensions (in inches) of 64 (L) x 23 (W) x 50 (H) when fully assembled.
With a total weight of 125 pounds, it is also a very heavy machine, but it can at least accommodate anyone up to 300 pounds, and can be moved around fairly easily because there are small wheels attached to the front of this machine.
Positives
As you might expect with a bike in this price range, this Diamondback Fitness bike is very strong and sturdy with a good build quality, and delivers a smooth and quiet ride thanks to the frictionless eddy current resistance / braking system.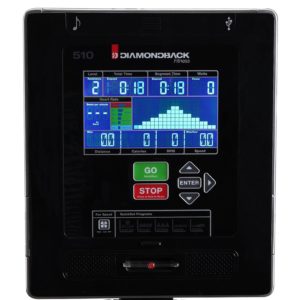 Talking of which, there are 16 resistance levels in total, along with 20 workout programs (which include heart rate, strength, hill climb, interval and fat-burn programs), and you can adjust them both very easily using the keys on the console.
This console can be tilted forwards and backwards so that it is at eye-level, and the display itself is clear and easy to read, which is not always the case with many of these LCD displays.
So it is very easy to track your performance as it will indicate time, speed, distance, calories, RPM, watts and pulse (taken from the hand grip sensors on the handlebars) all at once, and very easy to increase or decrease the resistance and adjust the program settings using the quick-set buttons.
You will also find that this console has a multi-speed fan to help cool you down during your workout, and also has built-in speakers so that you can play all of your favorite music. Plus there is a stow away magazine holder that you can use if you so wish.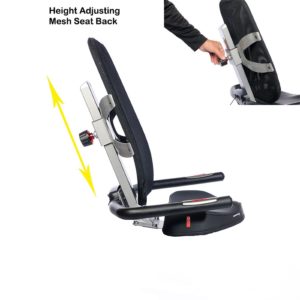 With regards to some of the other plus points, it is worth mentioning that the base of the seat is sculptured to make it more comfortable, and the back rest is ventilated to improve air flow and prevent you from getting too hot. Subsequently many people have said that the seat on this 510SR recumbent bike is extremely comfortable.
Furthermore, the base of the seat slides backwards and forwards and the back rest slides upwards and downwards, which means that it is easy for people of all heights to find the most comfortable riding position, particularly as the handlebars can also be adjusted as well.
Finally, this particular recumbent bike comes with a lifetime warranty on the frame and brakes, and a 3-year warranty on parts and electronics, which gives you added peace of mind should anything go wrong.
Negatives
There are no major problems with this Diamondback Fitness 510SR machine, but there are a couple of minor issues that are worth bringing to your attention.
For example, this bike is said to be a little hard to assemble, and it is not possible to adjust the angle of the back support because you can only slide it upwards and downwards, which you may find a little uncomfortable if you have any kind of back problems.
Otherwise the only other problem I can see is that it doesn't seem to be compatible with any of the latest fitness apps because this is quite an old model now, but this is something that many people can live without.
Final Thoughts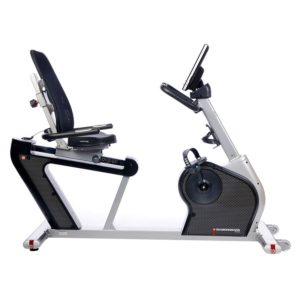 Overall this 510SR Recumbent Bike appears to be a top quality machine, with some users comparing it to some of the commercial-grade recumbent bikes that they have used in their local gym.
One of its biggest selling points is its strength and durability, but it also offers a range of workout options and is versatile enough to be used by people of all heights. Plus it is one of the few exercise bikes that comes with a really comfortable seat, even though you can't adjust the angle of the seat.
So if you are looking to buy a quality machine without forking out for a top-end commercial model, this is a bike that you might want to consider buying.
→ Click here to buy the Diamondback Fitness 510SR Recumbent Bike