Introduction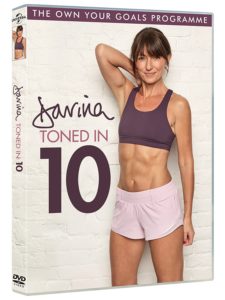 If you have seen some of Davina McCall's recent photos in the press, or follow her on social media, you will have noticed that she has an incredible physique right now, despite turning 50 earlier this year.
Her body is lean and toned and she has well-defined six-pack abs that are clearly the result of a lot of hard work and discipline, and this is sure to inspire many people to buy her latest DVD, which is called Davina: Toned In 10.
As the name suggests, this DVD focuses specifically on strengthening and toning your body, but also includes some cardio as well to help burn lots of calories and lose weight.
The Workouts
Davina has enlisted the help of fitness instructor Sarah Gorman to bring you 10 brand new 10-minute workouts for 2018 that will help to tone up your entire body, improve your fitness and burn fat.
Sarah teaches a number of different classes, such as dance fitness and pilates, for instance, and this Toned In 10 DVD is essentially a blend of all of these classes because it includes the most effective exercises from each one.
It is broken down into 10-minute sections and they will each work different areas of your body, which is good because you can either try to perform as many as you can 3-5 times per week, or you can simply select the ones that will target your biggest problem areas.
The full list of workouts is as follows:
Warm-Up
Strength and Resist
Flex and Flow
Power Box
Tone and Define
HIIT
Arms
Glutes
Abs
Cool-Down
After starting off with a few useful tips about the forthcoming workouts, it kicks off with a 10-minute warm-up section, which is quite a challenging little workout in itself, but you should always complete this warm-up routine before doing any of the other sections in order to fully loosen up your muscles and prevent injury.
It then moves on to the main workouts, which as I have already mentioned, are all 10 minutes long, and will target different areas.
There are some workouts that will specifically target specific muscle groups, such as the arms, abs and glutes sections, for example, and others that will work a number of different muscle groups at the same time.
For example, the Strength and Resist section is great for developing your arms, shoulders and legs, and the Flex and Flow is really good for your hips, legs and abs, and will help to improve your overall flexibility as well.
In addition to these workouts, there is also a boxing-style workout that will help to tone up your arms and burn lots of calories, and if you are primarily interested in losing an inch or two from your waistline, there is an intense HIIT section that will really push you hard and help you to burn fat.
Finally, there is a 10-minute cool-down section at the end of the DVD that you should do once you have completed the previous routines.
Equipment Needed
Davina and her trainer both use an exercise mat to perform some of the workouts, but you can also use a towel to help absorb any sweat and provide a little more comfort. They also recommend using a light (1 or 1.5 kg) set of dumbbells for a few of the exercises in the arms workout.
In addition, they also use a kitchen chair to perform all of the barre exercises, but anything that you can lean on that is approximately hip height is fine.
The only other thing that you will need is a ball in order to perform some of the abs and glutes exercises. However you could easily use a cushion or a pillow or a rolled up towel, for example, if you don't have a ball at home.
So the point is that you don't need a lot of equipment. You can easily complete all of the sections using a light set of dumbbells, an exercise mat, a chair and a ball, and improvise using some household items if you don't have any of these.
Final Thoughts
Overall this is another top quality DVD from Davina McCall because there are many different routines for you to perform, and if you don't want to do them all in one go, it is very easy to split them up and create your own classes to really focus on your problem areas.
The instructor demonstrates all of the routines really well and provides a lot of motivation, and the music is really upbeat throughout the whole DVD to help keep your energy levels up.
Indeed you will find that many of the Toned In 10 workouts are really quite enjoyable because there are dance moves, boxing moves, barre exercises and many more exercises that will stop you from getting bored.
I wouldn't describe it as a pure weight loss DVD because the HIIT and the boxing workouts are the only real cardio sections, but it will still help you to burn fat, and the real benefit is that it will tone up and add definition to your entire body, whilst also improving your flexibility at the same time.
→ Click here to buy the Davina: Toned In 10 DVD