Introduction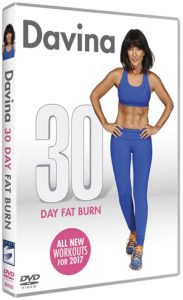 If you have purchased some of Davina McCall's previous workout DVDs, you will know that they are generally very effective at helping you lose some of the excess weight that you may have gained over the Christmas and New Year period.
However it can still take quite a long time to see results, which is why her latest release – the Davina: 30 Day Fat Burn DVD – contains some brand new workouts for 2017 that will help you lose weight in just 30 days.
Unlike some of her previous DVDs, this one focuses more on high intensity cardio than strength training, but there is still a very effective strength and tone workout included here that will help you tone up your muscles, if required.
The Workouts
Once again Davina has teamed up with her favorite personal trainer, Ed Lumsden, to come up with six high-intensity 10-minute workouts that will help you burn fat and tone up.
This includes three very effective workouts that are specifically designed to burn fat:
Boxfit
Ultimate Fat Burner
HIIT Fat Burner
In addition, there is also an abs workout that will help you develop your abs muscles once you start to lose any excess fat, as well as a strength workout that will help you tone up many different muscle groups:
Finally, for the first time ever there is a fun workout that is specifically designed for two people, therefore enabling you to work out with your husband or boyfriend, for example, or with one of your friends:
Bonus Features
In addition to the actual workouts, there is also a pre-workout warm-up routine and a post-workout stretching routine that you should do before and after your workouts.
Other than this, the only other extra feature that is included on this Davina: 30-Day Fat Burn DVD is a 30-day program / diary planner for you to follow that will tell you how and when to perform these workouts in order to maximize your results.
30 Day Fat Burn Calendar
Here is the complete 30-day training program that tells you which workouts you should perform on each day: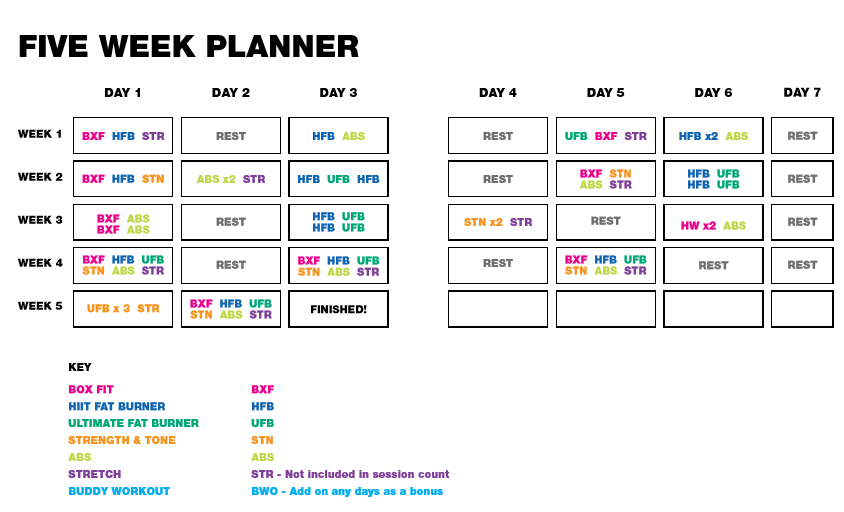 Final Thoughts
To get the most out of this DVD, you should aim to go through the full 30-day program and complete all of the workouts that are recommended on each day.
However if this is too much for you (or if you only have limited time), you should probably start off by doing just one of the fat-burning routines to begin with. Then you can start doing two of these routines, and eventually all three as your fitness level continues to improve.
Once you have started shedding a few pounds, you can then start doing the abs and strength training workouts because these two workouts will help tone your muscles and give you a lean and ripped physique.
The buddy workout is a little bit of a gimmick in my opinion because I'm not sure how many partners or husbands will agree to perform this workout more than once or twice, if indeed at all.
However the other workout routines appear to be very effective if you are looking to lose some weight and get a little bit of muscle definition.