Introduction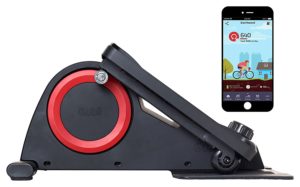 Mini exercise bikes are a fairly good option if you want to get some exercise whilst you are working at your desk or watching TV, for example, but mini ellipticals can provide you with a much more comfortable workout.
That is certainly true of the Cubii Under Desk Elliptical, which is the machine I want to review today, because this has been designed with optical angles to ensure that your legs move smoothly and comfortably, and won't end up hitting the desk.
Plus unlike many of the cheaper models, this one can connect to a mobile app that will help you track your workouts and compete against your friends if you so wish.
So in this article I want to list some of the key features and benefits, and discuss some of the main pros and cons of this particular machine in more detail.
Features And Benefits
designed to be used in a seated position
fits under your desk
ideal for exercising whilst working or watching TV
ergonomically designed for a smooth and comfortable workout
8 adjustable resistance levels
Bluetooth-enabled
sync with mobile app to track your workouts
track calories, strides, miles and minutes
very quiet in operation
easy to assemble
available in three different color schemes
includes wheel stoppers for wheeled office chairs
Product Dimensions / Weight
To be honest, the dimensions and weight of this mini elliptical trainer are largely irrelevant because all you need to know is that this machine is small and compact enough to fit below a standard desk.
However if you do require this information, the exact dimensions (in inches) are 23.15 x 17.56 x 9.77, and it has a total weight of 12.5 kg (approximately 27.5 lbs).
Positives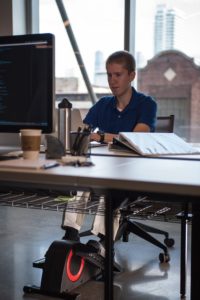 The first thing to say about this Cubii mini elliptical is that it has been developed to help reduce the risk of heart disease, diabetes and certain forms of cancer that are associated with long periods of inactivity.
Therefore this machine is ideal for anyone who spends most of the day sat down in front of a computer, for example, and needs to become a lot more active.
It is also ideal for those people who don't really like the idea of going to a gym, but would instead prefer to improve their fitness level and maybe lose a few pounds exercising at home in front of their TV or whilst playing computer or video games, for instance.
This Cubii mini elliptical may be a little more expensive than some of the others, but it has been designed to be as comfortable as possible because the angles are optimized to enable your legs to move smoothly and comfortably without hitting the desk.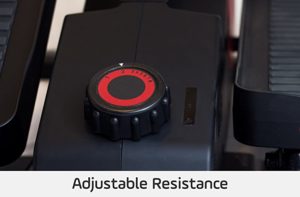 It is also extremely quiet in operation, so you won't disturb any of your work colleagues if you intend using this elliptical in your office, for example, and has a choice of 8 adjustable resistance levels to enable you to make your workouts a lot more intense, if required.
Plus it is much more advanced than many other under desk ellipticals because it can connect via Bluetooth to the free mobile app (available on Android and iOS devices) to help you track (in real time) the number of strides, the number of calories you have burned, the distance progress and the time you have spent using this mini elliptical.
It will even allow you to compete against other people if you so wish, which is a really cool feature, and gives you the option of syncing your performance data to FitBit or HealthKit if you are already using one of these apps.
Finally, unlike some of the full sized elliptical trainers, this mini elliptical is really easy to assemble (they even send you a screwdriver). So you should be up and running in no time at all if you do decide to purchase this Cubii elliptical.
Negatives
Some would say that the main drawback of this Cubii elliptical is the price because it is considerably more expensive than some of the alternative under desk elliptical trainers that are available.
So you are definitely paying a premium for the smooth and comfortable workout, and the advanced mobile app compatibility.
The only other issue is that the higher resistance settings are not quite as intense as they could be, according to some users, but they should still be more than sufficient for most users.
Final Thoughts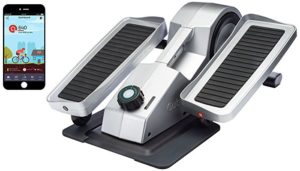 If you are worried about the long-term health effects of sitting down for most of the day, as so many of us are these days, or are simply looking to keep fit and lose weight at home or in the office, then the Cubii is definitely worth considering.
That's because this machine has been designed to give you a really comfortable workout that is easy on your knees (and comfortable enough to use for long periods of time), and makes full use of bluetooth technology to help you track your performance in real time on your mobile, and analyze your progress over time.
Admittedly it would be nice if it wasn't quite as expensive, but if you consider this to be an investment in your health, it is still pretty good value for money on the whole.
This mini elliptical is available in black and red, but it is also available in chrome or in moku with a wooden finish, which both look stylish and modern.
→ Click here to buy the Cubii Under Desk Elliptical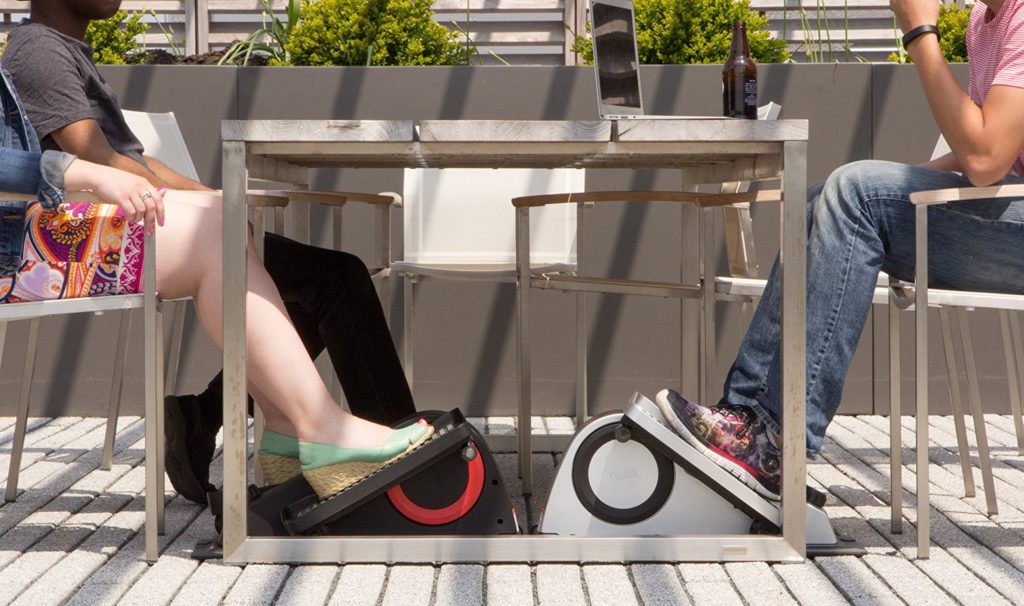 Also Available – Cubii Jr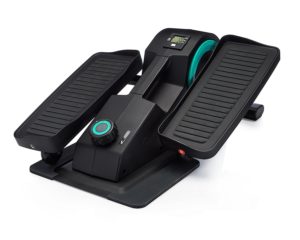 If you feel that you cannot justify paying this much for an under desk elliptical, you may be interested to know that there is a relatively new model available that is considerably cheaper.
The Cubii Jr is very similar in terms of looks, but the key difference is that this one comes with a built-in display monitor instead of Bluetooth compatibility.
So you can still monitor your performance during and after your workout. You just need to look under the desk instead of on your phone, which is a little inconvenient, but not a major issue.