Introduction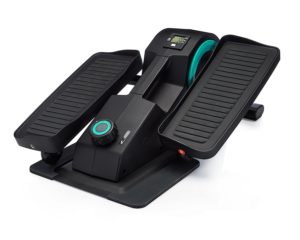 The Cubii is one of the most popular under desk ellipticals because it has a sleek and stylish design, and now has full Bluetooth compatibility so that you can sync your performance stats directly to your phone.
However it is still quite an expensive little machine if you are just looking to keep fit or lose weight whilst you are watching TV or working in an office, for instance, which is why the makers of this product have developed a slightly cheaper alternative – the Cubii Jr.
The Cubii Jr Desk Elliptical is pretty much the same as the standard Cubii model, but the main difference is that this one doesn't have Bluetooth functionality. It just has a small display monitor to help you track your performance.
This latest model has been featured heavily on QVC, but I thought it was still worth writing an article to tell you a lot more about it, just in case you haven't come across this particular product before.
Features And Benefits
ergonomic design
light and compact
easy on your joints
ideal for the home and the office
8 adjustable resistance levels
built-in display monitor
track time, distance, calories, strides and RPM
very quiet in operation
easy to assemble
strong and durable
Product Dimensions
This Cubii Jr desk elliptical has dimensions in inches of 23 x 17.5 x 10, so it is clearly a very compact machine, but the key design feature from a purely practical point of view is that the elliptical pedal motion is kept low to prevent your knees from hitting the desk.
This is demonstrated in the video below:
Positives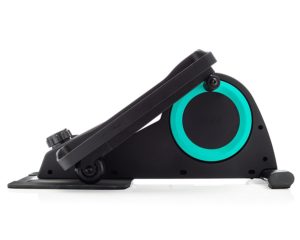 The major benefit of this Cubii Jr mini elliptical is that you can burn calories and lose weight whilst you are working in the office or relaxing at home.
With this machine you are getting a full lower-body cardio workout, and because it is very easy on the joints, you could use it every single day if you wanted to, for many hours at a time.
The Cubii Jr is whisper quiet and slides easily under any work desk, so it is absolutely ideal for the office because you won't be disturbing or distracting any of your fellow workers.
Many of us spend far too long sitting down, but this handy little machine will increase your activity level, improve your fitness level and help you to lose weight whilst doing so.
To give you a few statistics, a leading obesity expert found that the Cubii Jr increased a person's energy expenditure by 84.5% compared to stationary sitting.
Furthermore, the typical Cubii user can expect to burn an average of 150 calories per hour using this machine, which is very impressive, particularly when you bear in mind that you could easily increase the number of calories burned by increasing the resistance.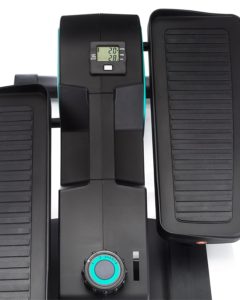 This is very easy to do on this machine because there is a resistance dial on the frame, and a total of 8 resistance levels to choose from. So you can vary the intensity of your workouts quite a lot if you want to.
If you want to monitor your performance, the Cubii Jr comes with a built-in display monitor that will tell you the time you have spent working out, the number of calories you have burned, the distance you have covered, the number of strides and the current RPM.
Finally, it is worth pointing out that although you need to assemble this machine yourself, this is a very simple job that should take you no more than around five minutes because the tools are provided and the instructions are very clear. Therefore you can start exercising almost immediately once you receive this item.
Negatives
I guess one of the main negatives is that unlike the standard Cubii, this machine is not compatible with Bluetooth. Therefore you cannot sync your performance data directly to an app on your phone, and cannot analyze your performance over time.
This isn't necessarily a huge problem because there is still a display monitor that will display your data, but you may have to look underneath the desk to actually view this data, which is obviously nowhere near as convenient as simply glancing at your phone.
Furthermore, because of the lack of Bluetooth compatibility, it also means that you can't compete against friends or other members of the Cubii community like you can with the more expensive Cubii.
Otherwise, the only other thing to say is that you are not necessarily getting a really intense workout like you might on a full size elliptical, but the average user can still expect to burn around 150 calories per hour, as mentioned earlier.
Final Thoughts
Overall the Cubii Jr definitely appears to be a worthwhile investment because despite being a lot cheaper than the Bluetooth-enabled Cubii, it will still help you to improve your fitness, lose weight and increase your activity level whilst you are sitting down at home or in the office.
It has a strong and durable construction, so it should last a long time, and delivers a smooth and quiet workout with virtually no noise at all. Plus it has multiple resistance levels for those users who want to increase the intensity of their workouts and burn more calories.
So if you are happy to use the built-in display monitor and don't really need the fitness app compatibility, this is probably the one to go for out of the two Cubii machines that are currently available.