Strictly Come Dancing has reignited the public's interest in ballroom dancing in the UK, and because the format of this show has been sold to countries all over the world, interest in this popular pastime has picked up in a number of other countries as well.
However whilst this is a great way to spend a couple of hours, particularly as you can meet new people and make new friends, it is worth pointing out that dancing is also a great way to keep fit and lose weight as well.
That's because just like any other physical activity that gets your heart pumping, you can easily burn a few hundred calories just by doing something that you really love.
To demonstrate this point, an infographic has recently been produced that lists the number of calories that you can burn in one hour when you perform various different dances. Therefore you can instantly see which dance styles burn the most calories: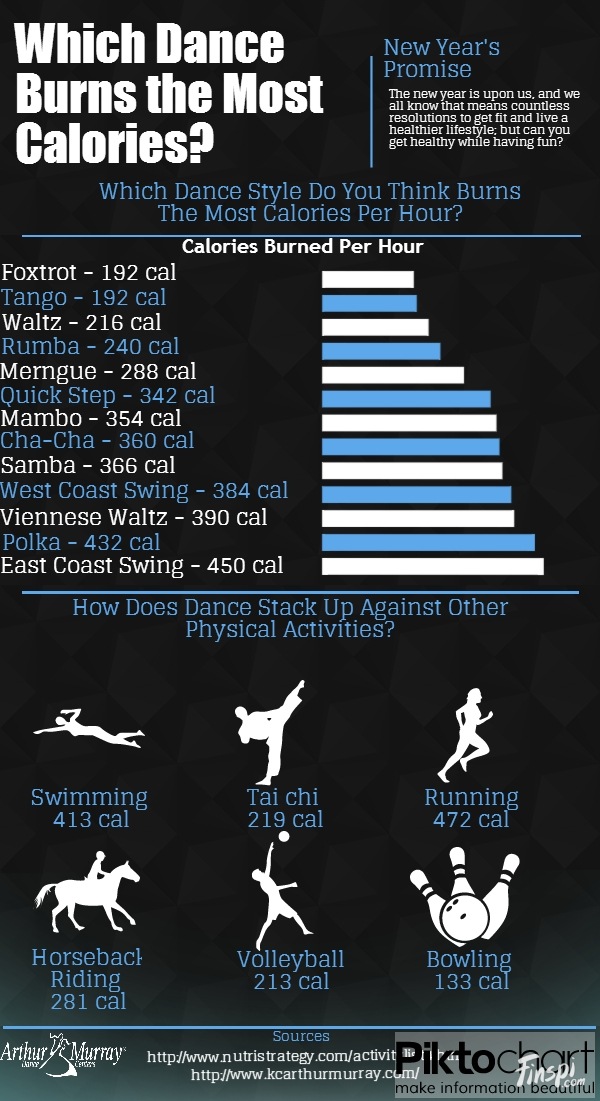 It is perhaps unsurprising that some of the slower dances, such as the Foxtrot, the Tango and the Waltz, for example, burn the fewest calories because people of all ages can perform these dances fairly easily.
Nevertheless you can still burn 192 calories performing the Foxtrot and the Tango in a single hour, whilst the Waltz will help you burn 216 calories, which is a decent amount.
Similarly, the Rumba is another slow and deliberate dance that you may not have considered to be particularly strenuous, but an hour of Rumba dancing will help you burn around 240 calories, which will go some way to helping you lose weight.
If you are particularly focused on losing weight and really enjoy performing various different dances, you might want to consider skipping some of the most popular dances listed above, and instead do the Quick Step (342 calories), the Cha-Cha (360 calories) or the Samba (366 calories) because these are faster paced and will therefore burn more calories.
You might want also want to consider doing the Viennese Waltz (one of the most elegant of dances) because this will burn around 390 calories per hour, or the Polka (432 calories), which is a Czech folk dance that is now very popular throughout the world.
Finally, if you are really looking to burn some calories, you should consider learning how to do the East Coast Swing, as demonstrated in the video below, because this is said to burn 450 calories per hour, which is more than any other dance style.
To put this into some kind of perspective, running for an hour will help you around 472 calories, according to this infographic, and swimming will help you burn around 413 calories.
So the point is that dancing is a great way to burn calories, keep fit and lose weight, but there are some styles of dance that are faster and more intense than others, and these are obviously the ones that will burn the most calories.