Introduction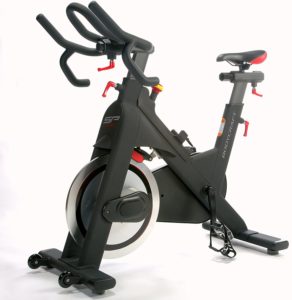 Companies such as Keiser, Schwinn and LifeCycle are well-known for producing high quality indoor training bikes, but BodyCraft have also produced some really good machines that are just as impressive.
One of their most popular models is the BodyCraft SPT-MAG Magnetic Cycle because this is an exceptionally strong high-performance bike that is suitable for both home and commercial use. Indeed it has actually been built and warranted for club use, which is a sign of its overall quality.
As you might expect, this top-end bike doesn't come cheap, but the good news is that it is not as expensive as some of the other commercial-grade models that are available.
So if you are looking to buy a top quality machine for your home or gym, this could potentially be the perfect choice.
Features And Benefits
eddy current magnetic resistance
precision perimeter weighted flywheel
maintenance-free belt drive
smooth and quiet in operation
four-way adjustable racing saddle
four-way adjustable handles with multiple grips
aluminum alloy dual pedals with toe cages
built-in levelers and transport wheels
water bottle holder
heavy duty rust-resistant steel frame
accommodates users up to 350 pounds
suitable for home and commercial use
Product Dimensions / Weight
With a total weight of around 116 pounds (52.5 kg), this is clearly a very strong and sturdy machine, but it won't necessarily take up a lot of space in your home or health club, for example, because its exact dimensions (in inches) are 42 (L) x 24 (W) x 47 (H) when it is fully assembled.
Positives
One of the first things that you will notice about this SPT-MAG Cycle is that it is a very stylish and modern-looking bike. Therefore it scores highly from a purely aesthetic point of view, but there are many more reasons why this bike is worth considering.
For a start, it has a perimeter weighted aluminum flywheel that spins on SKF precision-sealed bearings, and a direct drive Hutchison automotive-grade Kevlar reinforced drive belt that combine to provide the smoothest workout possible.
This belt drive is exceptionally quiet in operation and is basically designed to last for years and years with no maintenance required at all, which is hugely beneficial if it is going to be used regularly at home or in a health club, for example.
In fact the whole bike is built to last because it has a heavy duty steel frame that can accommodate users up to 350 pounds, and is double coated with a multi-phase coat/paint process to prevent rust and corrosion. There is even a guard on the flywheel to prevent any sweat from getting on it.
With regards to the resistance, this bike has magnetic eddy current resistance that reacts instantly as soon as you turn the knob, and has micro adjustments so that you can make very small changes if required.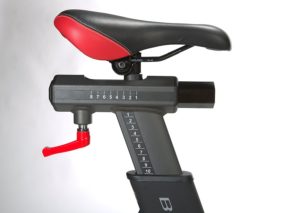 You will find that the BodyCraft SPT-MAG Cycling Bike feels just like a road bike because it has a racing saddle and multi-grip handlebars, and is completely stable when riding at high intensity in a standing position because of its four built-in levelers and its rock solid frame.
Both the saddle and the handlebars can be adjusted upwards, downwards, forwards and backwards to help you find the most comfortable riding position, and there are clear easy-to-read markings that will help you to remember your settings if it is being used my multiple people.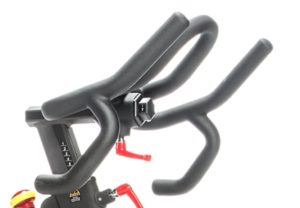 The pedals on this SPT-MAG cycle have toe cages to keep them in place at all times, but you can also attach some SPD clip-in pedals (available separately) if you prefer.
Finally, it is worth mentioning that this bike is easy to assemble compared to some of the other indoor bikes that are available, and is easy to move around thanks to the built-in transport wheels.
If you do experience any problems with this particular exercise bike, it is backed by a lifetime warranty on the frame and a 5-year warranty on the parts if used at home, and a 10-year frame warranty and a 3-year parts warranty if used in a club / light commercial setting.
Negatives
The racing saddle that comes with this BodyCraft SPT-MAG Cycle is identical to one that you might find on a typical road bike, so you may find it a little uncomfortable to sit on for long periods.
This is not a major problem because you can always replace it with a more comfortable seat or buy a gel seat cover, but it is something to bear in mind.
In addition, you will notice that this bike doesn't come with an LCD display of any description, just like a lot of indoor training bikes, so there is no way to track your performance during the course of your workouts.
To be fair, you don't really need one on an indoor training bike because you can easily time your workouts and your intervals yourself. However if this is something that you really need, you can always buy one from the BodyCraft website that will display speed, time, distance, calories, pulse and cadence.
Final Thoughts
Overall the BodyCraft SPT-MAG Indoor Club Group Cycle appears to be ideal for health clubs, gyms and group cycling classes, and is definitely good enough for home workouts because it has a heavy duty rust-resistant steel frame, and is made from high quality components to ensure that it will last for years and years.
The belt drive remains super quiet and exceptionally smooth with every turn of the pedal, and the adjustable magnetic resistance responds instantly to the slightest twist of the resistance knob.
It will also remain completely stable when cycling at high speeds in either a seated or standing position, and has multiple four-way adjustments on both the seat and the handlebars to provide a comfortable riding position for people of all heights.
The only thing it doesn't have is an LCD display, but in terms of looks, performance and durability, this bike has it all.