Introduction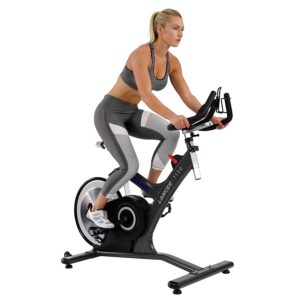 Sunny Health & Fitness have produced a number of good quality indoor cycling bikes for people on a budget, but they have now started to develop some high performance commercial-grade machines through their ASUNA brand.
One such model is the ASUNA 4100, which is reviewed here, but that particular model has a chain drive instead of a belt drive system, and therefore generates a little bit of noise when you are pedaling at a high intensity.
The ASUNA 7130 Lancer Cycle Exercise Bike, however, has a high performance rear flywheel belt drive system that is smoother and quieter in operation, and has better bio-mechanics for a more comfortable workout.
Features And Benefits
rear machine-balanced 33-lb flywheel
smooth maintenance-free belt drive
16 magnetic resistance levels
four-way adjustable padded seat
four-way adjustable padded handlebars
dual sided clip and cage pedals
ultra-narrow 127 mm Q-factor
water bottle holder
transportation wheels
front and rear levelers
commercial-grade frame
accommodates users up to 285 pounds
Product Dimensions / Weight
The ASUNA Lancer exercise bike is a commercial-grade machine that is strong and sturdy with a total weight of 107.8 pounds, but because of the rear flywheel design of this bike, it also has quite a large footprint, with exact dimensions (in inches) of 57.5 (L) x 25.2 (W) x 53 (H).
Video Demonstration
Positives
One of the main benefits of this ASUNA Lancer bike is that it has a rear machine-balanced 33-pound flywheel that guarantees a completely stable workout experience, no matter how hard you pedal.
Indeed there are also levelers on both the front and the back of the frame that will provide a solid base and prevent any kind of movement.
In addition to this, you will find that the bike itself is virtually silent in operation because it has a very quiet pedal system, and a belt drive system that makes no noise at all.
This belt drive guarantees a much smoother workout than a chain driven bike, and also requires no ongoing maintenance, which is an added bonus.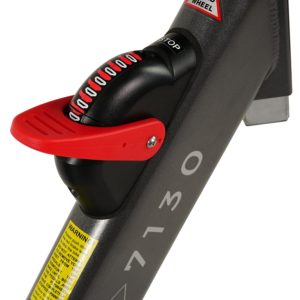 Another positive benefit of this ASUNA 7130 bike is that it is suitable for people of all fitness levels because there are 16 magnetic resistance levels altogether, and as with all good spin bikes, there is a lever right in front of you that you can move upwards or downwards during your workouts to increase or decrease the intensity.
This machine can also be used by people of all heights because both the seat and the handlebars can be adjusted forwards, backwards, upwards and downwards to help find the most comfortable riding position, and it has a strong enough frame to support anyone up to 285 pounds.
The seat is attached to a high-grade aluminum post that is light and easy to move whenever you need to adjust the height or move the seat closer to or further away from the handlebars, and has a little bit of extra padding to provide more comfort.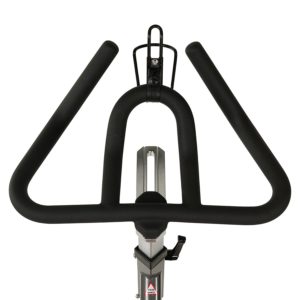 The handlebars are just as easy to adjust, and benefit from having multiple hand grip positions to accommodate different riding styles in both seated and standing positions. They also feature a built-in water bottle holder, and have padding throughout to prevent any discomfort.
The dual-sided pedals on this machine are also pretty impressive because they have toe cages and clips, and are therefore compatible with trainers, cycling shoes and high-performance SPD cleats. So they will keep your feet securely in place regardless of which footwear you prefer to use.
One important point to note about this Lancer exercise bike is that the Q-factor of the pedals is ultra narrow at just 127 mm, which basically means that it has better biomechanics and will provide a really natural feeling workout because the pedals are just the right distance apart.
Finally, it is worth mentioning that this indoor cycling bike is very easy to assemble, and although it is quite a heavy machine, it is also easy to move around if you use the transport wheels.
Negatives
One of the first things that you will notice about this ASUNA Lancer cycle is that it doesn't come with a console display.
This is not particularly unusual because many indoor cycling bikes don't have any kind of console, but it is something to bear in mind if you are someone who likes to pay close attention to your performance data.
Apart from this, the only other people who might have a problem with this bike are overweight people who weigh more than 300 pounds, for example, because although it does have a commercial-grade frame, it still has a maximum user weight of 285 pounds.
Final Thoughts
The ASUNA Lancer is similar in terms of looks and performance to the Keiser M3i and Bodycraft SPR bikes because this too has a rear flywheel and a high-performance belt drive, and has a four-way adjustable seat and handlebars with multiple grip positions.
It also has a wide range of magnetic resistance levels for people of all fitness levels, and a narrow Q-factor to deliver a really natural feeling workout.
The one thing that this machine doesn't have is a console, unlike the two aforementioned bikes, and it also has a lower weight capacity as well.
However if you don't really need to use a console and want to save yourself a bit of money, this ASUNA Lancer 7130 Exercise Bike would still be a wise investment because it is a commercial-grade machine that delivers smooth and consistent workouts, and should last a long time.