Introduction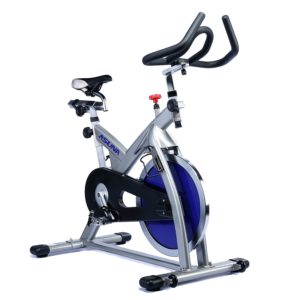 Sunny Health & Fitness have produced a number of high quality indoor cycling bikes that are suitable for home use, but they have now created a commercial-grade machine that is said to be even better than all of these previous models.
As well as having a stylish blue and silver design, the Asuna 4100 Commercial Indoor Cycling Bike has a commercial-grade steel frame for extra strength and durability, and offers a smooth and comfortable workout experience for people of all fitness levels.
However as with all exercise bikes, it does have its good points and its bad points. So let me start off by listing some of the main features and benefits, before discussing some of the main pros and cons in a little more detail.
Features And Benefits
commercial-grade steel frame
40-pound chrome flywheel
4-way adjustable seat and handlebars
twist knob adjustable resistance
SPD clips and cage pedals
smooth and quiet chain drive mechanism
includes transport wheels and water bottle holder
feels like an outdoor road bike
suitable for anyone up to 285 pounds
Product Dimensions / Weight
This commercial-grade indoor cycling bike from Sunny Health & Fitness has exact dimensions (in inches) of 41.3 (L) x 25.5 (W) x 51.2 (H), so it is quite a compact machine that won't necessarily take up a lot of space in your home.
It is, however, an exceptionally strong well-made machine with a total weight of around 110 pounds and a weight capacity of 285 pounds, and is still easy enough to move around because it includes some built-in transport wheels.
Positives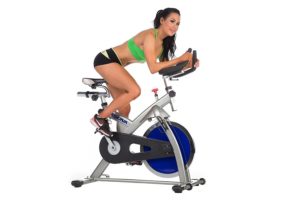 As mentioned above, this Asuna 4100 bike has an exceptionally strong steel frame that can support anyone up to 285 pounds, and is therefore suitable for regular use if you are planning on using this bike every day or several times a week.
Furthermore, because both the handlebars and the seat can be adjusted upwards and downwards (from a height of 29.5 to 36 inches from the pedals) as well as forwards and backwards, it can easily be used by multiple users of all shapes and sizes.
Therefore it is strong enough and adjustable enough to be used for home use or in a commercial setting, such as a gym or a health center, for example.
You will find that this indoor cycling bike from Sunny Health & Fitness has a high quality 40-pound chrome flywheel that delivers a smooth and efficient workout with no jolting when you adjust the resistance.
Talking of which, the resistance can be adjusted using the micro tension knob directly in front of you, and it can be made as easy or as hard as you want, making it suitable for people of all fitness levels.
With regards to comfort, this indoor cycling bike has the look and feel of an outdoor road bike because of the positioning of the seat and handlebars, and the fact that it has a chain drive transmission.
The contoured seat is similar to one that you would find on a road bike and you can cycle in either a seated or a standing position, which isn't really possible on a standard upright exercise bike.
In addition, there are foot cages that will help to keep your feet in place if you are using running shoes or trainers, but if you prefer to use specialist cycling shoes, you can also clip your shoes to the pedals for extra stability during periods of higher intensity.
Finally, this bike comes fitted with its own transport wheels, which means that it is easy enough to move around if necessary, despite being a fairly heavy machine, and also has a water bottle holder to help you stay hydrated during your workouts.
Negatives
The most obvious drawback of this Asuna 4100 exercise bike is that it doesn't come with an LCD display.
To be fair, you don't really need one on an indoor cycling bike if you are just going to be doing interval workouts or if you are just going to be cycling for a certain length of time, but I know that some people like to be able to track their performance data and their pulse rate, for instance.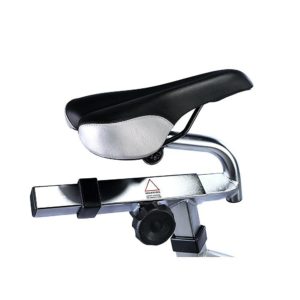 Another slight drawback is that as with many other indoor cycles, there are very few extra features, other than a water bottle holder and built-in transport wheels.
Finally, although you won't necessarily be sitting on the seat all the time, some people have complained that the seat is hard and uncomfortable, like it is on many road bikes. So you may have to wear padded cycling shorts or invest in a gel seat cover if this becomes a problem for you.
Final Thoughts
If you are looking to do interval-based cycling workouts in your home or would like to buy an indoor cycling bike that feels just like a road bike, this Asuna 4100 bike from Sunny Health & Fitness appears to be a good mid-range option.
Although it is more expensive than their entry-level models, it has a super strong frame that is durable enough to be used by multiple users, and has a fully adjustable seat and handlebars that means that it can be used comfortably by people of all shapes and sizes (up to 285 pounds).
It also has a heavy duty flywheel that provides you with a riding experience that is just as smooth as many of the bikes that you will find in your local gym, according to some users, with many people commenting that this is very much a gym-standard bike.
So when you consider that this bike is a lot less expensive than many of the top-end machines that cost three or four times as much, this still represents good value for money on the whole.