Introduction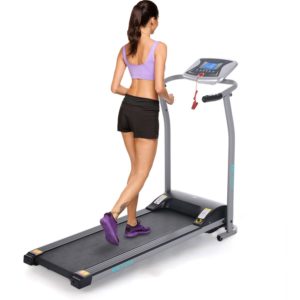 In recent months Ancheer have developed a range of treadmills that are suitable for home use, and so in this article I want to review one of their most affordable models – the Ancheer S8400 Electric Treadmill – because this is proving to be very popular with consumers.
Treadmills can range in price from a few hundred dollars to several thousand dollars, and this is largely determined by the overall build quality, the range of workout options and the number of extra features that are included.
So as this is very much an entry-level model, it is not going to provide you with lots of workout options and extra features. However by reading the rest of this review, you will hopefully see that this is a decent enough machine that is good enough to be used for walking and light running workouts at home.
Features And Benefits
quiet 1.5 HP motor
cushioned running track
12 pre-set workout programs
speed settings from 0.8 – 10 KM/H
LCD computer display
track time, speed, distance, calories and pulse
hand grip pulse sensors
folding design
built-in transport wheels
auto stop safety function
easy self lubrication
available in three different colors
accommodates users up to 220 pounds
Product Dimensions / Weight
The exact dimensions of this particular treadmill (in inches) are 49.21 (L) x 23.58 (W) x 42.13 (H), but it can also be folded away when it is not being used, with folding dimensions of 47.25 x 23.58 x 9.45 inches.
In addition, the running track has dimensions of 40.95 (L) x 14.04 (W), and the total weight of this machine is around 57 pounds.
Positives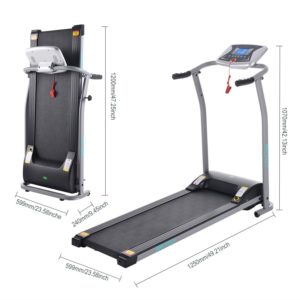 Many people are put off by the size of a typical home treadmill, but one of the key benefits of this Ancheer S8400 treadmill is that it can be folded away for storage really easily when you have finished using it. Therefore it doesn't have to a be a permanent fixture in your home because you can simply put it up against a wall or store it underneath a cabinet or a bed, for example.
Another positive feature of this machine is that it has an electric 1.5 horsepower motor that is quiet in operation so that it won't disturb your neighbors. The only real noise is the sound of your feet hitting the running track.
Talking of which, the running track on this Ancheer treadmill has a number of layers (sound, shock, avoidance and compression layers) that will not only minimize noise, but will also minimize any impact, provide more comfort and reduce the risk of injury. Plus it also has a wear-resistant surface to ensure that it lasts as long as possible.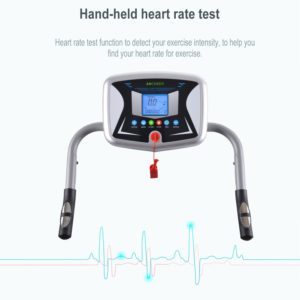 With regards to extra features, there is an electronic LCD computer display that will indicate time, speed, distance and calories burned. Plus if you place your thumbs on the built-in pulse sensors, it will also indicate your heart rate on this display as well.
You can also use this display console to adjust the speed (between 0.8 and 10 KM/H), and select one of the 12 pre-set workout programs to add some variety to your workouts and make them more challenging.
Another useful feature is the auto stop safety function, which is essentially a safety clip that you can attach to your clothes. Treadmill accidents are quite rare, but if you do happen to fall off, this safety feature will be engaged and will automatically switch the treadmill off to prevent any further injuries if you do have any kind of accident.
It is also worth mentioning that this machine has built-in transport wheels if you wish to move it around at any time, and is very easy to maintain because there is a hole at the front of the frame where you can insert a few drops of oil.
Finally, if anything goes wrong with this particular machine, it is backed by a 2-year warranty on the frame and a 3-year warranty on the motor, which is longer than the standard 1-year warranty that you get with many other entry-level treadmills.
Negatives
One of the main drawbacks of this home treadmill from Ancheer is that there is a real lack of incline options, unlike some of the more expensive models.
Therefore if you do want to make your workouts harder, the best way of doing so is to increase the speed setting (up to a maximum of 10 KM/H), or use one of the more demanding workout programs.
Another drawback is that this machine is not really suitable for larger users because the running track is fairly narrow and not particularly long (with dimensions of 40.95 x 14.04 inches), and is only really suitable for users up to 220 pounds (100 kg).
Finally, there are no fitness apps included with this machine, and no way to connect to your favorite apps in order to track your performance over time, but this is common with a lot of entry-level machines in all fairness.
Final Thoughts
Overall, it is fair to say that this entry-level treadmill is not really suitable for amateur and semi-professional runners because of the lack of incline settings and the limited top speed.
However for those people who are looking to increase their activity level, improve their fitness level and maybe lose a few pounds, this treadmill is more than adequate because it can easily be used for walking and light running workouts, and still has 12 pre-set workout programs that you can use.
Furthermore, you will find that it has a quiet motor that is not going to disturb your neighbors or the people who live with, and has a running track that is very easy to maintain, comfortable to use and unlikely to cause any injuries, which isn't always the case with many other entry-level models
So when you consider the generous warranties, it is easy to see why this is proving to be a very popular entry-level machine for people on a budget.