Introduction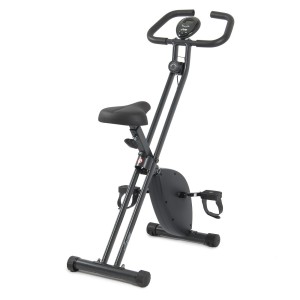 There are some exercise bikes that are more suitable for the serious fitness fanatics amongst us, and there are other more basic bikes that are more suitable for older people, and for casual users who just want to get fit and burn some calories whilst they are watching the TV, for example.
The Alpine X-Bicycle Folding Exercise Bike definitely falls into the latter category because this is a simple no-frills bike that has little in the way of extras, but will still help with fitness and weight loss.
This is a new model for 2016, so I thought it would be a good idea to write a full review of this bike because there are so many entry-level bikes to choose from nowadays.
Features And Benefits
8 magnetic resistance levels
heavy duty steel construction
easy-to-read monitor
track speed, time, distance and calories
high density foam padded seat
non-slip foot pedals
can be folded away when not being used
very quiet in operation
suitable for home or office use
easy to assemble
accommodates users up to 240 pounds
Product Dimensions
When fully assembled, this folding exercise bike from Alpine has dimensions (in inches) of 36 (L) x 17 (W) x 44.5 (H). However one of the major benefits of this bike is that it can be folded away when it is not being used. Subsequently it is only 20 (L) x 17 (W) x 52 (H) when folded inwards.
Positives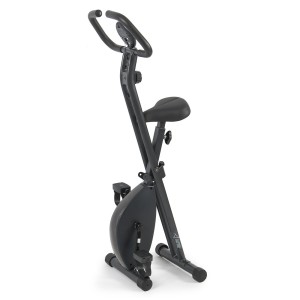 There are a few negative points that I want to highlight, but before I do, I should discuss some of the positive features of this Alpine folding bike.
The obvious benefit is that this is a folding stationary bike, which means that you can fold it inwards (as shown in the photo) and rest it against a wall once you have finished using it, if space is a premium in your home.
Another notable benefit of this bike is that it is extremely well made due to its heavy duty steel frame construction, and as a result, can accommodate anyone up to 240 pounds.
With regards to the workout, people have reported that it is extremely quiet in operation, so noise won't be an issue, and because it has 8 adjustable magnetic resistance levels, it will provide a real test for people of all fitness levels.
This bike comes with a foam padded seat and non-slip foot pedals with adjustable straps to provide a more comfortable workout experience.
It also has a basic LCD display that indicates time, speed, distance and calories burned, and is very easy to read.
Finally, unlike some home exercise bikes, this Alpine bike is said to be very easy to assemble, and should only take about 20 minutes to complete.
Negatives
With regards to the negatives, there are no extra features that you might find on some of the more expensive models, and you don't even get a water bottle holder.
More concerning, however, is that the product description states that this machine has fixed handlebars with hand pulse functionality and that this is one of the readouts available on the LCD display, but this doesn't seem to be the case at all.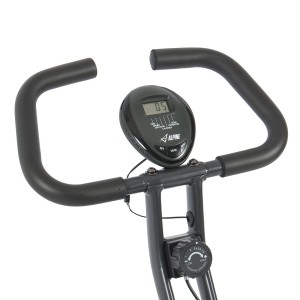 Indeed if you look at the photo of the handlebars, there are clearly no hand grip pulse monitors anywhere on the handlebars, and it is also apparent that there is no pulse reading on the LCD display either.
Of course you can always monitor your pulse yourself by purchasing a chest strap monitor, but this is something you should be aware of if you do decide to buy this particular bike.
Other than this notable flaw, the only other thing that I would say is that the LCD display is a little basic, but that's to be expected with a low-cost entry-bike such as this one because costs are obviously kept to a minimum.
Final Thoughts
If you are looking to buy a cheap entry-level exercise bike that you can use at home or work, for example, and are not worried about the lack of a pulse monitor, then this appears to be one of the better options, particularly as it is very easy to fold away once you have finished using it.
This appears to be a strong and sturdy machine that is very quiet in operation and provides a wide range of resistance. It even has a comfortable seat, which is rarely the case with many of these home exercise bikes.
It is not quite as strong as some of the other bikes in this price range, such as the Exerpeutic Folding Bike, for example, which has a weight capacity of 300 pounds, and doesn't come with a tablet holder like the Innova Fitness Folding Bike or the new Merax Bike, for instance, but it is still a strong and stable machine that appears to provide a comfortable and challenging workout with minimal noise.
→ Click here to buy the Alpine X-Bicycle Folding Exercise Bike
Also Available From Alpine
You might also want to consider the Alpine Exercise Bicycle (with LCD screen) because this slightly more expensive model has a slightly bigger weight capacity (250 lbs) and has a four way adjustable seat that makes it more suitable for people of all heights. It also has pulse monitors on the handlebars, which this model doesn't have.